'CNN News Central' debuts NYC edition with video wall plentiful format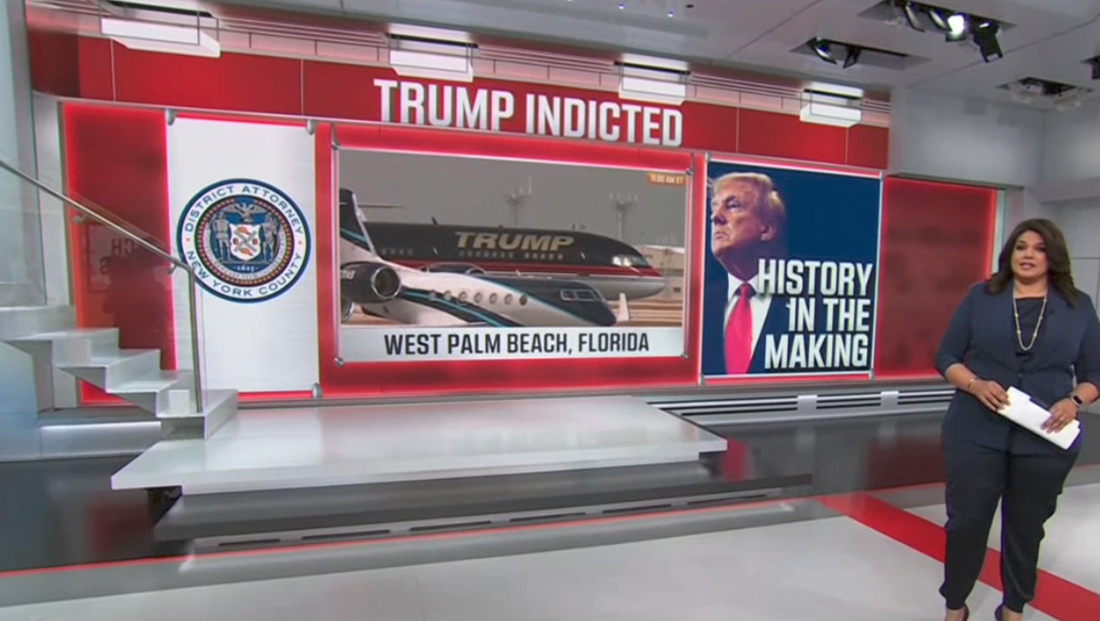 CNN's first installment of what it calls a new approach to dayside programming debuted Monday, April 3, 2023, with a trio of anchors taking turns showcasing stories and interviews complemented with generous use of video wall graphics.
"CNN News Central," which was announced on March 1, 2023, debuted its New York-based 9 a.m. to noon version April 3 with Sara Sidner, Kate Bolduan and John Berman anchoring. The afternoon Washington, D.C.-based version is set to debut in two weeks, April 17, 2023.

The show's opening animations include a combination of a CNN logo reveal set against a bright blue background. Much of it is combined with dotted paths of light in either circular (when the "C") and straight lines during the two "N"s, a nod to the rings in the previously-revealed logo.
During select times, the red CNN logo is filled in with a series of dot-style patterns, which take on a feel similar to a halftone pattern.

The show's official open features a stylized view of the State of Liberty and New York City, including the show logotype shown floating alongside on of the tiers of the Brooklyn Bridge (the D.C.-based version will presumably have a different open centered around that city).
Sandwiched between these are a series of handheld shots where each of the three anchors each tease a single story.

At the end of this, there is typically a line referencing the show's name as a sort of news hub, such as Bolduan saying: "These major stories and more, all coming in right here, to 'CNN News Central'."
Another key part of the open and other parts of the show is the use of music that notably uses the "This is CNN" signature with five-note melody followed by an additional four hard-hitting notes. The track has been combined with some additional musical elements, including beds that can run while anchors are reading stories. CNN worked with Stephen Arnold Music to revive the famous sonic brand.
Select uses of the music include animation or edits timed with the four final notes, but in other cases this isn't used.
In New York, "News Central" originates from Studio 19Z, which is also the home of "Erin Burnett OutFront," "CNN Tonight" and the former home of "Don Lemon Tonight" and the now-defunct CNN+ show "Big Picture," which was anchored by Sidner.
Like many of the network's 30 Hudson Yards studios, the space includes generous amounts of video walls and sliding video panel segments, along with structural elements such as a practical staircase, balcony and solid walls.
Overall, the production has the feel of a sort of hybrid of "The Situation Room" and "The Lead" and, as advertised, includes a dynamic presentation style that uses the entire 360-degree space.
Video walls are used to showcase an array of topical graphics and headlines for each story. Often there is at least one text-based element that labels the story, while at lease several accompanying video feeds and stills are shown inside of various simulated frames. Some of the on-screen text, often the key text, has a slightly 3D effect.
Many of the graphics attempt to simulate the concept of mullions, glass panels, suspension cables and various mounting hardware, much like the look used on "The Lead."
Video wall text is typically set in a bolder, condensed typeface with slightly curved corners.
"News Central" essentially uses four primary venues of the studio.
Typically two of the top-of-the-show teases the camera moving to reveal a second anchor standing off to one side, though there is also the option to simply make a jump cut to one standing in a different part of the studio.

Similar moves can also be used to transition from one story to another, though, again, it's not always used.
In addition to video wall backgrounds appearing behind anchors, they are also used in place of the split fullscreen graphics layouts that have become popular on cable news and have a variety of configurations, including reporter live shots, maps, accent imagery and key facts spelled out in text charts.
These are often shown as reporters are delivering live shots or an anchor is providing voiceover, with a "walk and wander" floating camera style.

The corner venue, meanwhile, was also the only time that anything resembling a desk was brought in, and then only for in-studio interviews.
Anchors do not sit for any portion of the broadcast and will also sometimes move around the studio on-air.
Video wall graphics also have the ability to change background colors, including the use of red, blue, orange and violet, all of which are at least hinted at in the logo. Red appears to be assigned to top stories and breaking news but there's less consistency with the other shades.

Orange and blue in particular also appear on-screen throughout the broadcast, including in on-screen text or charts as well as credits, locator lines and live bugs on video feeds.

The network can also pick from a quick rejoin animation in each of the colors, while a long version that includes a swirling version of the show logo is also available.
While "News Central" has three anchors, aside from brief "over to you" style tosses, there's not much interaction between them and the network has yet to have one anchor tag-team the same story.
Instead, each anchor typically interacts with a guest or CNN correspondent, suggesting that each anchor is the "center point" of the story and is reaching other parts of it via graphics and interactions with non-anchor talent.
In many ways, the format lacks a more literal interpretation of a centralized news gathering operation, since there's no physical point where all three anchors share the screen or collaborate, as it were. In some shots, personnel can be see tucked into corners or moving around the balcony, but they still feel a bit distanced from the anchors.
The format also relies heavily on individual segments of the on-set video wall graphics to provide changing visual interest, which can also result in either the same anchor or "video on video" shot remaining on-screen for what sometimes feel like a longer-than-normal amount of time.
This could perhaps be improved by adding in more camera moves, though the network does appear to be working hard to ensure that whatever is being shown on the video walls remains a legible as possible, and quicker moves could affect that.
"News Central" notably did not debut from Studio 17N, a working newsroom space that hasn't been seen on air in months. CNN has not confirmed what its plans are for the space, which could include decommissioning it as an on-air space. Other possibilities, since "News Central" isn't using it, could be a new home for "CNN This Morning," which is reportedly set to move to a new set after debuting from a temporary space originally.
The latest in design, production and engineering
Subscribe to NewscastStudio for the latest delivered straight to your inbox.