ESPN's 'SportsCenter' completes Studio X overhaul, adds 'depth' with virtual window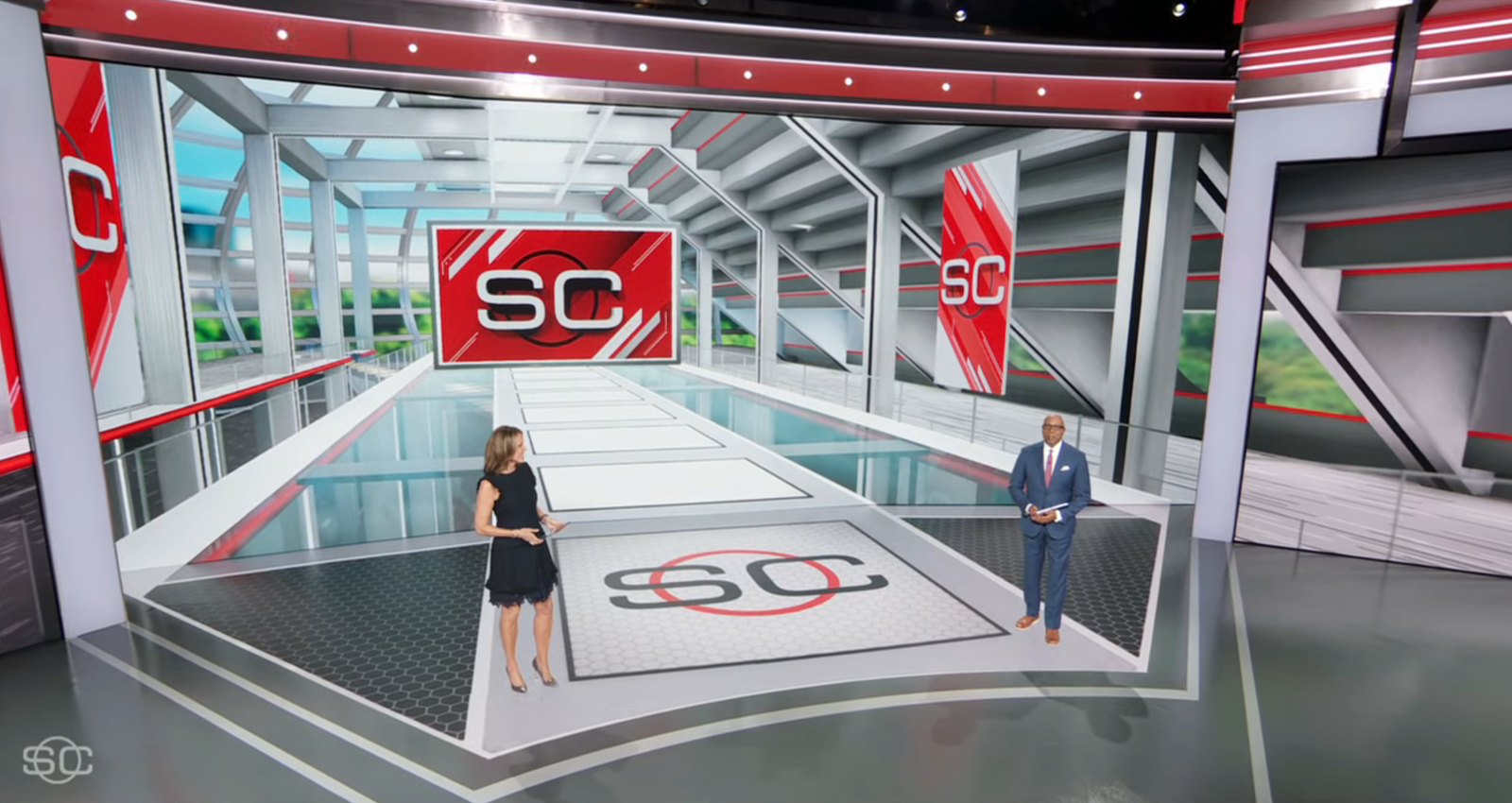 Subscribe to NewscastStudio for the latest news, project case studies and product announcements in broadcast technology, creative design and engineering delivered to your inbox.
ESPN's "SportsCenter" has wrapped up a two-year refresh of its primary home aimed at keeping the show's presentation engaging as the network celebrates 44 years on the air.
Studio X, located inside Digital Center 2 on ESPN's campus in Bristol, Connecticut, has been the home of "SportsCenter" since 2014. Last year, phase one of the upgrades to the studio included the addition of 38 million pixels of LED, including a massive 48-foot display, the largest on ESPN's campus, along with a flexible anchor desk.
This year, the updates targeted the remaining scenic walls of the studio along with upgrading the capabilities of the LED installed last year on the studio's north wall and floor.
"It's been two-plus years in the making and it's what we needed to do to keep 'SportsCenter' as an industry leader," said Marti Hanzlik, coordinating director, ESPN. "It's our flagship show… One of the philosophies in my mind was how do we build a future-proof studio that can continue to evolve?"
To elevate the show's production and help future-proof, ESPN turned to a depth monitor to bring dynamic virtual content into the space.

Internally known as the "SportsCenter skydeck" and the "fifth wall," the depth monitor is designed to create a virtual window for viewers, extending the studio and tying it into the day's events. The effect uses virtual production technology to create a realistic parallax effect that is tied to the movement of studio cameras and has been used by ESPN since the 2010 World Cup in South Africa.
The latest implementation of the technology relies on ESPN's GRACE platform, which black boxes Unreal Engine and Disguise in a web interface that can also control DMX and live video inputs. This tech stack was honed earlier this year with the launch of the Catalyst Stage in Studio C, which is ESPN's dedicated virtual studio, and the recent update to Studio Y, which houses a large chromakey cyc.
"Each one kind of helps the next one," noted Christiaan Cokas, director of creative automation and studio technology for Disney, ESPN's parent company. "There's growth and there's some differences. Studio X is a single camera — the way we've initially set it up — but we have a lot of depth of field and space using the jib, so it really gives a great perspective shot."
"It has the flexibility of being anything we want digitally. So it feels like it's a solution that is allowed to be refreshed as often as we want so it can change over time and it doesn't lock us in to a studio the way a practical build would," said Cokas.
Initially, the depth monitor is focused on the "skydeck" view which gives the illusion of being under a vast stadium. The scene includes the capabilities to adjust time of day, weather, lighting conditions, branding, and other factors through the GRACE platform.
"It's really about giving our producers all of the pieces that help people relate to it at the time," said Cokas. "If we want to follow a certain place or if we want to follow time of day or weather, all of those things are possible, and those are things that we are building in as we move forward — so each scene has the ability to be flexible and creative."
"To my knowledge, I don't know anybody else who's doing depth monitor all day long on their productions. So it feels pretty innovative to me, and I think that's the space we need to be in," added Hanzlik.
"It's really exciting for us to have a daily show that's going to push the limits of this type of tech," said Cokas. "From my standpoint, we're at a place where I feel that this has the stability to be run day to day, which is an exciting place to get to in broadcast."

Around Studio X, other changes include warming up the space with wood tones and breaking the "square" space with new curved elements.
"How do we soften this up? How do we change the shape? How do we build in some more hard scenic in there so it doesn't just feel like a spaceship?" said Hanzlik. "We softened the square and gave it curves around a center circle and we added some hard scenic. We incorporated some wood features to warm it up, and that helped warm up a heavy tech space."
One of those wood features wraps a new area called the "catwalk," including pendant lighting and six motorized, tracking vertical monitors that can combine to form one large display or break apart into various configurations.

One of the other key additions to the space is a touchscreen, one of the largest on ESPN's campus. The screen is located in the middle of a wall with dimensional effects and embedded lighting, and is designed to serve as a primary background for the program along with the north wall.
For the scenic updates and virtual design, ESPN worked with Jack Morton with fabrication from Mystic Scenic Studios, LED from AV Design Services and lighting design by ESPN's internal team. Unreal development was handled by Halon Entertainment, an NEP company, with virtual integration by 4Wall.
The updated Studio X debuted during the 2 p.m. edition of "SportsCenter" on Thursday, Sept. 7, which coincided with the network's 44th anniversary.
Thursday, a newly renovated @SportsCenter studio will be revealed during the 2p ET edition

SportsCenter anchor @MattBarrie gives a preview of some impressive features

The latest example of ever-changing & evolving innovation as ESPN marks its 44th anniversary today pic.twitter.com/ydJThw76FR

— ESPN PR (@ESPNPR) September 7, 2023
Project Credits
ESPN
Directing Dept – VP Scott Favalora, Chris Russano, Kristy Higgins and all the Directors & ADs on the relaunch project
Design and Development – Lorenzo Lamadrid, Joe Ferretti and Chris Watson
Technology – Christiaan Cokas, Jeramiah Swartz, Jason Black, Eliza McNair, Brian Allen, Zach Maura, Eric Nelson
Production Operations –VP Francis Legros, Kevin Burroughs, Nanci Hyburg, Tony Lacaprucia
Creative Services – Michael Szykowny (Spike), Charlie Collin, Ben Bieglecki, Kristal Nadeau, Mike Ruddy, Carolyn Bellizzi, Lea Anderson, Sue Cassidy, Jason Crook
Scenic Design By Jack Morton
SVP/Executive Design Director: Andre Durette
SVP/ Senior Design Director: Larry Hartman
Associate Designer and Senior Project Manager: Doss Freel
VP, Senior Illustration Director: Chris Maroney
Illustrators: Erik Nevala-Lee, Greg Park, Hayden Barbeau
Graphics: Raeford Dwyer, Shelline Vandermey
Drafting: Nick Nocera, Derek Van Heel, Daniel Prosky
Scenic Fabrication by Mystic Scenic Studios
Display Technology and Integration by AV Design Services
Lighting Design by ESPN
Virtual Set Design by Jack Morton
Virtual Set Integration by Halon Entertainment
Subscribe to NewscastStudio for the latest news, project case studies and product announcements in broadcast technology, creative design and engineering delivered to your inbox.