Asharq News
Location:

Dubai, United Arab Emirates

Affiliation:

Network


















Asharq News debuted November 11th, 2020 from its headquarters at the Dubai International Financial Centre (DIFC). The network's branding, motion design and on-air design system was created by Astucemedia.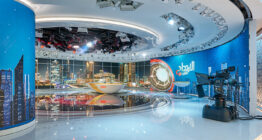 Set Design
Asharq News
View a gallery of this project…
Alongside financial graphics, Astucemedia's solutions for Asharq News cover finance, weather, sports, social media and other news streams as well as standard graphics elements, such as channel ident, menu boards and tickers.
Building on its long-standing relationship with Bloomberg, Astucemedia provided Asharq News with a robust data platform to support more than 40 stock markets around the world with 10,000-plus security subscriptions for real-time updates. The highly sophisticated data platform displays live quotes, intraday tick-by-tick and minute data for charting, including candlesticks and heatmaps.