'Today' revamps plaza experience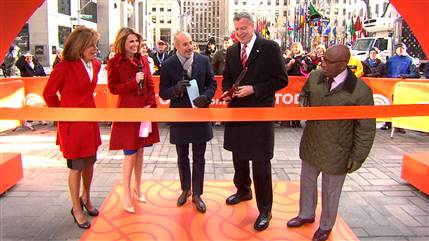 Fresh off its adventures in Sochi — and its first ratings win since the 2012 summer games — "Today" is keeping things fresh back at home.
The show "revamped" Rockefeller Plaza upon its return to the U.S. — a move that is more symbolic than representative of many physical changes.
Complete with a ribbon cutting featuring New York City mayor Bill de Blasio, the changes really reflect more of a new experience for visitors stopping by Rockefeller Center for a glimpse of Studio 1A.
"Today" is now allowing visitors to RSVP online, which it says will make the process of getting a spot outside the studio during the broadcast smoother.
The network has also added interactive kiosks allowing visitors to "check in" to the show as well as a poster making station that offers up dry erase boards.
The show has a new website, visit.today.com, that offers tips for creating posters to wave outside the windows, the best places to stand to get on TV and encourages visitors to the plaza to share photos and posts of their visits to social media.
The ribbon cutting ceremony featured a small orange carpet with a geometric pattern created from the show's logo as well as a large structural arch.