MSNBC 'shifts forward' with new online offeirng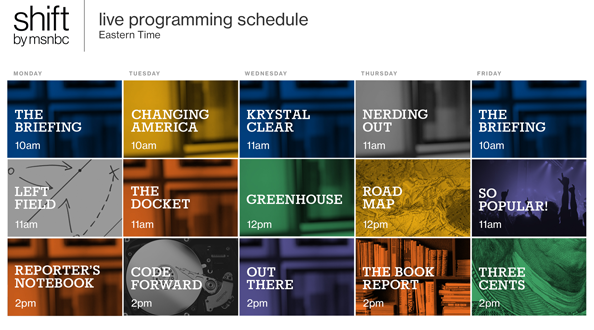 MSNBC is launching "Shift," a new online-only interactive video offering.
Combining live news events with original show franchises on culture, sports, economics and more, Shift marks MSNBC's first venture into Web-only programming, an effort that follows closely on the heals of CBS News' CBSN.
The Shift interface allows viewers to seamlessly move between live events, new shows, original short documentaries and videos from MSNBC shows. Shift also promises to be a fully interactive experience for the user with prominent live commenting attached to the video player, viewers will now have a "single screen" view that allows them to watch live news events while simultaneously engaging with other members of the MSNBC community.
Living on msnbc.com, Shift will extend msnbc's content offerings with new topics and talent. Fifteen digital shows will go in-depth on a wide range of subjects– from politics to sports, and from tech stories to pop culture.
Online audiences can also follow shift on Twitter @shiftmsnbc, and join the conversation using the hashtag "#shifthappens," a not-so-clever pun that we're guessing MSNBC execs think will resonate with millennials and younger audiences.
MSNBC is branding "Shift" with all lowercase letters. On the other hand, sister network NBC always insists on running the "Today" show name in ALL CAPS in its press releases. Interestingly, MSNBC forgot to use all lowercase letters once in its own press release announcing the offering.
Running Mondays through Fridays, each one-hour program on Shift will showcase explanatory journalism with informal discussions and allow viewers to interact via the live commenting section and instant voting.
The week will kick-off with The Briefing in which Luke Russert will look ahead to the week in politics, and end with his week in review.
Other highlights throughout the week include:
Road Map, a look at the backstories behind international headlines with new MSNBC Contributor Ayman Mohyeldin
Krystal Clear in which Krystal Ball discusses pressing women's issues in the news
So Popular!, a look at the week in popular culture with Janet Mock
Left Field, which explores the controversies and the business of sports
Three Cents, a fast-paced look at the economy with MSNBC Contributor Josh Barro
Code Forward, in partnership with Re/Code.
Shift uses a playback experience leveraging HTML5 technology, a custom-developed live commenting system, live-to-VOD workflow, and a video platform providing mid-roll and other advanced digital video production and advertising capabilities.