Behind CNBC's 'Squawk Box' move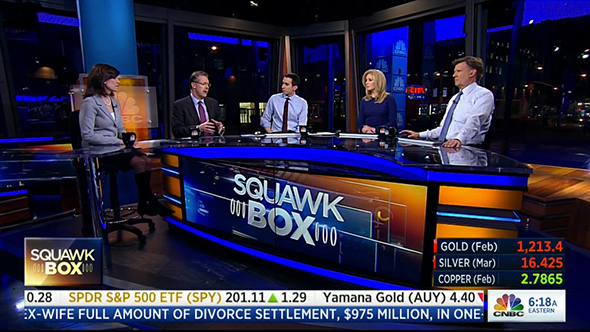 CNBC's "Squawk Box" moved to downtown NYC today, broadcasting from SNY's Studio A. James Yates Production Design and Creative Dimensions worked on the project with CNBC.
Matt Quayle, the shows producer, addressed the move on CNBC.com:
We started it in a humble studio in an office building in Fort Lee, New Jersey, back in 1995. The original team was Joe Kernen, David Faber, Maria Bartiromo, and the late Mark Haines. We later moved to a new global state-of-the-art, all-digital facility here in Englewood Cliffs NJ.

"Squawk Box" has always been about doing things a little differently. It's been about leveling the playing field for individual investors, giving them access to headline guests and instant analysis of news as it was happening, rather than waiting until it was written and edited in the teleprompter. It's been about breaking news, but also about breaking the traditional TV format along the way.

The show's evolution has literally been a "decades" long process, and now in celebration of our 20-year anniversary, Joe, Becky and Andrew are about to evolve the show again.

It only makes sense that the biggest and best financial TV show in the world originate live from the heart of business capital of the world. It's the next logical step in the growth of our show and will set us up for the next 20 years on CNBC! Access is what "Squawk" is all about and now in this beautiful street-level studio right on 6th Avenue in the heart of NYC that access to the best business guests in the world will only become grander.
Here's a time-lapse of the new set construction: