'Meredith' set undergoes refresh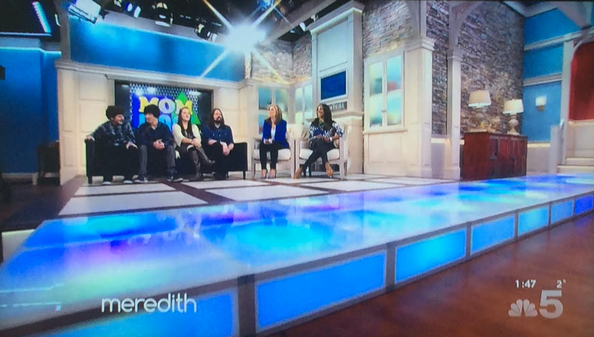 NBCUniversal's freshman talker "The Meredith Vieira Show" updated its Jack Morton PDG designed set to remove much of the homey touches to include a cleaner, almost sterile look.
The show, which was in reruns over the holiday period, returned with new shows Monday but used the previous set look through Wednesday with the refresh debuting with Thursday's episode.
The changes to Studio 6A in Rockefeller Center include removing much of the set's wood tones while also eliminating much of the of the home-style furniture and de-cluttering the stairway and simplifying its railings.
Note: The internally lit floor seen in the image above is not a permanent part of the set, but rather a temporary feature used for fashion segments.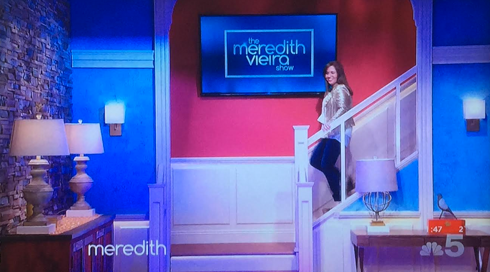 The wall behind the stairs has also been changed to red (which matches the secondary entry located near the band area) and has a flat screen monitor now in favor of the framed pictures and window gobo. The show also switches some of the previous tan walls to a textured blue finish.
In addition, the most of the set's book niches and shelves are now obscured with frosted glass door and the set's risers now featured off-white squares.
Much of the furniture used matches the clean white look by remaining in the white and tan family. A red buffet adds a splash of color and matches the red walls, while some lighter wood tones echo the lighter look. Much of the furniture used now is carried over from before the refresh.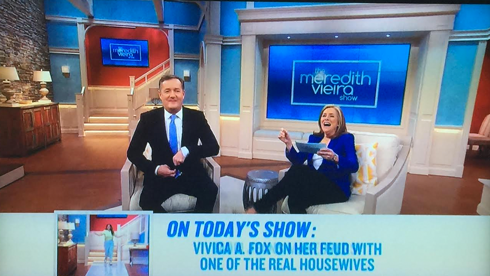 Of note, on Thursday's episode Vieira did not use the ratty chair from her own home, which a key element of her show's pre-launch publicity blitz, though her father's office sign does remain over the faux fireplace.
Thursday's episode also eliminated "The List," a sort of hot topics style segment at the top of the show that made use of iPad-themed graphics.
Overall, the set changes are interesting since, in many ways, it appears to be sending the set more more toward the modern look and feel that "The View" debuted this season with but quickly ditched. The abundance of white furnishings and structural elements also draws comparisons to "spa" "Today Show" set.
The latest in design, production and engineering
Subscribe to NewscastStudio for the latest delivered straight to your inbox.