HLN's 'Morning Express' moves to new set, 'forgets' to tell anchor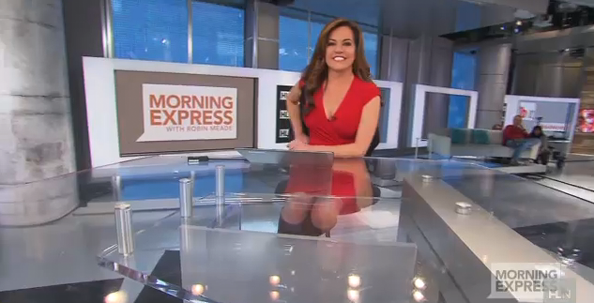 Kicking off a Tuesday morning from the new Studio 7, HLN's "Morning Express" opened the show with a confused Robin Meade entering the empty, old HLN studio and then taking off on a quest to find her team in CNN Center.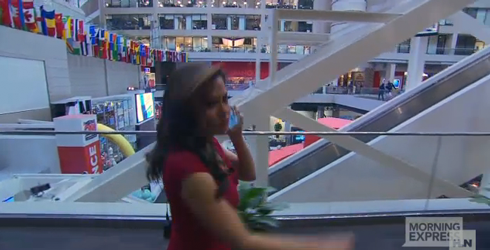 Cue the "Mission Impossible" theme music knockoff.
Next, Meade called her boss who, Charlie's Angels-style, told her to get to Studio 7, pronto.
Finally Meade was able to feign surprise in "finding" her team (phew!) and start "Morning Express."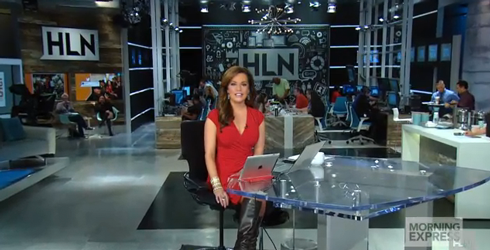 The new studio, which is a heavily modified version of the old home of CNN shows originating from Atlanta, is home to "Morning Express" as well as the new "Daily Share" show.
The set, as it's used for "Morning Express" relies heavily on the "coffeehouse and startup" vibe the network was going for — with a large, open work table made from rough wood with a retro light fixture mounted above, coffee bar and trendy pod-style anchor desk for Meade.
Meade is primarily shot against a the LED wall with internally lit framing and additional monitors, as well as the work area, which also features a large chalkboard-style graphic with the new HLN logo surrounding by doodles.
Much of set's previously sleek, shiny surfaces have been removed in favor of a rustic wood finish, darker walls and textured surfaces, which keeping some of the metallic framing and backlit elements.
The update also included new graphics.
Unlike the "Daily Share" version of the set, "Morning Express" has made good use of the space and does a fairly good job at creating a cohesive look and feel for the show and is thankfully devoid of the space-age "social circle" set element and garish teal and pink coloring.
The new look is certainly an upgrade for the show's longtime look of color wash duras.
The latest in design, production and engineering
Subscribe to NewscastStudio for the latest delivered straight to your inbox.