NBC Chicago updates weather center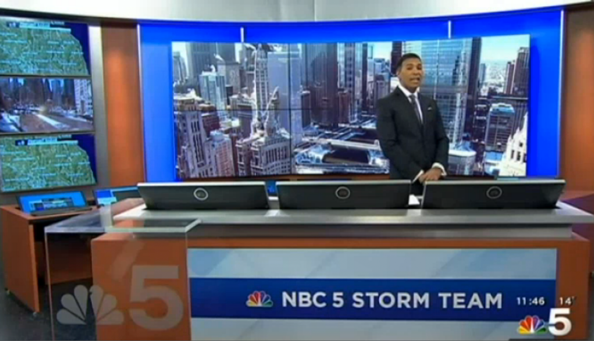 NBC's Chicago O&O, WMAQ-TV, has updated its weather center.
Instead of the two flat screens inset into the internally lit wall and a wood header, the weather set now features a 2 × 3 flat panel video wall. Behind it is a backlit wall, shown here in deep blue, as well as a stack of additional monitors to the left.
The video wall is used primarily to show live video feeds from around the city of Chicago, similar what's used in the five panel, vertically mounted "window" screens behind the main anchor desk.
Broadcast Design International worked with WMAQ-TV on the project, along with NBC O&O KNBC-TV.
That background was originally installed in September 2012 as part of an upgrade just months after the station replaced its entire set in February of that year.
In addition to the new video wall, a long work surface fronted with a branded graphic provides room for working computer monitors. Additional workstations can be seen behind the presentation location as well.
To the left of the graphic, an L-shaped glass extension features the station logo emblazoned on it.
That branded graphic uses the "NBC 5 Storm Team" branding, a moniker the station has been using for some time now, but the previous weather set was labeled under the rather generic "Weather Center" heading.
The reworking of the weather center follows ABC O&O WLS-TV's switch to using the "First Alert" branding for its weather department last March. That change followed WLS-TV's return to using the "Eyewitness News" name for its newscasts in October 2013.
In January of 2013, NBC Chicago announced it would close its streetside "Studio 5" on Michigan Avenue after 1o years of operation.