Ohio station to debut 'augmented reality' set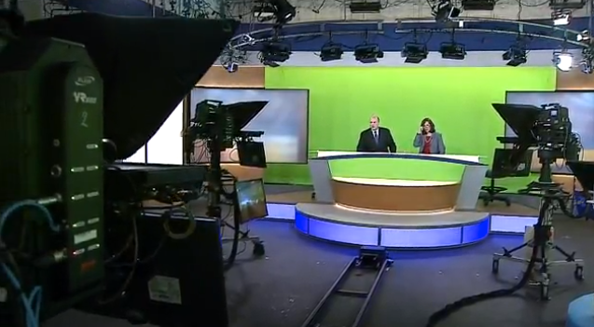 Youngstown, Ohio, CBS affiliate WKBN-TV has is set to debut a hybrid virtual and hard set that mixes in splashes of augmented reality.
The station, owned by Media General, worked with Studio A Designs and Z Space Creative to create its new set.
The new studio, which debuts today, includes a hard anchor desk and some scenic walls scattered around the studio, but relies heavily on both chroma key with camera and motion tracking and augmented reality.
"The focus of our design at WKBN-TV was to integrate the best features of traditional physical sets along with the unique new story telling features available through augmented reality and virtual sets," said Anthony Ferguson of Studio A Designs.
The main anchor two shot is backed by a chroma key wall, which the station can use to insert a variety of graphics and video feeds to enhance storytelling, including virtual set components.
The anchor desk itself is fronted with a chroma key green section, allowing for further flexibility in branding and topical graphics to be virtually inserted on to the desk in wide shots.
"Our goal was to create a look that was simple, with easy to read information and a layout that allowed the on-air team to interact," said Kathy Mosher-Boule, manager for on-air image and design for Media General, WKBN-TV's parent company. "Also important was testing a new way of presenting news, but still with a traditional feel that would fit the Youngstown market."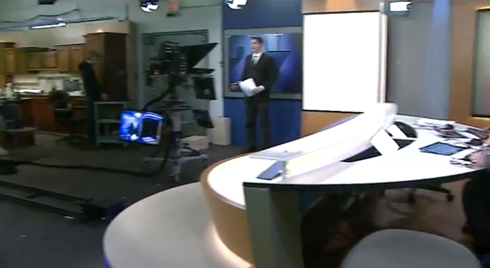 Perhaps most interestingly, however, is the standup area, which when viewed in the studio, features bright internally lit panels (shown above).
However, on air viewers see the report standing next to a virtual element that includes topical graphics and an animated ticker-style header.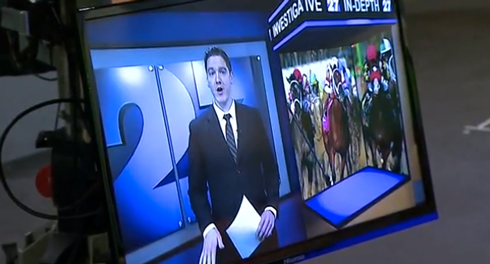 The system uses a Ross Synergy switcher, Overdrive automation and a total of six XPression graphics engines. The studio itself is outfitted with three cameras with Furio VR-One robotic heads and one with a Furio Robo Dolly.
"The groundbreaking technology we are implementing with this new studio is more than a new look. It helps us to gather and cover the news better. Our anchors and reporters have more opportunities in this environment to explain stories, to go into more detail with a large variety of graphics and to show our viewers live video and late-breaking stories much quicker," said News Director Mitch Davis in a statement issued by the station.
Lighting design for the studio was done by Lenny Sommers of Angry Badger Productions, and included a variety of LEDs from Dracast.
While the technology is certainly less advanced than the virtual technology used, for example, by CNN's Tom Foreman, it does give this small market station a chance to create some eye-catching environments. The setup also allows parent Media General a way to test new ideas on a smaller, more affordable, scale.
Z Space Creative is headed by Anthony Ferguson and Glenn Anderson.
[field name=iframe]
The latest in design, production and engineering
Subscribe to NewscastStudio for the latest delivered straight to your inbox.