Detroit station moves noon news to streetside studio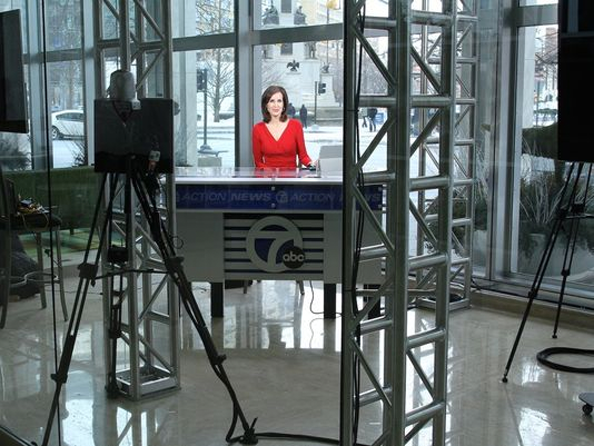 Detroit's ABC affiliate WXYZ-TV will shift production of its noon newscast from its main studios to a downtown streetside studio.
The noon show, helmed by anchor JoAnne Purtan, will begin originating from a glass-enclosed street-level space in the Qube Building today, Feb. 26.
The building, formerly known as the Chase building, is a 14-story office building that was renovated in 2011.
In a photo released by the station, the space appears to be outfitted with some metal trusswork and a high single person anchor desk as its sole scenic elements, instead relying on wide expanses of windows for its backdrop.
The station has created multiple camera angles in the space, including ones that can avoid showing what's going on outside the windows if situations warrant.
In an interview with the Detroit Free Press, Purtan says she hopes to add outdoor news and weather segments "once the weather improves."
Purtan also attempted to bolster the new studio's value by telling the Free Press: "It allows the movers and shakers in the city of Detroit who are all close by to have some place to go quickly for an interview."
WXYZ-TV's main studios include a large set originally designed by FX Design Group and refreshed in August 2011.