A look behind the design of the 'Set of the Year' trophy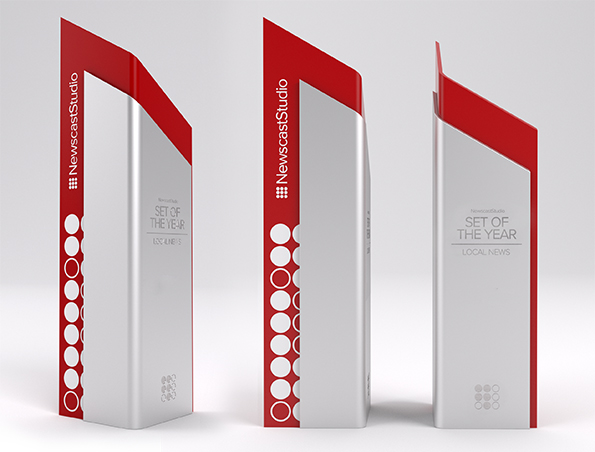 Although the design is rather simple — just two pieces of hand cut stainless steel gently bent at a 90 degree angle and fused together — the NewscastStudio Set of the Year trophy packs a lot of meaning.
We've been hard at work designing the trophy, which will be given to the winners of each of our newly revamped Set of the Year competition categories, for about two months now — a process that included testing different materials, carefully crafting detailed design sketches and finally, creating some prototypes.
Throughout the entire design process we also made extensive use of 3D rendering technologies, much like that used by many set designers and motion graphics designers.
NewscastStudio worked with a metal fabricator in Missouri to create the new award trophy, with our editor, Dak Dillon, providing the design.
Throughout the process, we experimented with the angles, colors and typographic elements found on the award, and ended up with a freestanding design that can be viewed as two separate flat planes and an off-axis angle that shows both.
The idea here, says Dillon, was to incorporate the idea that, much likes news sets, the award could be viewed from multiple angles and take on different looks depending on the perspective.
The final angle selected for the pinnacle of the design was selected to mimic the letter "N" while also suggesting achievement. We also explored depth by layering two separate pieces of metal together, while angularity is incorporated through the gentle, 90 degree curved edge.
Meanwhile, our branding was incorporated through the use of our trademark eye-catching shade produced using high quality cut vinyl. Our name and circular design pattern appear in bright silk screened white.
The other piece of metal was left unfinished but include the winner's name, category and project name along with another, more subtle iteration of the NewscastStudio icon.