RFD-TV set draws inspiration from farm, ranch architecture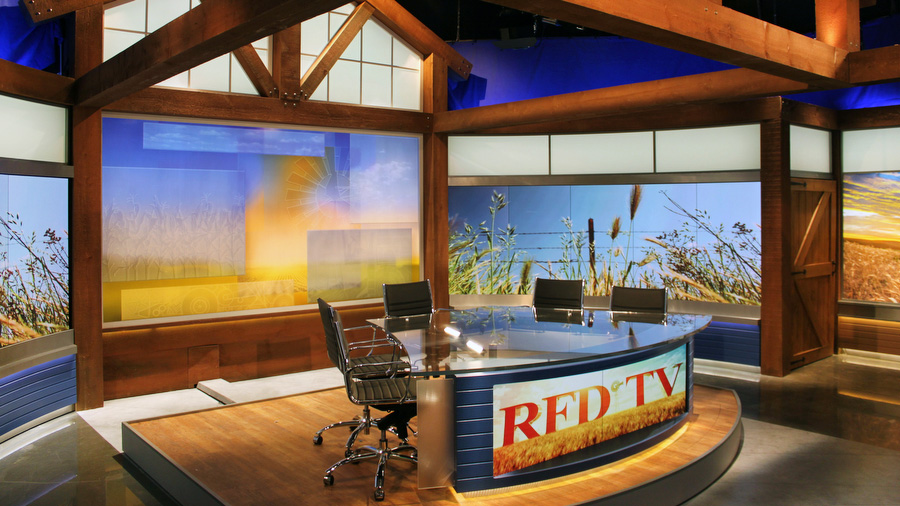 Digital cable network RFD-TV debuted a new set that incorporates nods to rural architecture while still packing a newsy look.
The set, located in Nashville, was designed by Jim Fenhagen and Camille Connolly of Jack Morton PDG under the direction of Gary Kanofsky and features a five-person anchor and panel area as well as multiple other venues. Showman Fabricators built the set and Niel Galen of The Lighting Design Group provided lighting design.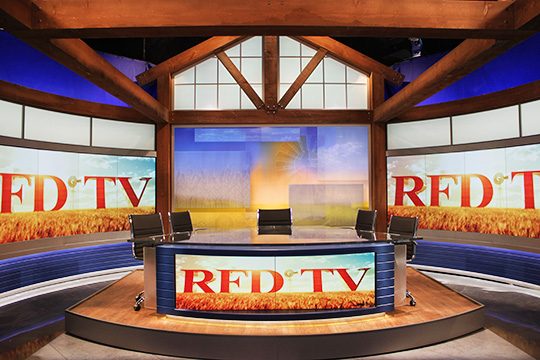 The main anchor area is topped with a dramatically vaulted ceiling constructed to look like barn rafters.
A pointed apex above the camera center background features backlit plexi panels. From this area, additional beams jut out to frame two sidewalls, each equipped with a flat screen panel array and topped with additional backlit panels.
It's interesting to note how the panels above the video walls are more along the lines of what you'd expect to see on a news set, while a similar look is used in an entirely different way to fill in the space in the pointed header.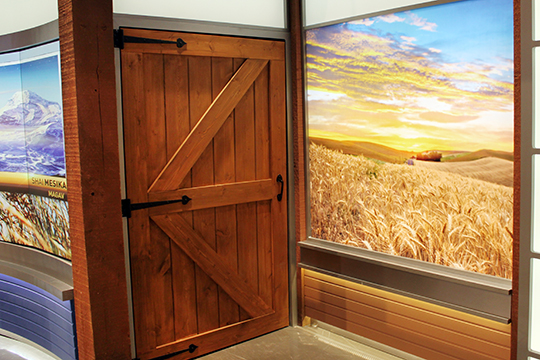 Meanwhile, RFD-TV, which is short for "Rural Free Delivery", a reference to the mail service that many farms require, uses accents such as faux metal plates "bolted" to the beams, functional wooden doors with faux iron hardware and an industrial looking knee wall with horizontal banding continue the theme.
"RFD-TV's rural to suburban demographic created a unique opportunity to try a more "farm to table" approach to the look and feel of the set," said Camille Connolly of Jack Morton PDG. "Taking a dramatic cue from barns, farm, and ranch architecture, we created a uniquely balanced news set."
That same blue-ish banded texture is used in the anchor desk which features a glass top and is backed with modern office style chairs. Behind the desk is a printed graphic.
"RFD-TV was a quite a breath of fresh air for us, versus what we've seen trending in TV stations across the country," said Chris Hayes of Showman Fabricators. "Wood and natural finishes are in direct contrast to steel and chrome look that seems to dominate TV news these days."
The sets weather center continues the rustic-yet-newsy theme with horizontally mounted "planks" purposefully placed at uneven levels that then gives way, rather unexpectedly, to a large flat screen monitor and modern backlit metal framework design with additional video screens.
A secondary reporting area, which is used by the networks "Western Sports Round-Up," features a smaller, higher desk and frosted panels with farm-themed illustrations and topped with bold red accent lights that peer down over the set's header.
This area includes monitors that can be raised or lowered into the frame for use.
The studio's sit down interview area takes on a ranch living room inspired theme with a faux fireplace, bulky leather chairs, a paneled header similar to that found above the anchor desk and metal farm equipment spotlighted with dramatic downlighting.
The entire set features tracking monitors, which can be used for stand up positions through the space.
View Tour
[field name=iframe]