Set of the Year: Fan Vote now open for votes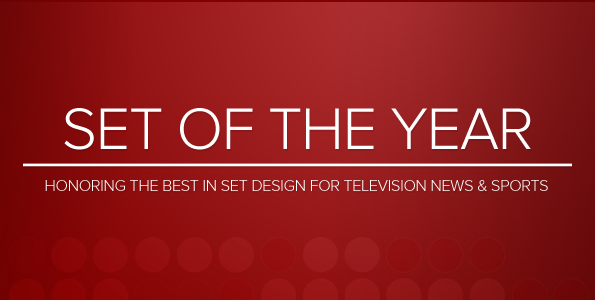 As part of the freshly revamped Set of the Year award, we're incorporating a judging panel of television industry experts to decide who gets the honor of NewscastStudio Set of the Year in various categories (and takes home one of our custom designed trophies), but here's your chance to influence the vote.
For the next few weeks, each of the finalists, listed below, will be pitted against each other in an elimination series of votes.
The panel's picks for Set of the Year will be announced Monday, April 13, at the NAB Show in Las Vegas, with the Fan Vote winner coming Monday, April 27.
Cast your vote in Round 1 between now and Friday, April 10 at 11:45 p.m. eastern.
Here's the schedule of voting (all times eastern):
Round 1: Monday, April 6 at 10 a.m. to Friday, April 10 at 11:45 p.m.
Round 2: Monday, April 13 at 10 a.m. to Friday, April 17 at 11:45 p.m.
Round 3: Monday, April 20 at 10 a.m. to Friday, April 24 at 11:45 p.m.
Winner Announced: Monday, April 27 at 10 a.m.
Remember, the votes cast in the first round only will be combined with the judges' scores and therefore influence the final winner of the overall Set of the Year contest.
To vote, simply complete the ballot below. Click the name of each project to view a gallery (the gallery will open in a new tab so you won't lose your work):