Orlando station simulates second floor social media center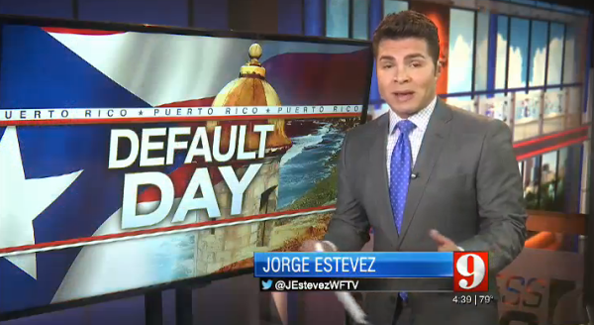 Part of the new digs for Orlando ABC affiliate WFTV-TV includes a new social media center that cleverly creates the illusion of a working second floor studio space.
The station, which debuted a new main set Monday, made use of what it has dubbed the "social media center" for a report on the Puerto Rico loan default.
Reporter Jorge Estevez appeared to be reporting from the second floor of the new studio next to a large freestanding flat screen — but he was really standing in front of a duratrans with a photorealistic 3D rendering of the set printed on it. A freestanding flat screen allows the station to display topical graphics behind the reporter.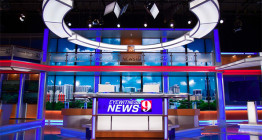 Set Design
WFTV-TV
View a gallery of this project…
Like many sets that appear to be two stories, WFTV-TV's second floor is just for looks. Although portions of the set extend to the height of two stories, there's not actually any functional space up there.
The most prominent double height part of the set, which was designed by Z Space Creative, is behind the anchor desk, where 13 vertically mounted flat screens are used to create the illusion of a wall of glass overlooking a cityscape, all fronted by a balcony with frosted glass panels.
It's this wall that appears as the primary visual element behind the social media center.
If the social media center was really located on the second floor, based on the angle printed on the dura it would be positioned roughly above the weather center.