Fox News goes blocky in updated debate look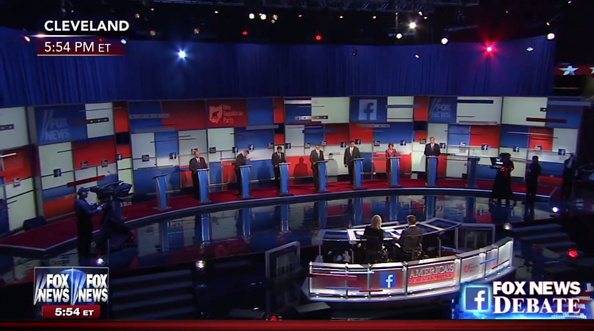 Fox News Channel kicked off the 2016 election season with two debates from Cleveland using a new debate set.
The set, designed by Jack Morton PDG and built by blackwalnut, features 10 metallic and blue lecterns arranged in a gentle arc (though only seven of them were used for the early debate pictures here). The background is a collage of rectangular red, white and blue panels arranged in a seemingly haphazard pattern with additional vertical banding visible.
Interspersed with the panels are thin, colored and metallic horizontal strips that mirror the network's previous debate set.
The Lighting Design Group handled the lighting design of the debate set, with Dennis Size as Lighting Designer,  Lesli Tilly as Gaffer and Evan Purcell as Programmer.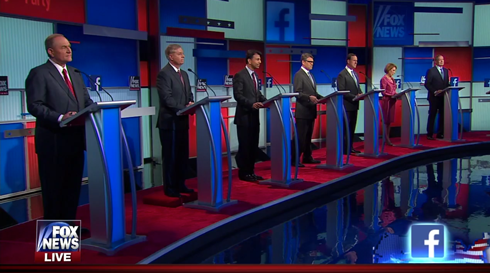 The debates' sponsors, Fox News Channel and Facebook, each have logos strategically placed behind each candidate's lectern, held on by rather large metallic bolt-like apparatus that give the logos the look of an afterthought (though no doubt designed that way to be easy to swap out).
Additional Fox and Facebook branding is visible in some of the previously mentioned panels above the candidates using what appear to be gobos.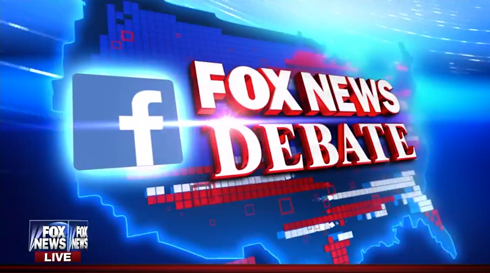 The graphics package, meanwhile, is centered around a chunky outline of the United States filled in with red, white and blue blocks, which, unlike the election maps we're so used to seeing, don't appear to have any reasoning behind their placement.
The outline of the United States is also used as part of a secondary bug in the lower right of the screen, which alternates between Fox News Channel and Facebook branding.
Moderators are situated facing the candidates a slightly curved anchor desk that's backed by a frosted and metallic railing emblazoned with logos and horizontal bands of red, white and blue. The center of the railing features a "Americans Election HQ" logo and separates the moderator area from the audience.
Interesting, moderators aren't shot from straight on through viewports built into the set, but rather are shot off axis from the far side of the set.