ESPN prepares for NFL kickoff with graphics update, new technology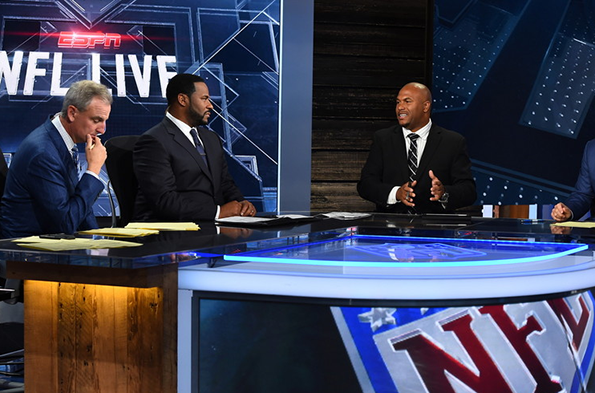 As ESPN prepares for its NFL coverage to begin, the network has prepared some graphical and technology enhancements for the season.
The biggest change will be seen in the new look of "Monday Night Football," which includes a new shield logo and graphics package. ESPN will also utilize the pylon camera for its coverage, along with many UHD 4K cameras.
Monday Night Football
"MNF" will introduce a new show open, as well as new graphics, animations, and a new shield logo.
After successful testing in the preseason, "MNF" will add Pylon Cam to its regular season game coverage. The system uses four custom-molded goal line pylons that house four cameras each to offer brand new perspectives around the goal line. It is the latest in the"MNF" history of innovative production enhancements and was first deployed and tested during the College Football Playoff Championship in January and then further developed for this season.
The "MNF" production will also feature a new booth backdrop; weekly telecasts will utilize four Dreamcatchers, six Sony 4300 cameras in high frame rate 1080p, one Sony 4300 in high frame rate UHD 4k at the high end zone, and two iMovix Phantom cameras in high frame rate UHD 4k on the goal lines.
In celebration of Frank Gifford's life and longtime contributions to MNF, the No. 16 he wore as a Giants player will be placed on all of the"MNF" production trucks this season. Tirico and Gruden will also wear No. 16 lapel pins during games, and Gifford's voice will be featured in the new "MNF" show open.
Sunday NFL Countdown
The new show open pairs remade music by Chase Holfelder with messages voiced by Kai Greene.
ESPN will have a camera at every NFL game on Sundays.
The latest in design, production and engineering
Subscribe to NewscastStudio for the latest delivered straight to your inbox.