Looking back at Al Jazeera America's set design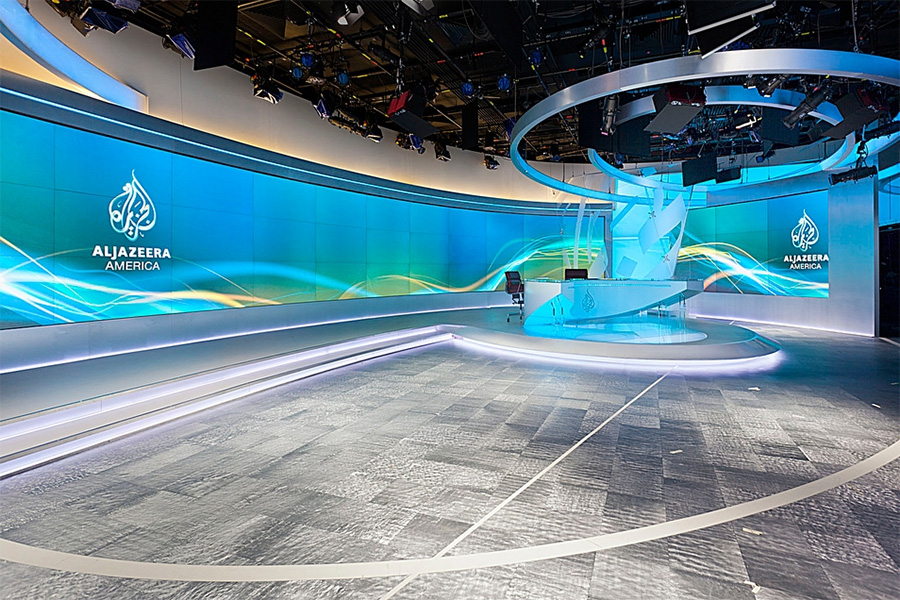 Subscribe to NewscastStudio's newsletter for the latest in broadcast design and engineering delivered to your inbox.
As Al Jazeera America begins to wind down as a cable channel, we look back at some of its studios during its short time on-air.
Based in New York and Washington, D.C., AJA spared no expensive, as oil prices were high and distribution was on the horizon through a purchase of Al Gore's Current TV.
Clickspring Design and Jack Morton PDG worked with the network to capture its style for the U.S., which built on Al Jazeera's global identity.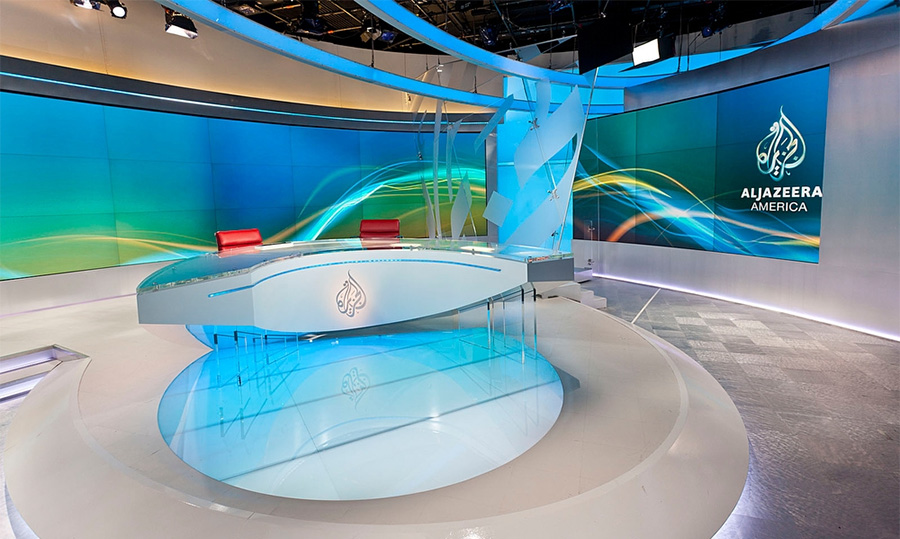 Debuting with the network in 2013, the main studio is part of the networks HQ in Midtown Manhattan. Designed by Clickspring Design with lighting design by The Lighting Design Group's Dan Kelly, the set features a large arcing video wall with a unique desk. Notably, the set is very white, bringing a different palette to the U.S. audience.
Clickspring writes of the design, "The clean, modern lines and simple color palette underscore the network's goal to offer a fresh perspective on the global news landscape. The focus of the studio is a sweeping video wall capable of quickly altering the atmosphere by displaying imagery designed specifically to support the story at hand."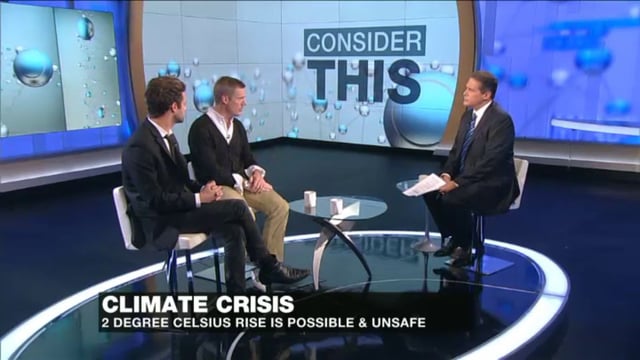 In New York, Al Jazeera also has a smaller studio used by "Consider This" and Ali Velshi for "On Target" that was designed by Jack Morton PDG with lighting design by TLDG's Doug Cox and Lance Darcy.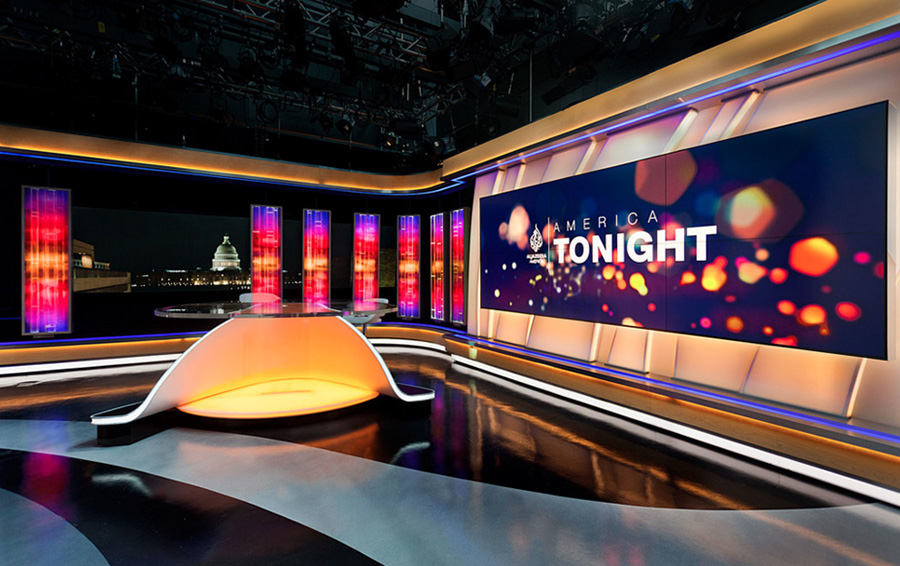 In Washington, AJA took over the studio space in the Newseum from ABC, who had used it for "This Week."
In the space, Jack Morton PDG created a set that captures the view of D.C. and provides layers of colorful texture with lighting design by TLDG's Neil Galen.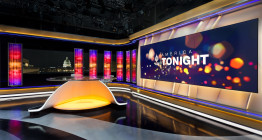 Set Design
America Tonight
View a gallery of this project…
In 2015, after a bureau move, AJA added two new studios in Washington by Jack Morton PDG.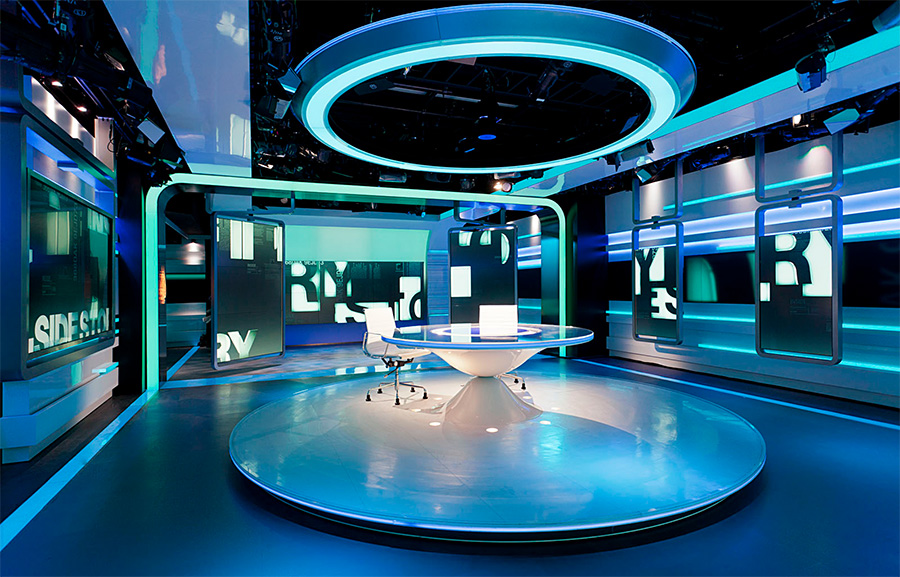 Studio B, which was designed around Ray Suarez's "Inside Story," features a circular desk and many floating monitors.
Jack Morton PDG writes of the design, "The studio features a circular anchor desk and metallic and gray toned walls interspersed with video panels, including adjustable two ceiling-mounted ones. These panels are placed in front of a larger wall-mounted video wall, adding depth and layering to the design. The walls of the set include inlays with bright accent lighting in white and teal, as well as some backlit panels, as well as additional smaller video panels."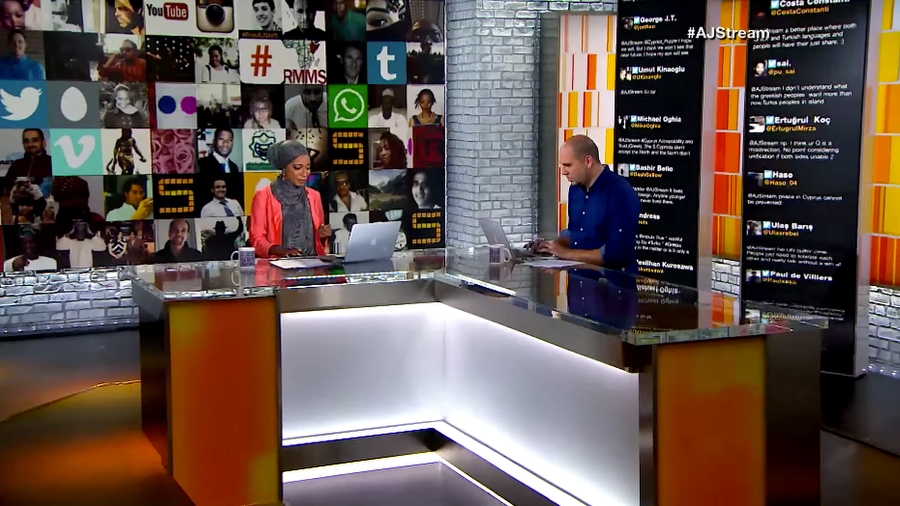 Studio A was built as a social media nerve center, powering "The Stream."
Jack Morton PDG writes, "the studio includes an urban space that's been infused with technology to support the show. Vertical monitor columns become conversational waterfalls of viewer messages. An LED ribbon flows through the floor, folds up to form the desk, then rises up to the ceiling, forming a physical embodiment of "The Stream" itself."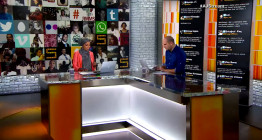 Set Design
Al Jazeera America
View a gallery of this project…
As Al Jazeera America winds down many questions remain about its operations, as some may become part of its other networks or digital platforms. One America Network has also expressed interest in picking up some of AJA's staff and studio space, along with its channel slotting on cable.
While the network only lasted three years, its design style showed audiences something different and unique, combining colors and shapes that are largely unused by the major U.S. networks.