ABC Chicago updates traffic graphics, creates 5 hour commute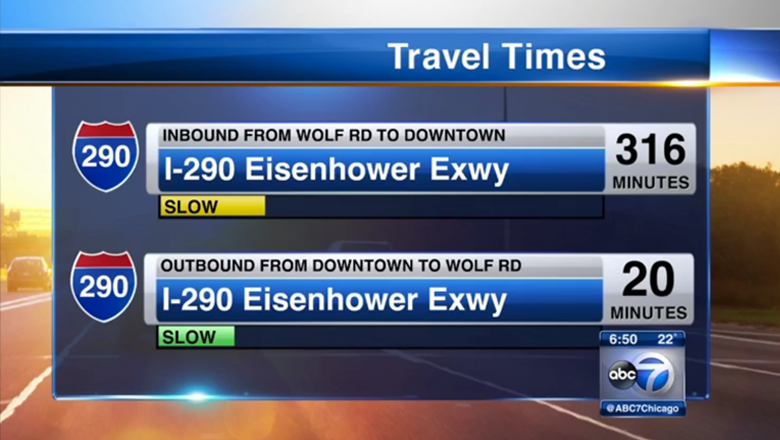 WLS-TV, the ABC O&O in Chicago, updated its traffic travel times graphics late this week, but one of the first times using the new look, a typo that turned one commute into an over five hour ordeal popped up.
The new look for traffic reporter Roz Varon's reports enlarges the graphics a bit, making them easier to read, and adds a sunrise-lit road photograph to the background in favor of the generic stylized "7" background.
The changes also included updating the font used on the interstate markers and travel time digits to finally move away from the font used on the station's previous graphics package.
Another improvement is that the bars with the various road names and data in them are now consistently placed; before their positioning on the screen varied slightly, creating an awkward look when crossfading between them. ABC 7 has also dropped the crossfade effect in favor of quick fade in, fade out transition.
All that said, on Friday's morning news, a graphic popped up claiming the commute time for the inbound Interstate 90 route was a whopping 316 minutes, which translates to over five hours (a traffic jam of that magnitude probably leads straight to a portal to hell…).
The station also appears to be having some issues with the color coding of its graphics, as the same image shows the outbound Interstate 90 route as being "slow" with a status bar even shorter than the inbound figure, but colored green, the shade usually reserved for more normal conditions.