Orchestrating a rebrand at Euronews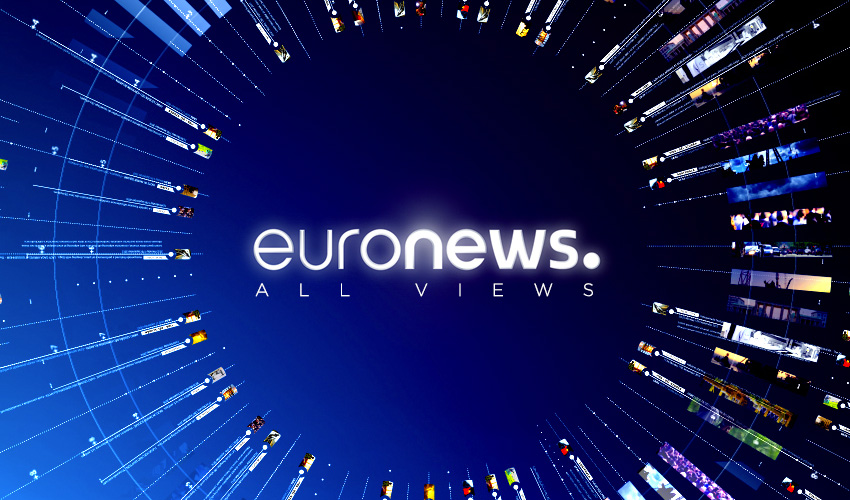 Subscribe to NewscastStudio's newsletter for the latest in broadcast design and engineering delivered to your inbox.
The multilingual European news network, Euronews, debuted a sweeping rebrand in May, marking a major shift in design strategy and news coverage for the network.
The project, headed by Grégory Samak, Euronews' creative director, and Lambie-Nairn, saw the introduction of a new show schedule, logo and brand identity, along with motion graphics for each program and new musical themes from composer David Lowe.
"I wanted it [the music] to feel dramatic urgent and energetic and also (hopefully!) memorable – all the right ingredients for a good news brand identity," said Lowe.
The music begins with the main news countdown, which features a driving sonic brand of strings and drums, building up to the main logo reveal.
"This project been quite a long runner, and a big one with over 70 different program openers and cues to produce," said Lowe. "These included all the main news opener, weather and promos based on the main thematic idea we came up with in the pitch. Additionally there were a fairy large selection of separate magazine openers with their own themes and style."
[field name=iframe]
Lowe worked with co-writer Sam Worskett on the project, delivering the final compositions in May, after four months of work writing and tweaking.
"The clients had a fairly strong idea of the tone and feel they wanted, and I think we achieved that. There is a strong rhythmic element to the audio identity with dramatic string signatures on top. The beat lends itself to some lovely african rhythms too which we infused into the sound," said Lowe."
[field name=iframe2]
Lowe's favorite part of the finished music package are the indents, "they were pretty much straight from the original idea we submitted and have all the drive and energy we envisaged. I also like Science Tech from the magazine openers, it's so different in style to the ident sound."