New Releases: Production music albums for September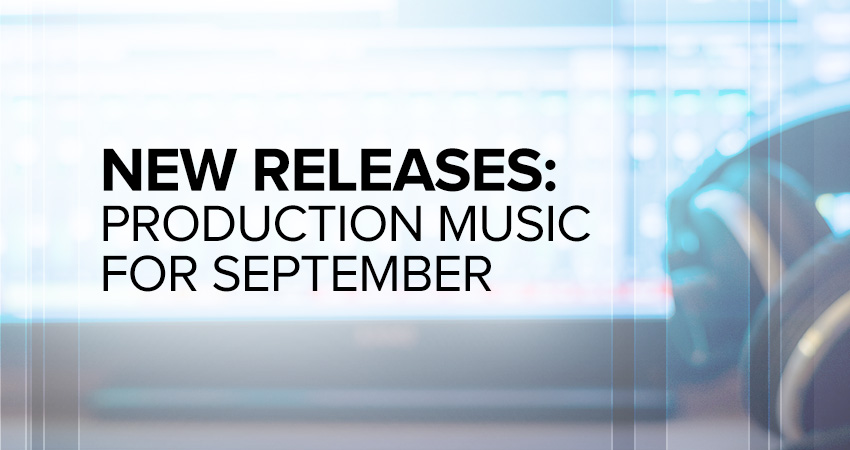 While September may now be in the past, many production music libraries saw large releases of new work.
Here's a quick look at some of the highlights for sync in your upcoming project.
Warner/Chappell Production Music reminds us Christmas and warm-hearted Hallmark movies are quickly approaching, along with releasing new tunes for documentaries, promos and the 80's.
"Footnotes – Sun Soaked Happy Vibes" provides the perfect bed for upbeat spots with a carefree spirit. "Coming Home" features songs from Handsome that capture the family spirit. For those wanting a bit more action, we recommend checking out "Burn the Destructor."
Killer Tracks increased its collection with 27 new albums in September, including a new release from the "The Mutants."
"Your Desert My Mind," from the band, features an indie rock beat and is part of KT's Artist Series, which aims to expand the production music genre with new original tracks from top performers. KT also added "Legacy," a new cinematic pop album for trailers and promos, and "Epic Sports," the perfect album for football season and the MLB playoffs.
APM Music added a whopping 163 albums for September and October, with the addition of 3 new libraries from Montmonrency Music Agency, including Montmonrency Records, Justement Music and Justement Ethnic.
We recommend listening to "Ad Smart 2", and especially track "Onwards," which would fit perfectly in a topical promo. Album's "Impressionist Dream" and "Emotive Drama" are also worth listens in the new releases.
VideoHelper ventured where it's not gone often, into the realm of tracks with lyrics for its new "PopShop" album, which is full of dance beats and carefree pop.
Megatrax's "Urban Positivity" provides many unique tracks that aim to capture the moods of a city, while "Bright & Brilliant" provide a lush bed of strings and happy thoughts. View more new releases from them here.
FirstCom Music new releases include "Classical Promos Remixed," with well-known tunes in a futuristic and bold styling, along with "Departures."
Watch for more "New Releases" on NewscastStudio next month, as we help you find new and thoughtful production music for your next TV or film project.