Q&A: Inside the redesign at Los Angeles' KCBS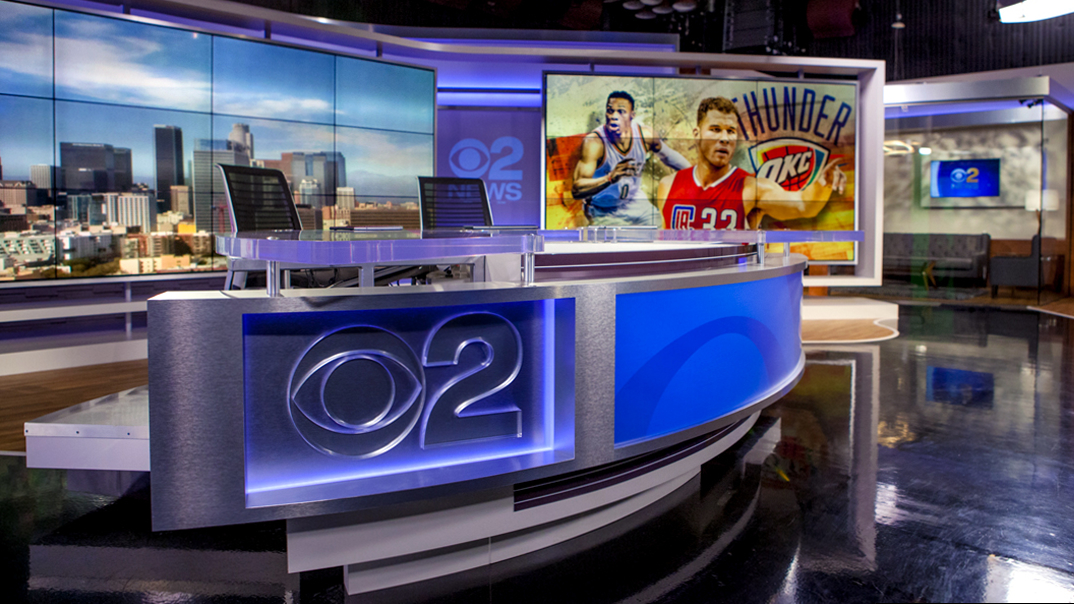 Subscribe to NewscastStudio's newsletter for the latest in broadcast design and engineering delivered to your inbox.
Last summer, CBS debuted a makeover for its West Coast flagship, KCBS, from Broadcast Design International. We recently had a chance to speak with George Edelmann of BDI about the redesign and unique set elements, such as the green room.
What were the goals/objectives of the redesign?
The main objective was to create another studio environment that would function and feel as comfortable ten years from now, just as the previous set accomplished.
I would say the top 3 goals we reached were:
Create a fresh new modern look that was different than anything else in the market, but still reflected the traditions of the CBS brand.
Design in enough technology to grow and change over the next decade.
Give their talent the tools and the canvas to bring stories to the viewers in a fresh way.
How did you make the design fit Southern California and its distinct culture?
Southern California especially is a trend setting region with its multi-cultural and diverse demographics. No doubt design trends seem to come from both coasts but the west coast is unique for sure. We wanted to create a very clean look and feel with a neutral palette, simple is sometimes better and in this case, it was. We then used RGB LED for color accents. We finished by rounding it out with some warm wood accents to balance that neutral palette and digital graphics.
What makes the project unique?
A few key areas I think make this set unique especially in this market:
Main Display – The large 5×3 55" LCD displays behind the talent. This give them a very different way to display information to their viewers. This canvas provides the options to display the very iconic scenic backgrounds but also room for information such as temp in the various demographics they cover all at the same time.
Green Room – We also gave them a green room they could feature on-air. With all the guest celebrities in town doing interviews, this was a perfect way to enhance the viewer experience.
Interview Area – We created a very warm and inviting interview area that went hand and hand with the green room. Also, the flexibility to dress out the backgrounds to highlight the deep traditions of CBS broadcasting or change out for seasonal traditions.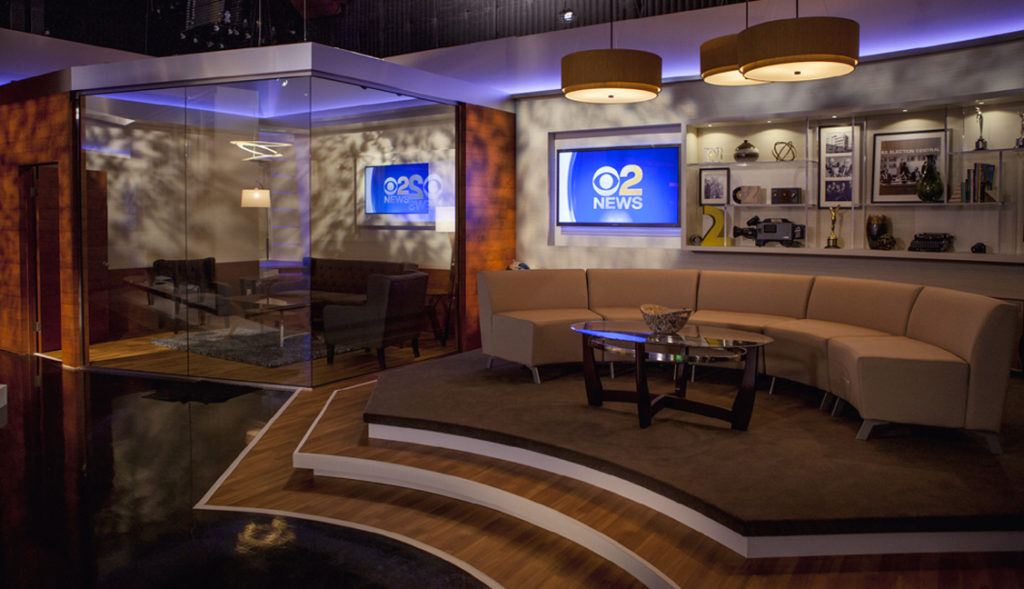 How was technology used to enhance storytelling on the set?
The two large video arrays, one mentioned above and the second as the multi-purpose display area for sports or special reports. This display is a 3×3 55" LCD that can be used as background from the anchor desk or as a standup presentation source. The weather center has an interactive 80" touch screen that can be manipulated from a tablet or on screen.
The weather center has an interactive 80" touch screen that can be manipulated from a tablet or on screen. Lastly this area was rounded out with a 65" vertical monitor that could be used for social media segments as well as weather information.
How did you create warmth and a lighter feeling for interviews?
Neutral texture palette with just the right amount of wood and carpet. Tasteful lighting accents by KCBS also helped bring the entire design to life.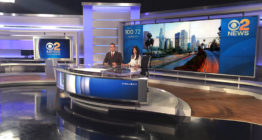 Set Design
KCBS
View a gallery of this project…
What technology was used on the set design?
Primeview 55" LCD displays with IPS glass
Proprietary touch screen monitor
VizRT graphic engines and video processing
Wireless technology for mirroring tablet screen to touch screen
RGB DMX LED controls