Universal 'Tonight Show' ride replicates Rock Center in Florida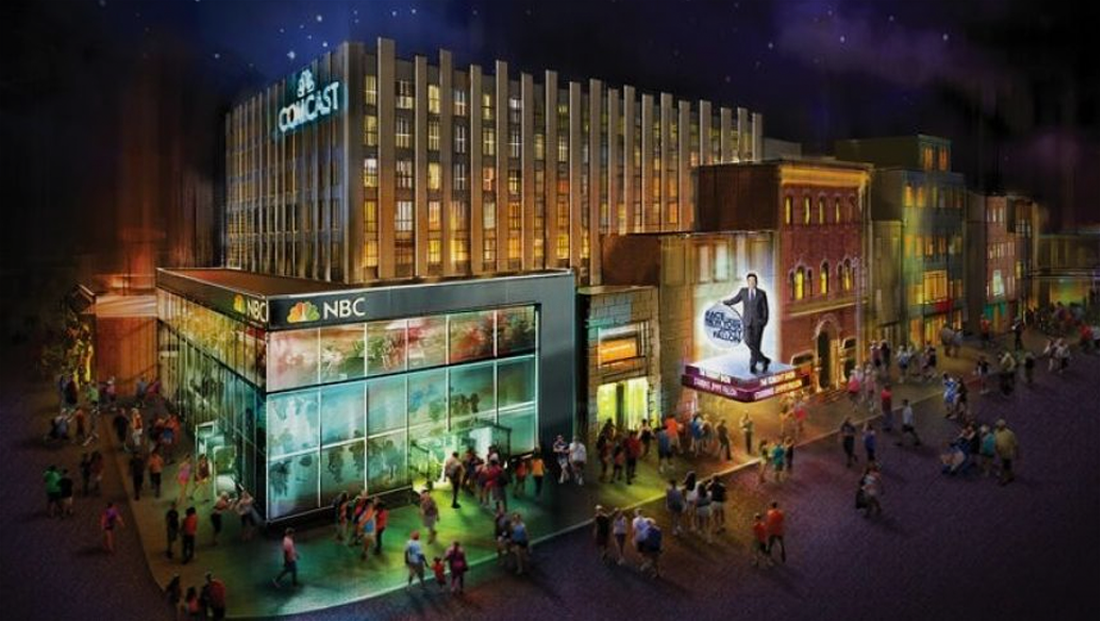 "Race Through New York Starring Jimmy Fallon," a new 3D movie ride and experience is slated to open April 6 at Universal Studios Orlando Resort with a mini recreation of a portion of 30 Rock.
The ride is a perhaps overlay blatant example of corporate synergy since the resort is owned NBCUniversal and Comcast just like Fallon's network.
To create the ride, which is being promoted ad nauseum across all NBC platforms, Universal Studios renovated Stage 50 leftover from the original concept of the park — to create a working production lot and amusement park.
The idea of a working movie studio took less of an emphasis over the years, though the property does still host special TV productions throughout the year, including a series of "Tonight Show" broadcasts that will coincide with the ride opening.
The new design includes a glassed corner area that mimics the look of the home of "The Today Show," Studio 1A. In the Orlando version, the glasses in area serves as "The Tonight Store."
The logo atop of the show is simply the new "NBC" logo in favor of the "NBC News" one found in New York.
The entrance to the ride is under a recreation of the awning found in New York City with the addition of a large internally lit cutout of Fallon and the ride's logo atop it — which mirrors the circular moon inspired logo of "The Tonight Show."
The rest of the soundstage's shell, which is obviously much lower than the 30 Rock skyscraper in New York City, includes a façade of windows meant to mimic the blocky, art deco style of its NYC counterpart.
Atop the building the the Comcast logo, which mirrors the historic change Comcast made in 2015 by removing the famous "GE" letters from atop the building.
Inside the building, visitors stand in a queue that features a history of the tonight show, all within a design meant to echo the look and feel of inside 30 Rock.
Other accents found throughout the queue and theatre area mimic the design of Fallon's set back in Studio 6B, including the wood grid patterns.