'Morning Joe' revamps presentation with new backdrops, desk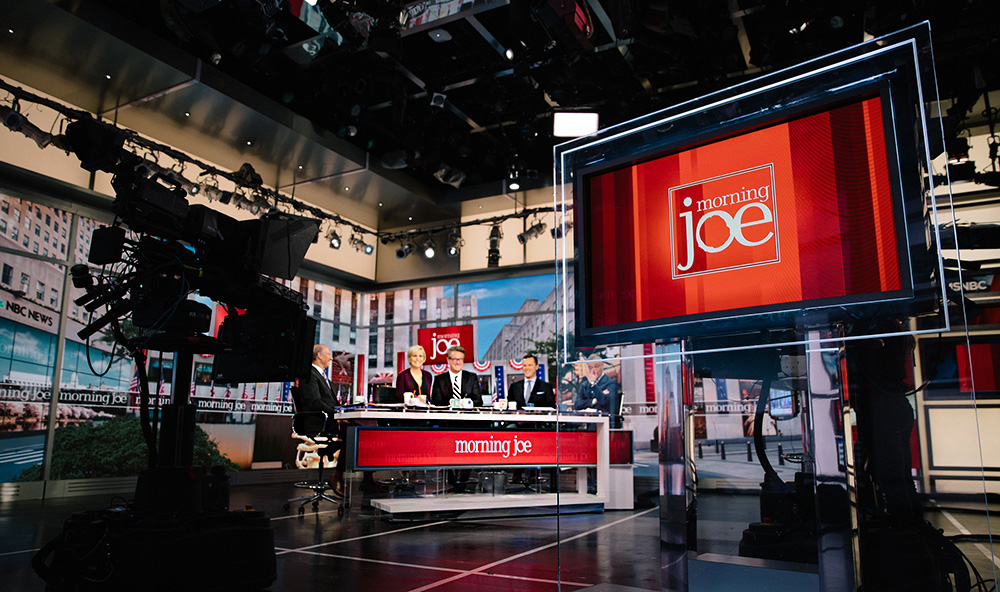 MSNBC's venerable morning talker, "Morning Joe," tweaked its usual setup Tuesday, following the Memorial Day holiday weekend.
Gone is the primary MSNBC Studio 3C anchor desk, which debuted with the studio space in 2007, replaced by a refurbished desk that appears to have previously adorned NBC's "Meet the Press" after its studio was remodeled for Chuck Todd's tenure.
The desk removes the "in the round" format of the show, creating an arcing panel of hosts, guests and pundits, similar to the setup "Morning Joe" has been using on visits to Washington.
With the change, the front of the desk has also been updated from its former "MTP" use, with the addition of a curved LED panel to display show branding.
Behind the talent, a new virtual backdrop is in use, which features a view of 30 Rock, moving the primary anchor background from the left LED wall to the right and dumping the previous faux window and blue background.
The new design adds more patriotic imagery, keeping the show's step-and-repeat logo. The former background featured a stylized New York City skyline with "Morning Joe" billboards.
Of course, MSNBC has a history of playing with ideas and concepts, such as its faux brick virtual background in August 2016, so this may not be a permanent update.
Additionally, a removal backdrop which was previously used on weekends has been added to divide Studio 3A's workstations from the true studio space during its dayside usage.