SZTV blends traditions of harmony, balance with high tech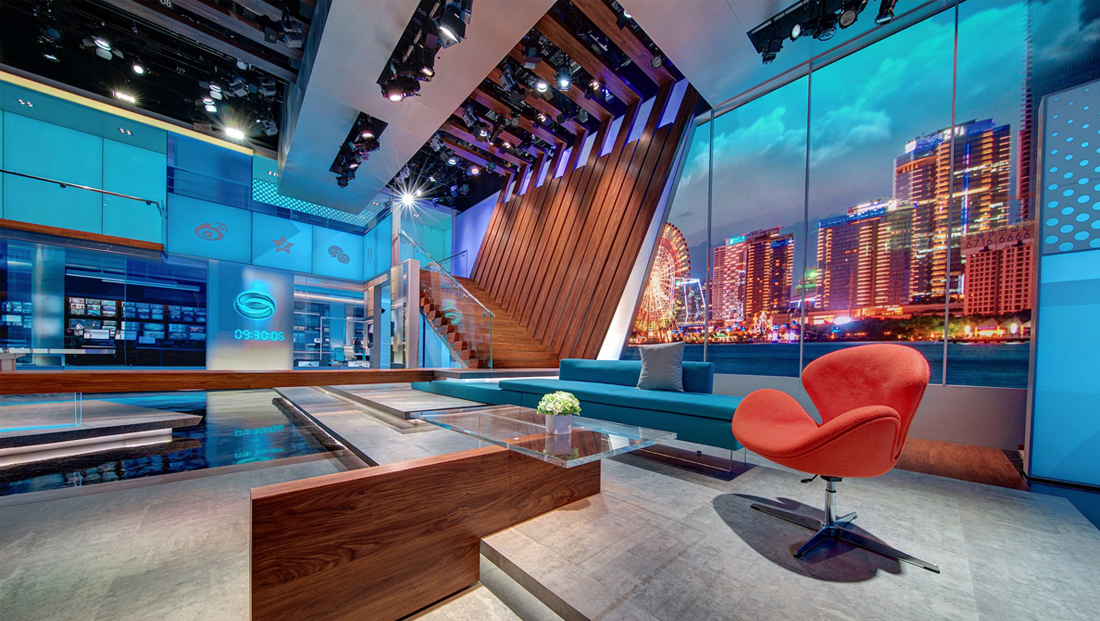 An LED tracking panel placed against the edge of the treads can also be used as a stand-up position or a source for a remote interview.
The tracking LED panels are carried throughout both levels of the studio, with four portrait LED panels that track.
In addition, three suspended panels at the east wall fly vertically, passing through an opening in the mezzanine, and one panel tracks horizontally at the platform supporting the base of the west stair, explained Ferguson.
These movable video panels provide the flexibility to support standup positions and talent backgrounds where news stories, weather graphics, and other supporting media will be beneficial.
"These appear to be pieces of the larger anchor desk background screen, which are peeled, slid, or cut away," said Ferguson.

A wood-tone strip juts out into the center of the studio to serve as a base of the oval glass-topped anchor desk, while an additional platform, which extends out of the base of the stairs perpendicular to the wood element, transitions into the sofa of the interview area.
Additional panels in wood and gray tones intersect strategically with the riser elements to form the base of the area's coffee table, further driving home the sense of integration and cohesion.
"This gesture also picks up on the 'folded-ribbon' motif established by the wrapping stair geometry," points out Ferguson.
The ideas of harmony and balance were drawn from some of the country's cultural values and aesthetics without being overly thematic.
"Occasionally we will take formal cues from the architecture of a region, but this project found itself through symbolism of ideals," said Ferguson. "The design scheme strives to maintain a passive balance through its aesthetics and an active balance through its seamless, adaptable functionality. In doing so, we strike a harmony between the often seemingly opposing forces that guide the evolution of a global media landscape."
While the Suzhou TV broadcast center features multiple venues, the zones are still harmonized and blended. The cantilevered landing of the staircase, for example, serves as an architectural hub that links the primary venues.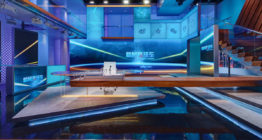 Set Design
SZTV
View a gallery of this project…
Project Credits
Design by Clickspring Design
Fabrication by blackwalnut
Lighting by The Lighting Design Group