'Jimmy Kimmel' recreates Brooklyn street for NYC shows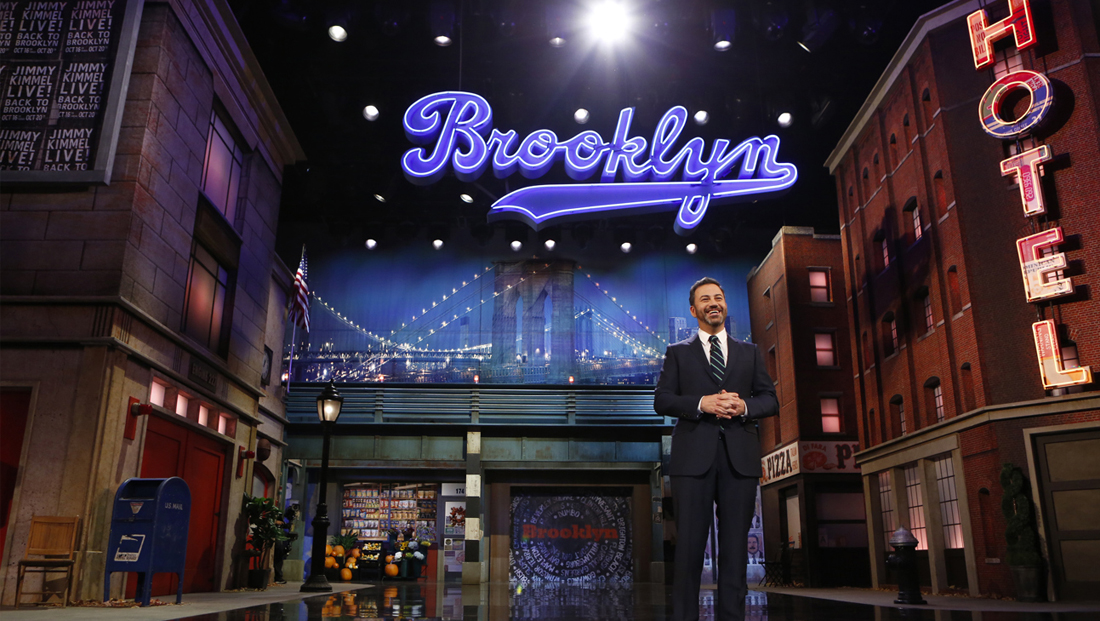 "Jimmy Kimmel Live" has gone "back to Brooklyn" for a series of shows, recreating a quintessential city street.
The show, which is taping at the Brooklyn Academy of Music, features two rows of structural "buildings" on either side of the stage, which are dressed as a hotel, newsstand and pizza joint.
Bridging the gap between the two "sides" of buildings is a faux elevated light rail track topped with a skyline depicting the famous Brooklyn Bridge.
In front of this, neon-style lettering with the word "Brooklyn" in typography that mimics the Dodgers, which were based in Brooklyn until 1958, MLB team logo, is suspended.
Below the track is a faux storefront, tunnel like portal with circular text listing neighborhoods of the borough and other street dress.
For sit-down segments, Kimmel sits behind what appears to be the railing wrapping around a subway entrance, complete with the iconic circular route icons on front (the use of a desk differs from "The Daily Show," which is in Chicago this week, and its "undesked" shows).
Guest seating is built from rough industrial style wood and metal piping with a handcrafted look.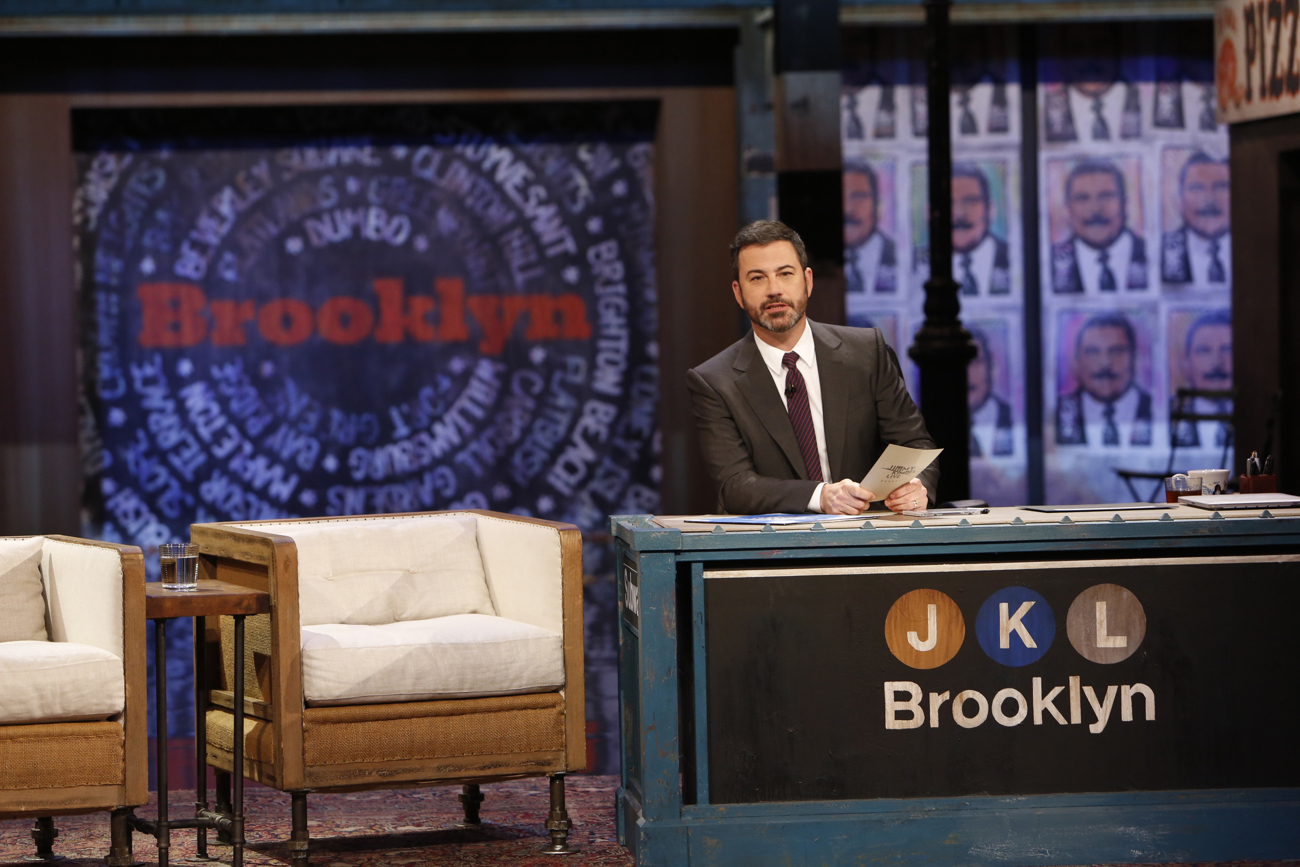 In addition to these larger, more prominent elements, the design is decorated with numerous small touches — ranging from seasonal pumpkin decorations to mailboxes, lamp posts, fire hydrants and a series of "back to Brooklyn" posters arranged, billboard style, high on one of the buildings.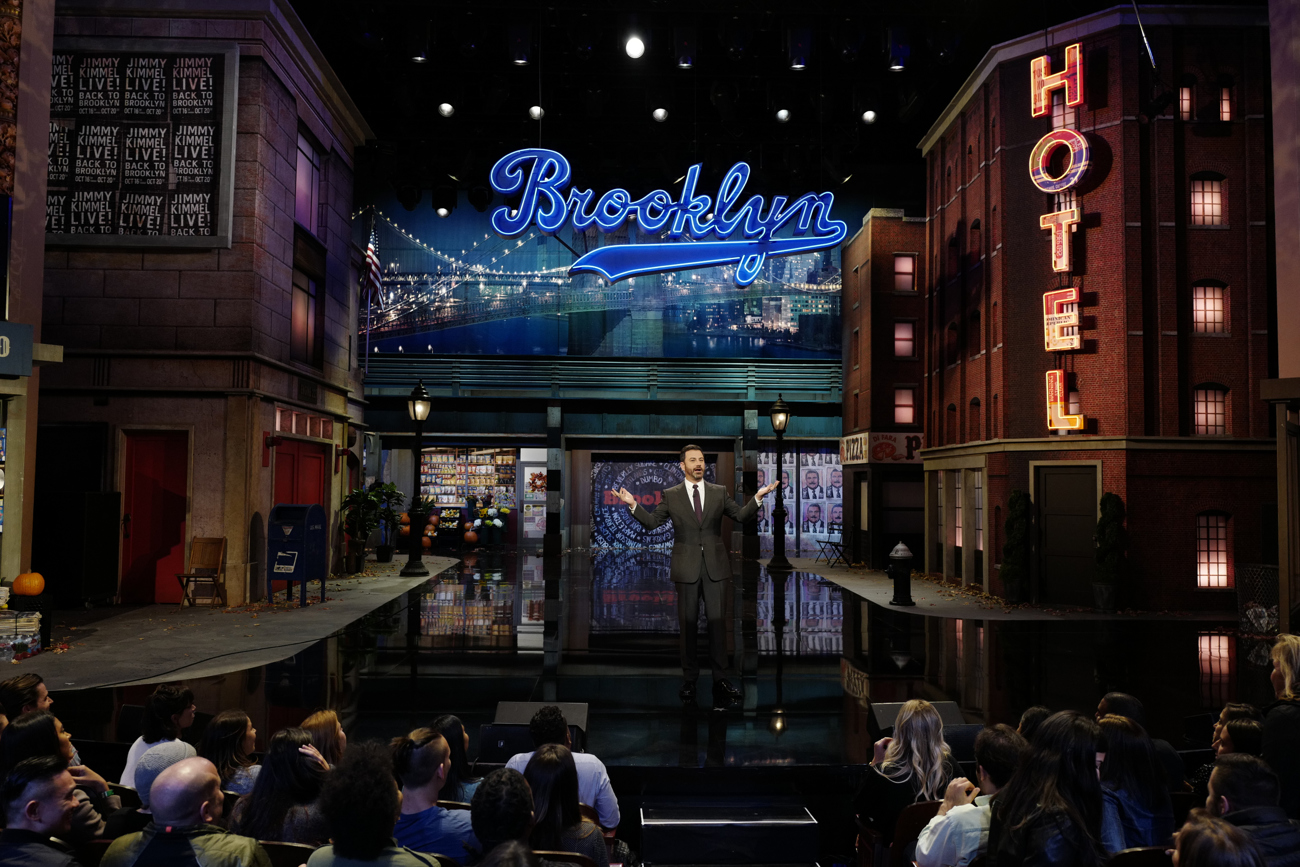 The late night feel is honed further by refined lighting design that adds both texture and depth to the look.
Integrated lighting in the faux buildings' windows, the backlit storefronts and the neon "hotel" and "Brooklyn" lettering add splashes of light that help break up the solid scenery.
Photos by Randy Holmes