CBC mixes AR with subtle scenic elements for Olympic studio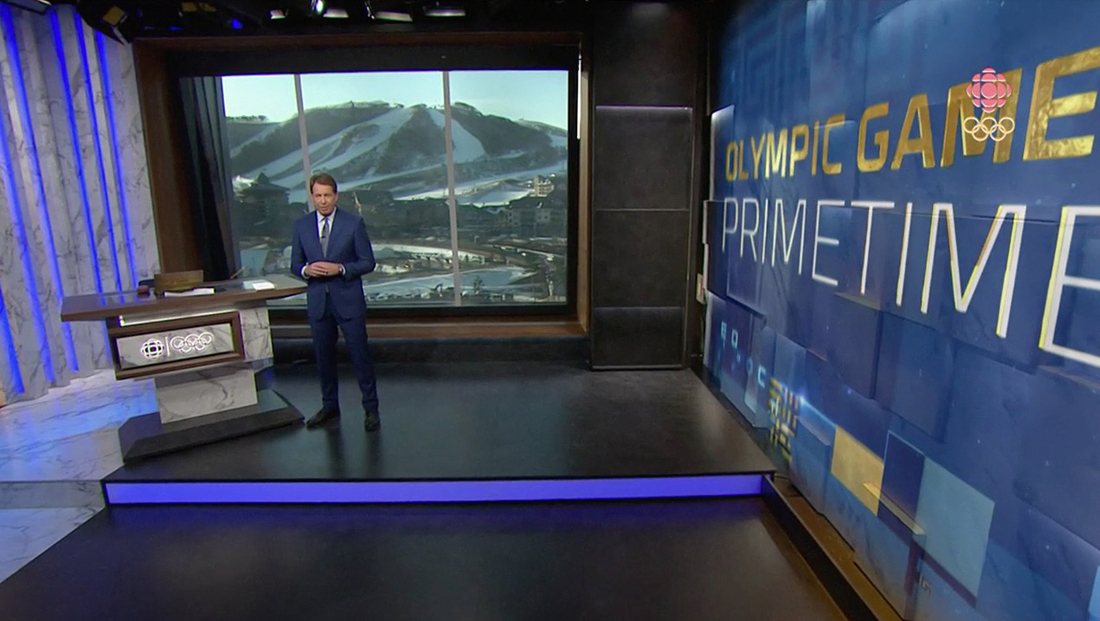 Subscribe to NewscastStudio's newsletter for the latest in broadcast design and engineering delivered to your inbox.
While the space may not be sprawling, it makes up for its lack of expanse with an impressive use of carefully integrated augmented reality, powered by Vizrt.
"We really pared down the set so that the graphic team could activate the space," explained Sanvictores.
On the right side of the studio, for example, is a fairly simple faux-stone wall with a monochromatic checkerboard pattern featuring staggered depths. This segmented motif pays homage to both the network's logo and patterns in the network's Olympics open.
But the wall and its pattern play a more critical role; they serve as a surface for a wide variety of augmented reality graphics.
"The danger with AR is that you have a 'holodeck' and anything can pop out of nowhere with no reason or rationale. We wanted the architecture of the space to inform the language of the graphics and vice versa and not be an afterthought but rather developed in parallel to each other," said Sanvictores.
To that end, subtle layering and relief add a hint of dimension so it doesn't feel like the graphics are simply being inserted into the picture.
Achieving the ideal blend between the real and augmented world required extensive testing in Toronto before the set was shipped to South Korea in October, notes Sanvictores.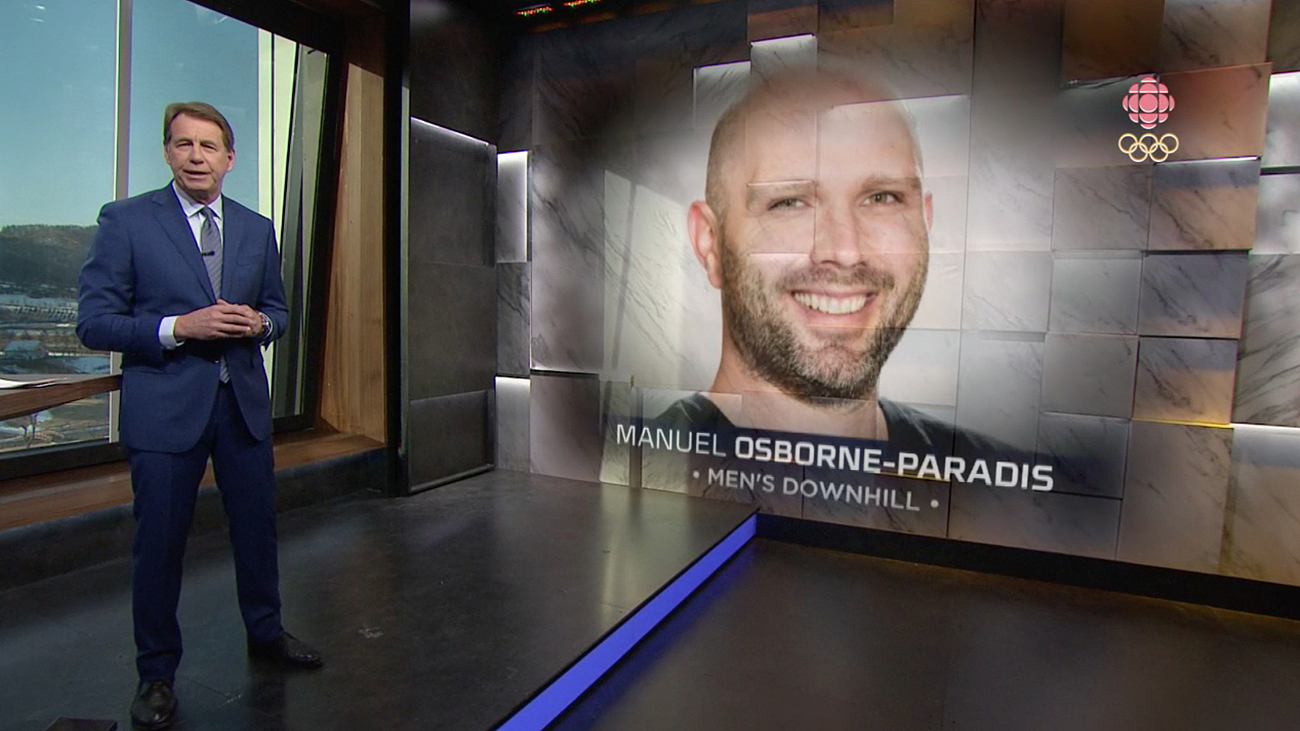 By developing augmented graphics that use the checkerboard pattern as a base, the lines between real and augmented are artfully blurred, especially with the large, video wall-style graphics.
It's worth noting that AKA and CBC purposefully opted out of using the ever-popular video wall in the space.
"There simply was not enough space in the studio, and given the rigors of shooting with a large window view and the sun considerations it was difficult to manage light levels and reflections within the space," said Sanvictores.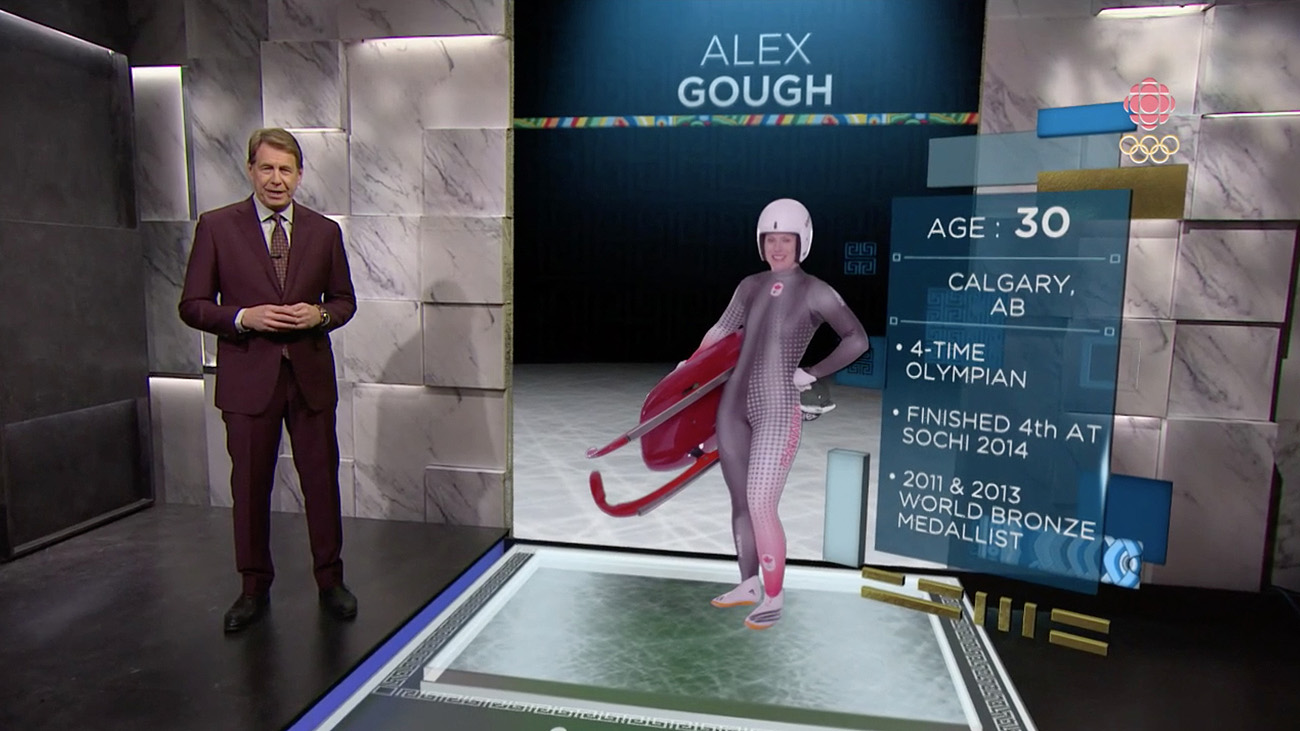 The wall is also designed to slide apart to reveal a green screen, allowing the network to insert graphics that appear to be part of the background and can be used in conjunction with augmented reality elements. This segment also serves as "portal" to allow augmented graphics to enter and exit the field of view, such as with athlete profiles.