Boston station uses '15 box' — with a twist — for storm coverage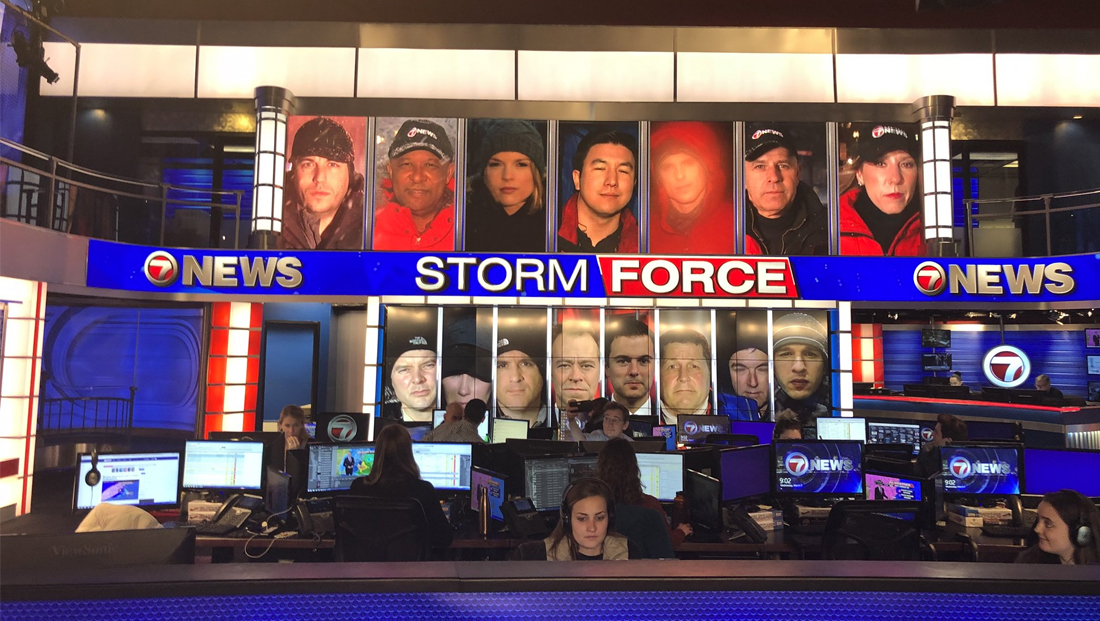 WHDH, an independent station serving the Boston market, is in full team coverage mode for the Nor'easter hitting the region — and used its "Newsplex" video walls to showcase an epic "15 box" of its reporters and meteorologists.
Under its "Storm Force" branding, the station displayed vertical images of team on the two tiers of video walls in its working newsroom set, dubbed the "Newsplex."
The images were split among the video wall that sits on the newsroom floor and serves as the primary newsroom background as well as the larger, seamless one on the mezzanine level.
The LED video ribbon between the two levels boldly displayed the "Storm Force" branding and "7 News" logo.
When we say team coverage…. we mean it. 15 box! @7News pic.twitter.com/55jBa5F5TW

— JADIANN THOMPSON (@JadiannTV) March 8, 2018
WHDH, along with its sister station WSVN in Miami, both have similar Newsplex sets, with Boston's being updated in 2016, following the Florida version's upgrade in 2015.
Winter storms, which typically draw high viewership and are ideal for showcasing team coverage, seem to bring out box-style layouts that go above the traditional two or three count.
WSB in Atlanta created a "14 box" during a 2014 storm — only to outdo itself with a "25 box" later. Another storm in 2017 brought back the "box-a-palooza."
During this year's storm, WFSB in Connecticut created a "25 box" — though not all of the images were serious.