BBC blends Brexit secretary resignation with cave rescue in lower thirds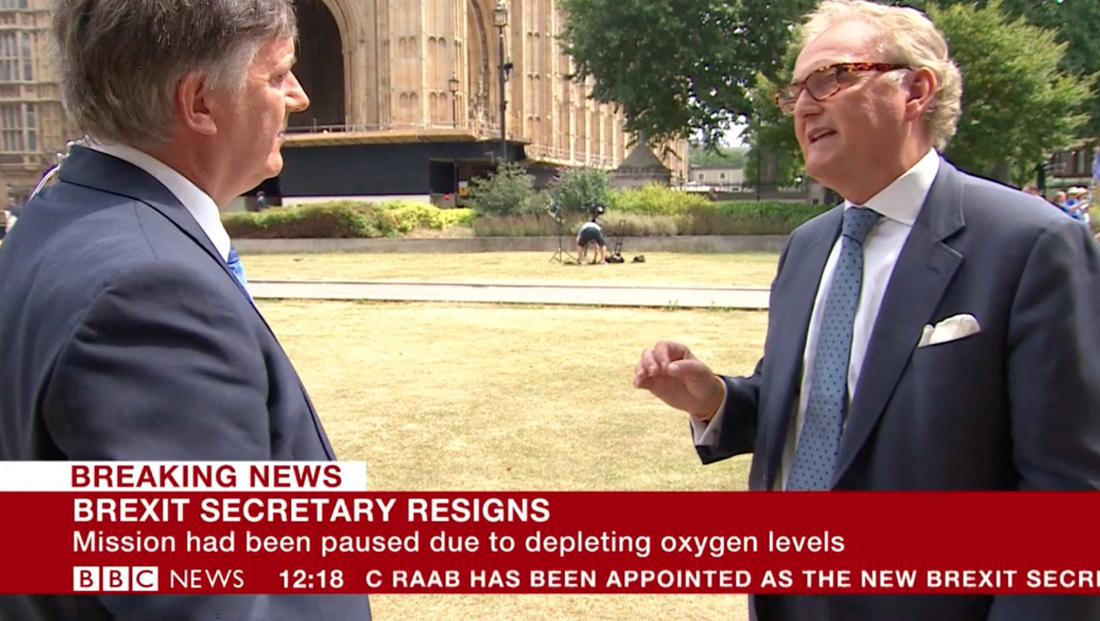 Sometimes there's just so much news going on it's hard to keep straight what story you're actually covering.
Business Insider reporter Thomas Colson noticed that BBC News, while airing a live interview during its coverage of the "Brexit secretary" resignation, had the correct text in the first tier of its lower thirds — but the second line featured text that appeared to be related to the Tham Luange cave rescue.
Absolutely incredible stuff from the BBC subtitles team. pic.twitter.com/3TCXmBCv3f

— Thomas Colson (@tpgcolson) July 9, 2018
All under the banner of "Brexit secretary resigns," Colson's screen captures show graphics that have a second tier reading "Mission has been paused due to depleting oxygen levels," "More ambulances seen going into operation area" and "Eight people remain inside the cave."
BBC was covering the announced resignation of David Davis, the Secretary of State for Exiting the European Union, who stepped down citing "irreconcilable differences" with Prime Minister Theresa May.
The "CBS Evening News" also mixed up the cave rescue with another story on Friday, July 6, 2018, while an erroneous ABC News lower third during a June 20 special report announced — incorrectly — that former Donald Trump campaign adviser Paul Manafort had been charged with manslaughter.
The BBC's error is perhaps a bit more understandable than ABC's, given that the cave rescue story is an ongoing, developing story that most networks are cutting back and forth to throughout the day — so it makes sense that that text would be entered into the system.
ABC's gaffe, however, was, aside from the fact Manafort had been charged with crimes (it was obstruction of justice and witness tampering and not manslaughter), completely inaccurate.