'CBS This Morning' puts video arrays to work for its millennial women voters series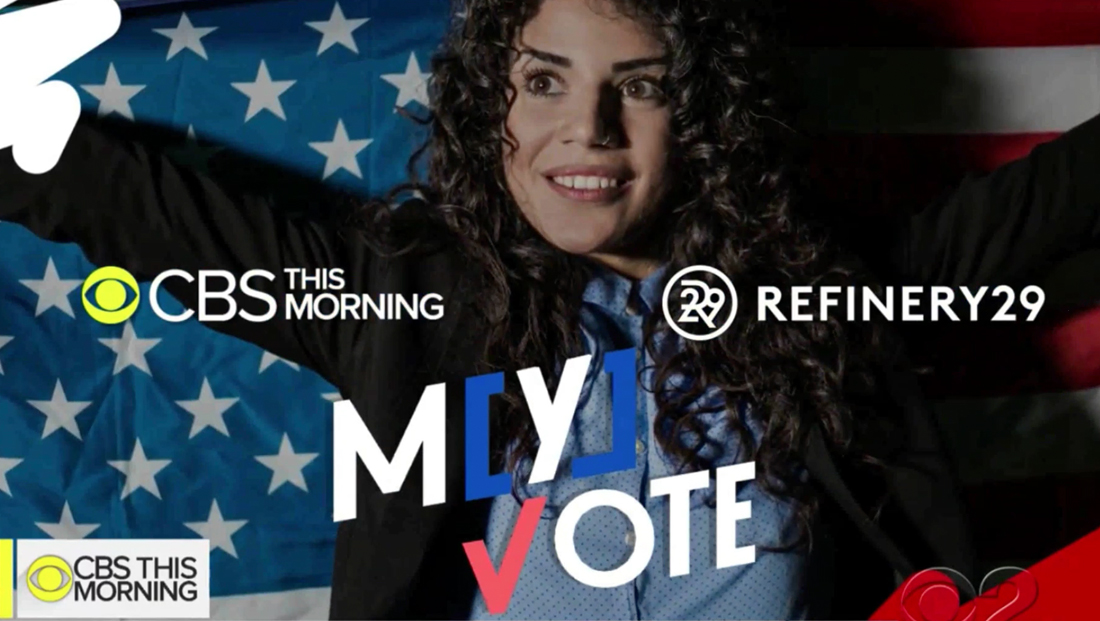 "CBS This Morning" is taking full advantage of Studio 57's plentiful video walls and video arrays as part of its weeklong series "M(Y) Vote."
The series, produced in cooperation with Refinery 29, focuses on female millennial voters and their influence on the political landscape, in particular the midterm election and 2020 cycles.
When kicking off the series Monday, Aug. 13, 2018, the broadcast introduced a branded stinger with a angular, diamond motif and a similarly diagonally-oriented logo design mixed with stock photography.
The logotype's lettering angled upward, with the "Y" placed inside brackets to emphasize its representation as the female chromosome, while the "V" in "Vote" was turned into a red checkmark — with its upward stroke matching the angle in the "Y" above.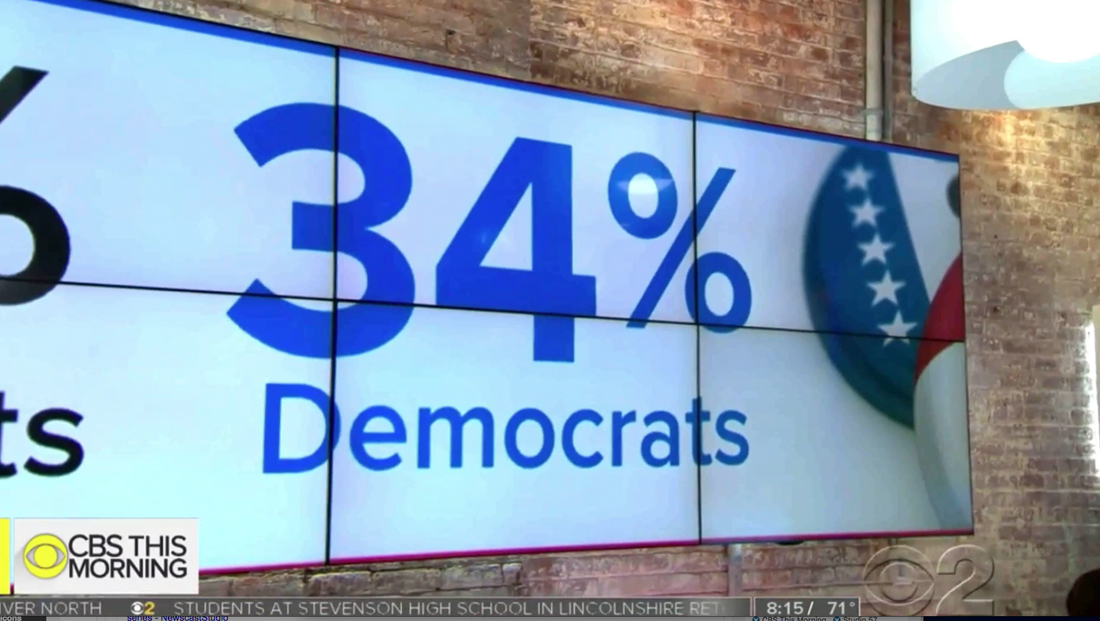 To kick off the series, which, naturally, was driven heavily by poll data, producers used a sweeping handheld sequence combining the "video on video" and "walk and wander" techniques to showcase three key statistics on the horizontal video panel array on one side of the studio before showing additional points on the larger adjacent video wall.
The look also incorporated a red-to-blue gradient and the square brackets as repeating graphical elements.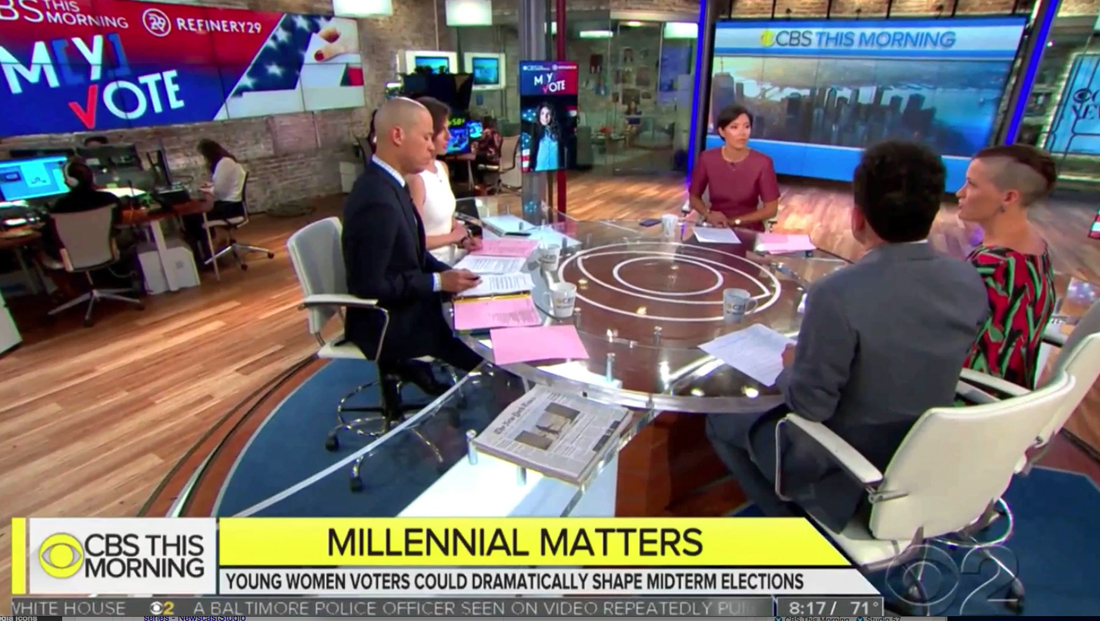 During the in-studio segments, which on the first day included a roundtable discussion, many of the on-set video panels were switched to matching graphics, though the generic "CBS This Morning" skyline graphic and looping map background remained on two video walls.
The studio's freestanding seamless video wall was used to showcase data points during the discussion.
On Day 2 of the series, the stinger was played on one of the studio's pole-mounted video panels, which had been pivoted to landscape orientation.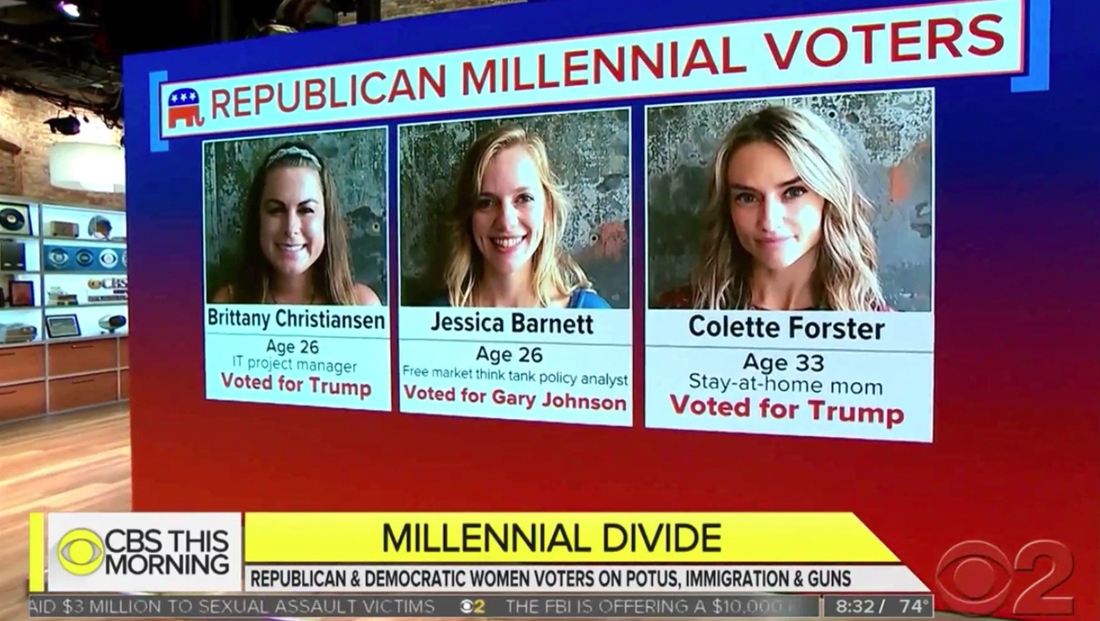 The seamless video wall, meanwhile, was used to showcase key facts about six of the voters interviewed by Alex Wagner for the segment.