Kansas City's KMBC 9 News debuts new set packed with technology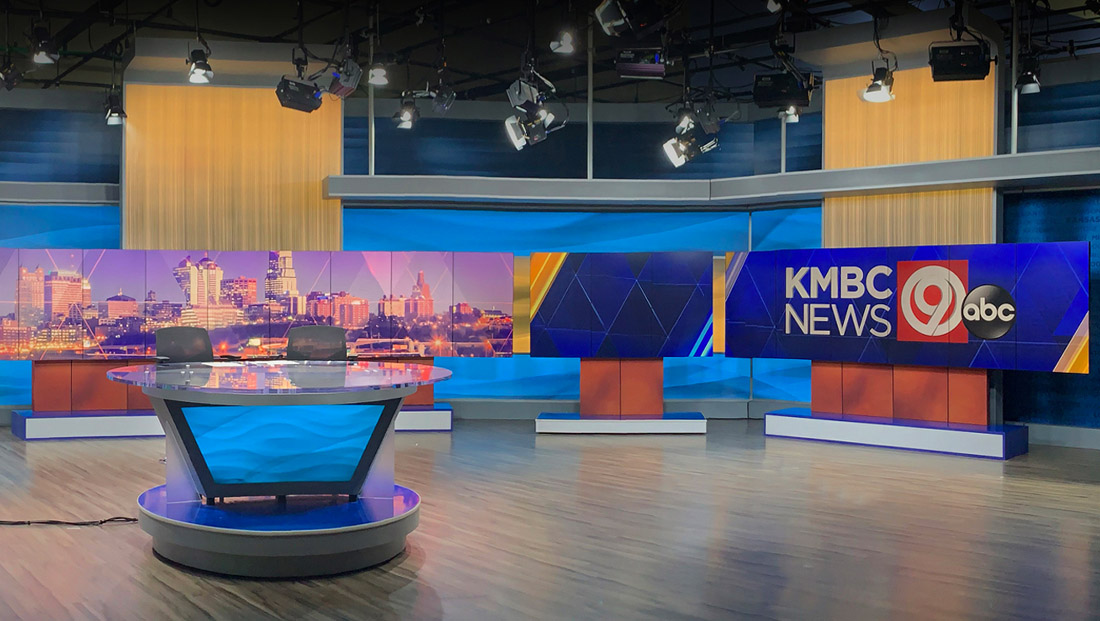 Hearst's Kansas City ABC affiliate, KMBC 9 News, has debuted a new set from Devlin Design Group.
Devlin notes KMBC wanted the set to feature a variety of venues for storytelling along with a strong visual connection to the local community, along with the latest in set technology.
The main anchor area is backed by 9 vertically mounted 55-inch displays from Primeview. This sweeping video array can also be used for stand-ups or walk-and-talk segments by talent.
The set also includes a dedicated weather center with five 50 inch monitors for weathercasts and for usage during severe weather coverage. Outside the weather center, a weather desk is flanked by a 2×1 array of 80-inch monitors. A 90-inch display is located between the anchor desk and weather areas.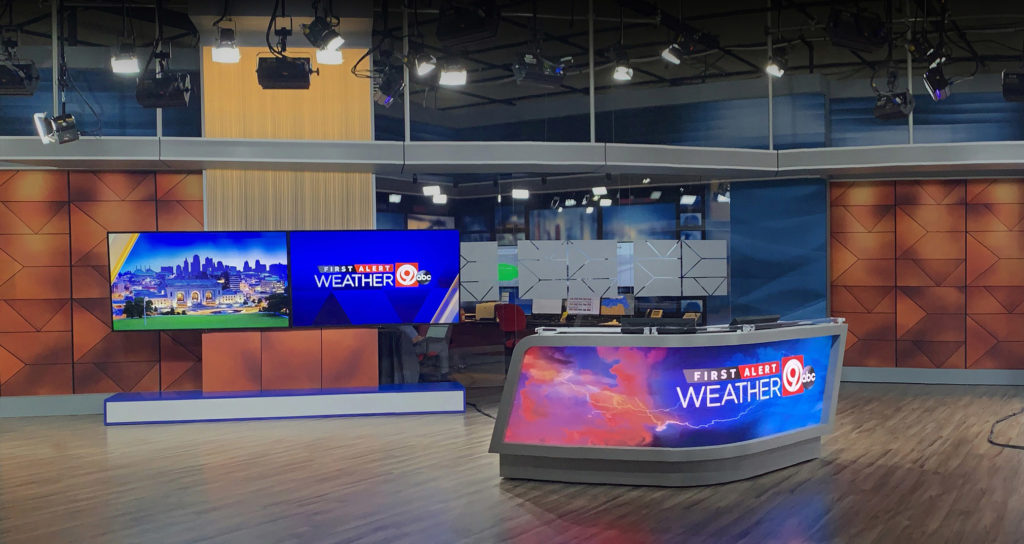 To the right side of the set, a 6×1 video wall of 55-inch monitors create a multi-purpose area for stand-ups and interviews.
The set also includes a movable 3×1 array of 55-inch monitors that can combine with the nearby video wall to create a 9×1 video wall.
The design is wrapped in color changing RGB LED backlit walls with patterns that represent the two rivers that straddle the two states, Missouri and Kansas. Copper accent walls add warmth, Devlin notes, with a "city wall" featuring names of the popular cities in the KC metro.
Previously, KMBC utilized a set design that allowed for a variety of "working" backgrounds including the station's control room and newsroom.
The station moved to its current broadcasting facility in 2007, leaving downtown Kansas City after 60 years. The former spot, originally the Lyric Theatre, is currently under redevelopment and will house the YMCA of Greater Kansas City.