CNN Studio 19Z blends video walls and structural elements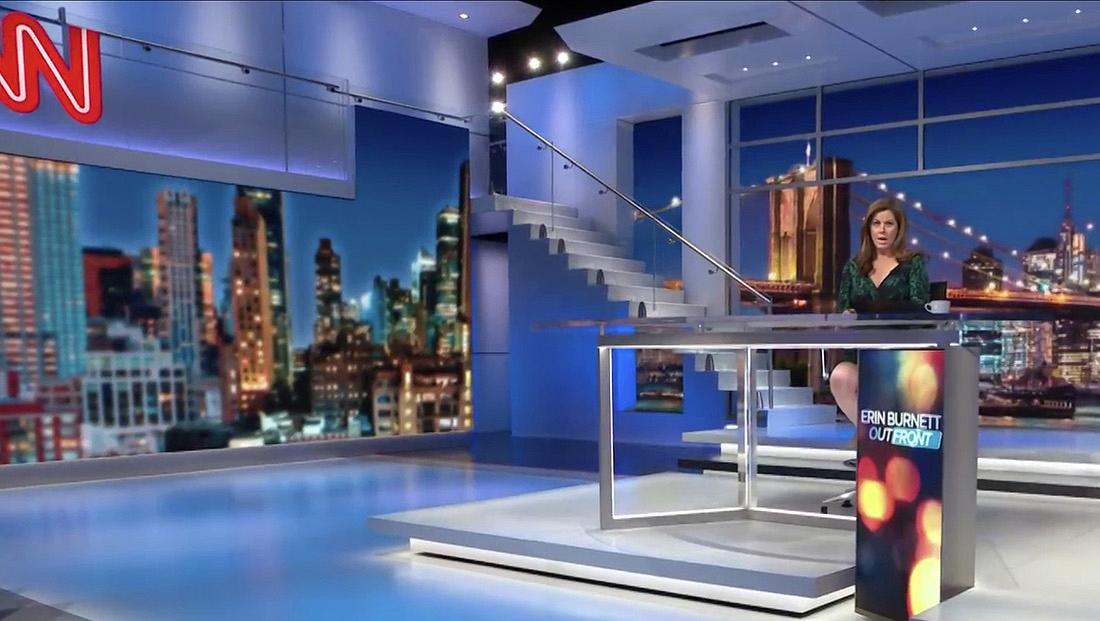 After debuting Studio 17N last week, two CNN shows moved into Studio 19Z in Hudson Yards.
Studio 19Z is, like 17N, a flexible space designed to be used for multiple broadcasts.
"Erin Burnett OutFront" and "CNN Tonight" both made the move Monday, May 13, 2019. Weekly public affairs program "Fareed Zakaria GPS" will also use the space.
The 360-degree new set is stocked full of video walls but also includes hard scenery including a functional staircase and balcony.
In addition, smooth, off-white walls combined with metal and glass to form a sleek, polished look that echoes the look found in the network's Washington, D.C. studios as well as the new 17N.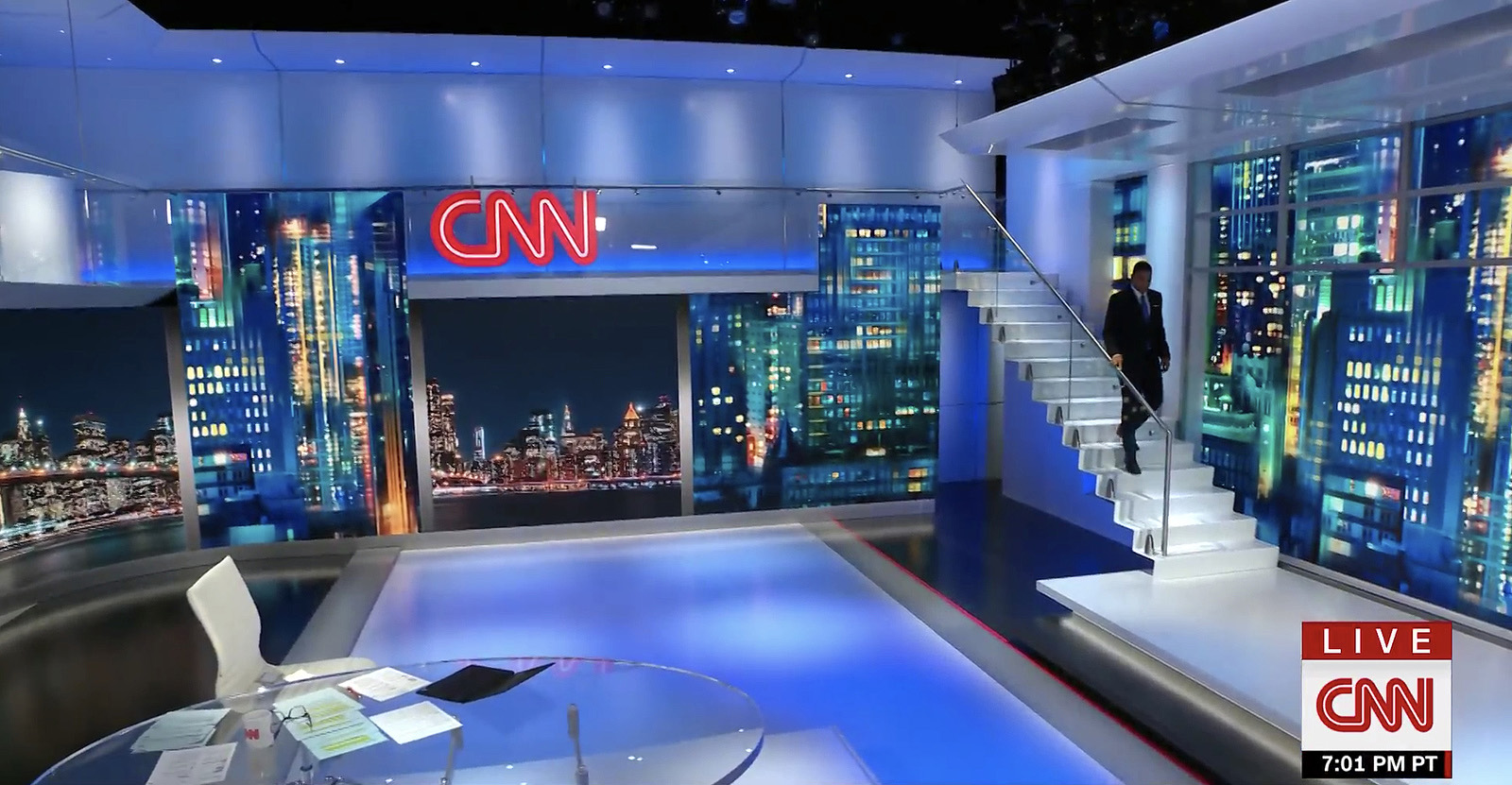 From a structural standpoint, the most visible element of the new set is probably the staircase — which is practical and wraps around to a small bank of workstations perched above the studio space.
Behind the stairs is a solid wall with vertical opening outfitted with video panels.
Camera left of the staircase transitions to a large span of video wall with a balcony running over it.
On the far left and right of the balcony, two segments of LED poke up and form the "railing" — which the center segment is the glass and metal look used on the staircase and also serves as the home of a large red CNN logo.
Continuing to the left of this area, the LED walls curve slightly before continuing under the balcony workstations.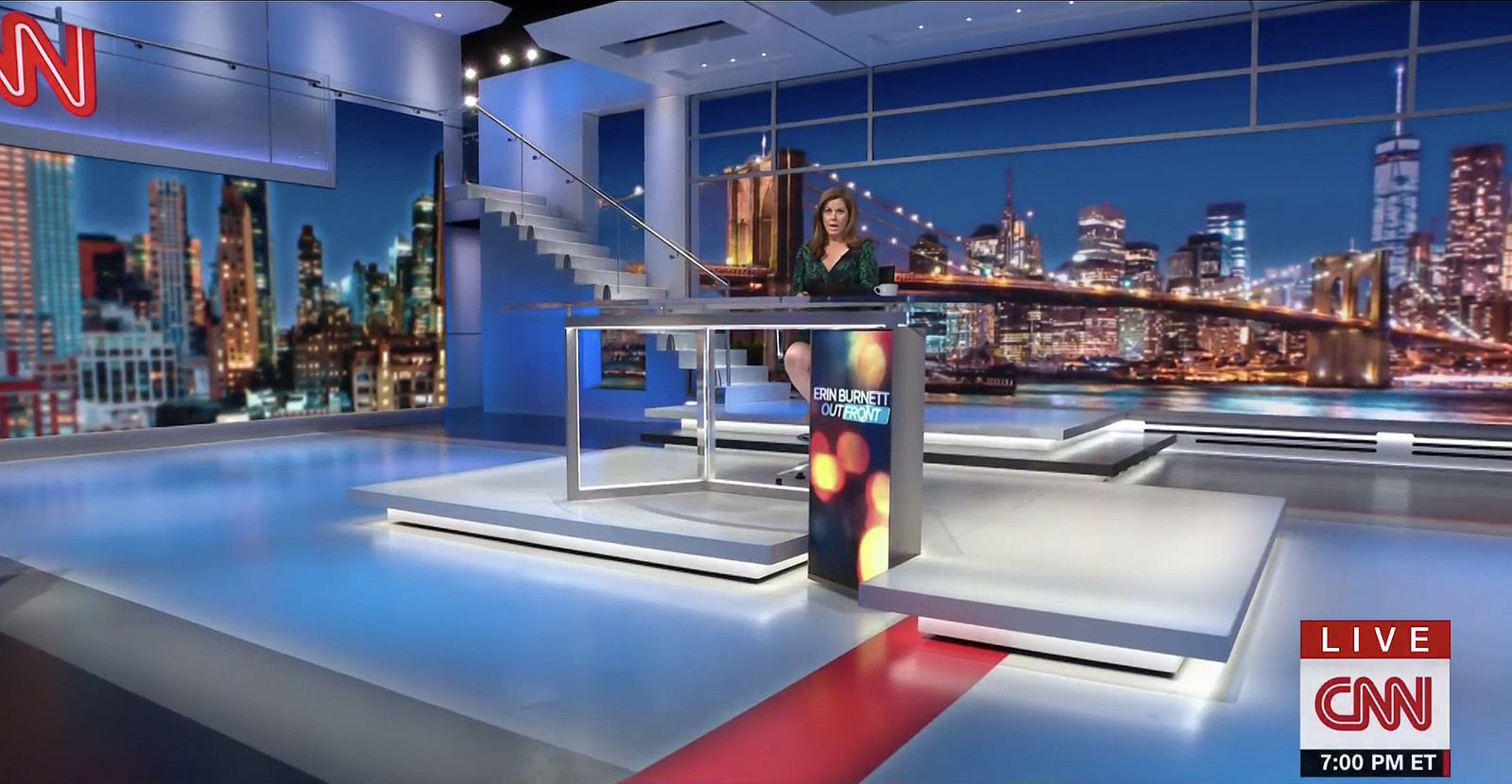 On the other side of the staircase, meanwhile, is a large swath of LED panels that form a sort of "window" look thanks to the mullions in the header.
This area also features a sleek riser where the staircase terminates.
Moving farther right, the LED video walls become lower for a brief part of the studio before a small segment of solid off-white wall with reveal lines and a monochrome CNN logo.
Next is another span of video wall with additional mullioned headers — though these are backlit with color changing LED much like the main newsroom wall in 17N.
The floor of the new studio is a combination of darker gray, gray, off white and red lines that that create a rough grid pattern.
The space also features two anchor desks — both large oval glass-topped affairs with open, frame-like fronts and both with a plinth of LED video panels that doubles as both a structural element and branding opportunity.
One desk features a red backward L-shaped frame with LED ribbon that continues into the floor of the riser.
Both elements also take advantage of a small "cutout" in the riser.
The other desk, meanwhile, features an edge lit metal frame along with a similar vertical video panel that is tucked into a notch in the riser as well — though at a slight angle.
Both anchor risers are wild and can be moved into a variety of positions in the studio.
Project credits