'Today' turns video wall into 'Jeopardy!' board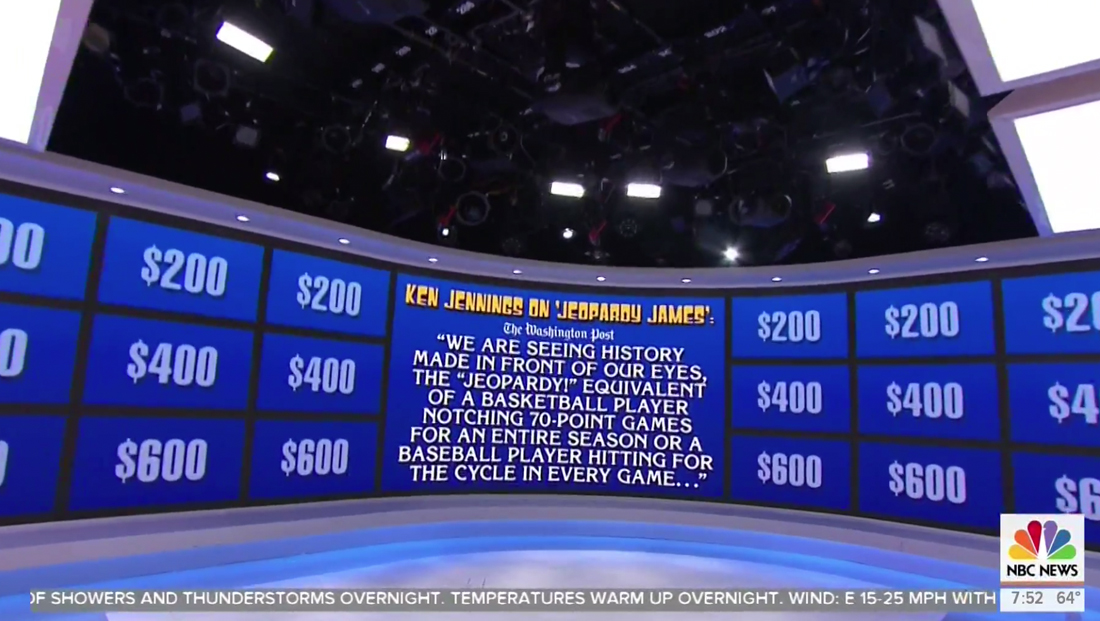 As part of the "Jeopardy! James" craze, NBC's "Today" used Studio 1A's curved video wall to create a simulated recreation of the show's iconic gameboard.
The graphic appeared Tuesday, May 21, 2019, and was designed to showcase a quote from "Jeopardy!" champ and record holder Ken Jennings, who was commenting on James Holzhauer's recent success on the show.
Although the layout of the graphic didn't match the "Jeopardy!" boards' familiar 36-screen layout, it did feature a center screen with Jennings' quote set in Korinna, the font "Jeopardy!" has used for its on-screen clues for decades.
The header was set in a font inspired by the show's top-heavy logotype.
Surrounding this were smaller rectangles with clue values — in white and not the yellow the real board uses.
And, of course, during the segment, a tinny version of the "think music" played in the background.
Way back in 2013, MSNBC's Al Sharpton used Studio 3A's three-column "window" array created using inset video panels to create a four category iteration of the "Jeopardy!" game board.
That video panel array and wall has since been removed, replaced with two seamless LED video walls that intersect in the corner of the studio.