Technical glitch causes multiple Lester Holts to appear on screen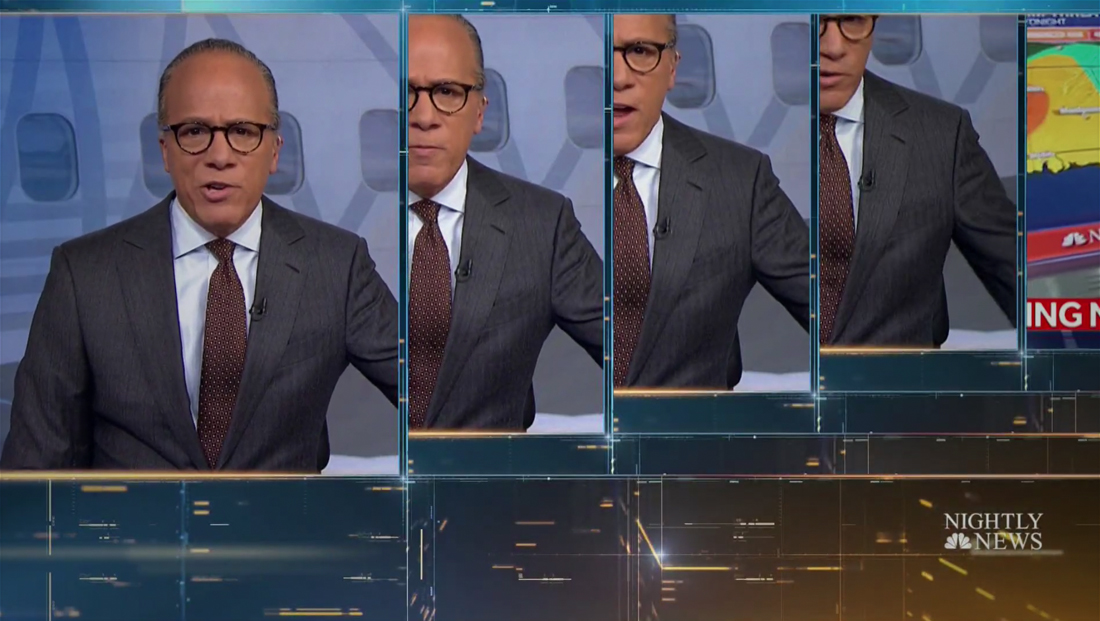 Lester Holt fans got a nice treat Monday, Dec. 16, 2019 — when a technical glitch caused Holt (and, briefly, Al Roker) to be "cloned" on screen during "NBC Nightly News."
Roker joined the broadcast on the MSNBC side of Studio 3A, which he was using as the "NBC News Weather Center," which is really just part of the MSNBC studio transformed to showcase weather maps thanks to the LED video walls and ribbon.
When Roker tossed back to Holt, who was anchoring on the other side of 3A, the pair appeared, as is typical, in a two box.
However, a technical glitch caused the image of Holt and Roker in the double box graphic to repeat itself at least four times in the wider, right side box.
The glitch is reminiscent to a series of 2015 glitches at ABC O&O WLS in Chicago — which was dubbed the "window to hell" by some as the error kept popping up while the station was in the process of breaking in a new set.
WLS's issue was slightly different, however, in that the repeating image appeared on the video wall behind the anchors, while the Holt-Roker issue didn't directly involve video walls — but rather the control room effect that takes two live shots, inserts them into a graphic and outputs them as a single image.
The effect is technically known as the Droste effect, named after a hot coca box that featured an image of a woman holding a tray with a box of the product on it — which featured a picture of her holding another box on another try (and so on).
Like WLS's issues, however, this wasn't technically a full Droste effect because, likely due to signal delays, the repeating image of Holt and Roker were slightly different.
The glitch was removed on the later feed of "Nightly" as well as video on demand versions by editing out the two box shot completely.
The airplane themed graphic behind Holt was not a blooper — it was used for the next story.
While NBC, along with CBS and ABC, have been goosing ratings by re-airing their respective newscasts overnight, having four versions of the same anchor on screen doesn't quadruple ratings.
The latest in design, production and engineering
Subscribe to NewscastStudio for the latest delivered straight to your inbox.