CBS News introduces updated election branding during busy time in politics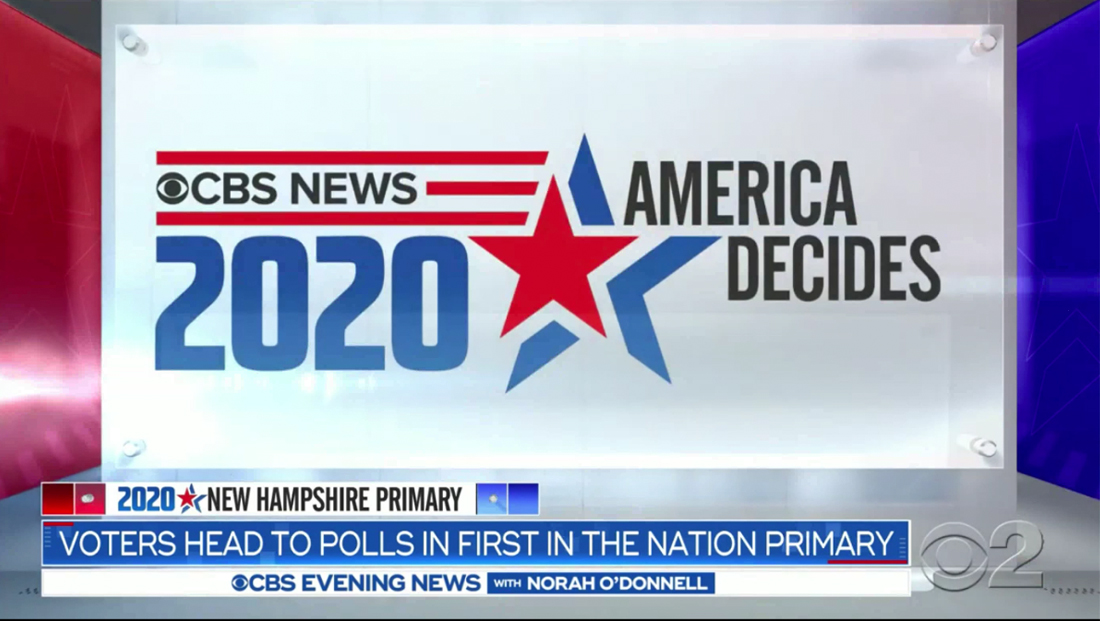 After several big weeks laying the foundation for the 2020 presidential race, CBS News appears to have completed the rollout of new election branding and graphics from agency Troika.
In previous years, CBS has used the branding "Campaign (Year)" — but now has switched to "America Decides."
The name, along with updated election graphics, began rolling out earlier this year but really began to become more prominent during Iowa Caucus and New Hampshire Primary coverage.
Along with the new name, the network introduced a new logo that includes "2020" in what appears to be the font RBNo2.1, which is notable for its distinctive "2s."
Meanwhile, "CBS News" is set in Proxima in the election look, which is also used for most other text in fullscreen graphics such as candidate names, vote tallies, percentages and other data points.
"America Decides" or alternate branding such as "Iowa Caucuses" or "New Hampshire Primary" is set in yet another sans serif — what appears to be a condensed version of Trade Gothic.
The selection of fonts appears to be a way to make the look flexible enough to fit in across all CBS News programming and platforms.
For example, "CBS This Morning" uses a member of the gothic font family in its lower thirds, while Proxima is used in its logotype.
RBNo2.1 and Trade Gothic also have some similarities to the "Face the Nation" logotype font, what appears to be a condensed and heavy version of Eurostile Next.
Proxima also has some similarities, particularly in its lighter versions, to Ridley Grotesk, the font "CBS Evening News" uses in almost all of its on screen text.
In addition to the typography, CBS has also added a "double star" icon — with a red star in the middle "shadowed" by a larger blue star shape behind it. Stripes can also be added in depending on the lockup.
Meanwhile, the graphics themselves use a glassy, 3D look with red, white and blue surfaces.
Viewers see the elements "rotate" around and most of the graphics also include a faux 3D "standoff" — or sort of metal "peg" — in the corners or ends of 3D elements.
Other motifs include outlines of the star icon as well as text that animates in through an outline only version as well as thin outlined boxes for data labels.
There are, of course, different versions of the "America Decides" graphics for each show.
The use of 3D cube like spaces has some similarities to the "virtual set extension" video graphics introduced when "Face the Nation" moved onto the new set the network built for "Evening News" in Washington, D.C.
It's worth noting that "America Decides" has some similarities to CNN's "America's Choice" and NBC News "Decision 2020" branding, though there are key differences and, of course, there are ultimately a limited number of election related words to pick from when creating a catchy election name.
CBS News did not respond to request for comment.
The latest in design, production and engineering
Subscribe to NewscastStudio for the latest delivered straight to your inbox.