NBC News Now adding Gadi Schwartz show, updates commercial break graphics

Subscribe to NewscastStudio for the latest news, project case studies and product announcements in broadcast technology, creative design and engineering delivered to your inbox.
Gadi Schwartz, who already anchors NBC's social media newscast "Stay Tuned" is also getting an 8 p.m. eastern newscast on NBC News Now.
"Now Tonight with Gadi Schwartz" will debut at an unspecified date in February 2023, according to an internal memo from Janelle Rodriguez, the senior vice president for editorial on NBC News Now, announced.
Schwartz will anchor the hour-long block, which will lead into "Top Story with Top Llamas," the streamer's signature primetime newscast, from Los Angeles (where it will be 5 p.m. local time).
An initial publicity still issued by the network shows Schwartz sitting in front of a dramatic dark video wall background of what appears to be downtown L.A. with the text "NBC News Now" inserted camera left — similar to the look used on other live, rolling newscasts on the streamer.
"Now Tonight" was also the name of the show that previously aired in the 8 p.m. timeslot — officially titled as "Now Tonight with Joshua Johnson," which ended its run in 2022. That show, however, had a distinct look from other NBC News Now shows and focused on context and analysis.
It's not immediately clear what format Schwartz's broadcast will take.
Schwartz originally joined NBC News based in New York in 2016 primarily to helm "Saty Tuned" before relocating to the west coast and expanding his duties across more platforms and programs.
In other NBC News Now news, the streamer also updated the graphics it uses during commercial breaks when no ads or promos are playing in late 2022.
The graphics now follow the boxy, sliding look of the show opens used for the network's "Morning News Now" and most dayside rolling news blocks.
The sequences are designed to allow the network to insert a photo and accompanying text to outline news headlines and other information such as stock market data.
However, in at least some cases, the network does not appear to be filling all of the available slots, so the animation takes that into consideration by using a design that doesn't look awkward when no content is added.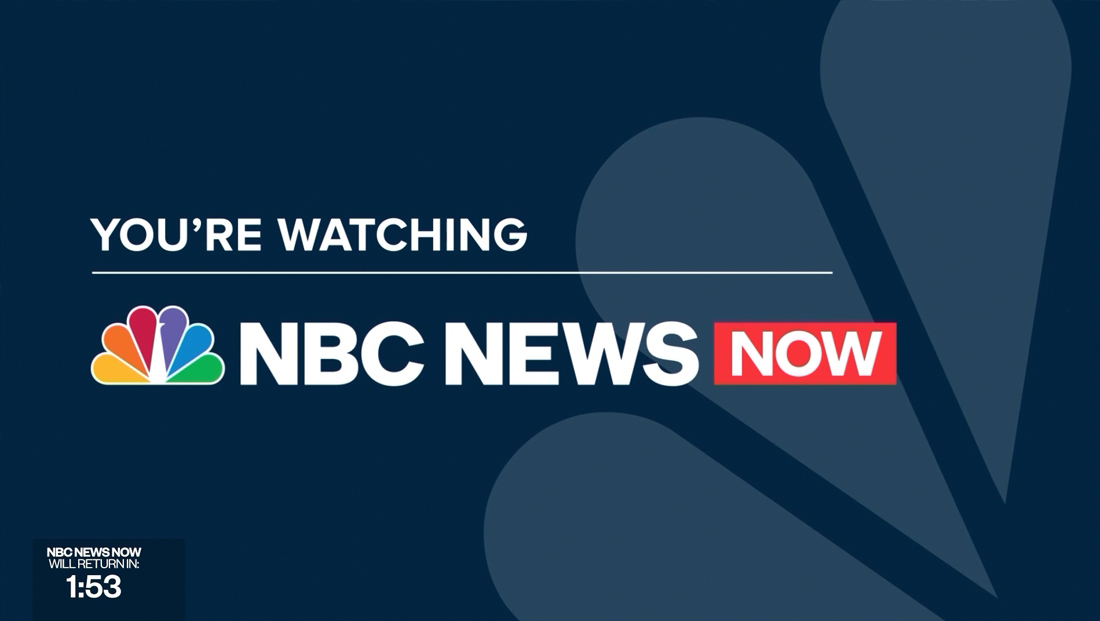 Previously, NBC News Now would run a static graphic saying "You're watching NBC News Now" with a heavy musical bed playing under it.
In addition to the updated graphics, music has been updating to be softer and more in line with the clips used within many other NBC News Now's programming.
NBC News Now, like many streaming platforms, continues to insert a countdown for how much time remains in the break.
That layout has been changed to sit within its own solid color bar running along the bottom of the entire screen, rather than overlaid only in a specific spot, meaning that advertising could be "squeezed" slightly to allow the countdown to remain on-screen even when dynamically-inserted commercial show or providers insert local ads at their head-ends.
The updated headline graphics and animation appear to be targeted at creating visual interest on the screen when no advertisements or promos are available or can be shown, which can occur if users have certain privacy settings enabled on their device.
It's also common for streamers to feed out house promos during breaks that can be covered by commercials inserted at various levels.
Correction: An earlier version of this story misidentified former anchor Joshua Johnson's name. It has been updated.
Subscribe to NewscastStudio for the latest news, project case studies and product announcements in broadcast technology, creative design and engineering delivered to your inbox.