Industry Insights: What the pros behind broadcast infrastructure see coming this year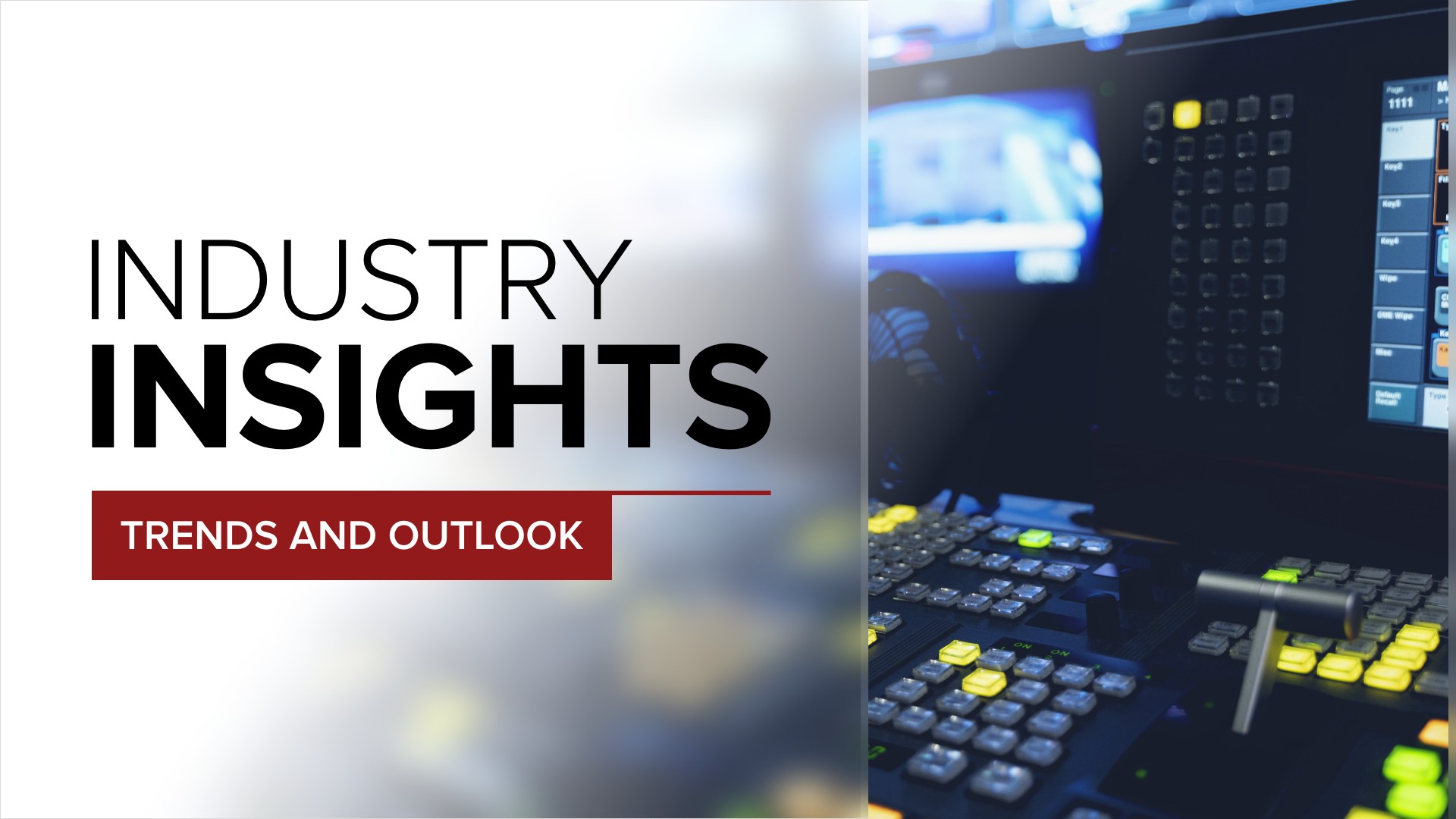 Subscribe to NewscastStudio's newsletter for the latest in broadcast design, technology and engineering delivered to your inbox.
With 2023 underway and trade shows just around the corner, it's time to look forward to the future of the ever–changing broadcast and media landscape.
We invited vendors from across the industry to share their perspectives in our Industry Insights roundtable with this edition focused on broadcast infrastructure.
Read on for their perspectives on the year ahead, the trends they're watching and how the supply chain and consolidation is impacting their thinking.
---
Make sure to check out the rest of this Industry Insights roundtable:
---
What is your outlook on the broadcast industry in 2023?
Ciro Noronha, CTO, Cobalt Digital: From an equipment vendor point of view, we saw increased demand for products in 2022. We see this trend continuing in 2023, especially for multi-function devices that simplify the workflow
Julián Fernández-Campón, CTO, Tedial: The outlook for the industry is extremely positive as the world recovers from the pandemic and broadcasters look for innovative technologies and agile tools to address media supply chain challenges and deliver more content on multiple platforms with greater operational efficiency. The landscape is quite heterogeneous varying from companies that made large investments that are now reaching the end of life, to new companies that require efficient and cost-effective tools to grow their business. In any case, the era of long and complex deployments is gone, broadcasters need solutions that can be tested with real use cases to ensure they meet their requirements and can be quickly deployed.
Bryce Button, director of product marketing, AJA Video Systems: With the return of more live events, expanded sports coverage, growing momentum for HDR in production, and the never-ending appetite for content, we expect that 2023 will be a very busy year for the broadcast industry. I anticipate we'll see more production and post technical integrations around virtual production as well as a continued migration of video transport to an ever-expanding suite of choices for IP, hybrid, and baseband, ensuring that it will be an exciting year in the space.
Evan Statton, senior principal architect in M&E, Amazon Web Services (AWS): In 2023, we anticipate increased interest in live remote production in the cloud as well as the introduction of more FAST channels. Customers such as ATP Media, FOX Sports, and ESPN have already begun experimenting with live remote production in the cloud. It's truly exciting to watch our customers and partners innovate together to push the boundaries of what is possible. For example, this year, we saw ESPN execute the first ever cloud-based super slo-mo replay using SimplyLive and Evertz software. Regarding FAST channels, we are seeing more interest in serverless channel assembly using services such as AWS Elemental MediaTailor.
Andrew Ward, head of business development, Cinegy: Statistical projections show an ongoing increase in the number of television viewers in the coming years, even as the rise of streaming providers continues, and many of those viewers are yet to move to HD. Furthermore, the streaming sites (legal and illegal) cannot outdo linear broadcast TV and radio for delivering live events, sport and news. So our outlook for 2023 is positive.
Simon Jones, managing director, Densitron: As the world comes out of Covid we are cautiously optimistic despite the threat of a downturn, economic factors to be taken into account are that supply chain issues remain a challenge for longer than people anticipated and will continue to be a contributing factor in 2023.
What trends are you watching?
Ciro Noronha: The transition from SDI to uncompressed video over IP (ST 2110) is gaining momentum for larger deployments (including trucks), as more options become available and cost goes down. Some of the remote production that increased as a result of the pandemic is coming back on site.
Julián Fernández-Campón: The creation of business-ready applications and solutions will continue to expand allowing operators to design and adapt new media services on-demand. This will be achieved using packaged business capabilities (PBC), which are software and service components that represent a well-defined business capability and are functionally recognizable as such by a business user. This is the key for the composable enterprise where business users can build their own operation with low risk and quick time to market. Using a no-code approach, business processes can be adapted and evolved in the future without the need of deep technical knowledge.
Bryce Button: IP transport and HDR remain top of mind for AJA, with an acknowledgement that the demand remains high and as important for HD workflows as UHD. Also, we continue to engage with partners to integrate color transform technology within our tools, including real-time color transforms from HDR to SDR and vice versa, which are becoming increasingly important on-site for sports especially, as well as on-set with the rise of virtual production. Virtual production stages bring new considerations for integrating gear, so AJA is focused on developing technology and delivery systems that ensure that what is captured by creatives reflects their vision, without unnecessary complications.
Evan Statton: In addition to live remote production and FAST channels, we are also paying attention to the migration of linear channels from satellite to terrestrial delivery and the development of emerging technology used in live news production.
Andrew Ward: We see two things happening hand in hand as we look forward: more video via IP together with more virtual broadcast architecture. Video via IP has been transformed via the introduction of SRT and that in turn has been fueling the irresistible rise of virtualization and cloud technology.
Simon Jones: Continued investment in live events by broadcasters. Transition into the cloud on the increase. More SaaS model than CapEx.
What is your outlook on cloud production and workflows?
Ciro Noronha: Cloud production and workflows can benefit from vendor independent orchestration. We are hoping that there will be advances in this area. Another trend we are seeing is movement from renting cycles in a public cloud to operating your own cloud for cost savings.
Julián Fernández-Campón: The outlook is positive, cloud services have many advantages: quick time to market, elasticity, accessibility, security to name the most relevant, but for a platform to be able to offer all these benefits the applications need to be architected and deployed with a cloud-based mindset. This includes the use of containers; cost-efficiency, using, when possible, services in the cloud (database, indexing/searching, storage) to maximize ROI; elasticity, to be able to scale up and down according to processing needs; visibility, to give customers all the metrics to be able to optimize the operation according to the business needs; and future-proofing, simple upgrades and evolution to meet future needs. Most of the software that is in the cloud is containerized but not all meet all of these requirements, particularly in the M&E industry.
Bryce Button: The cloud-based tools landscape is ever-evolving, and continues to grow in scope across production chains, spanning camera-to-cloud workflows, virtualized creative tools, and more. New tools and processes introduce new challenges, such as metadata and media tracking and management. Managing huge data sets that live in the cloud will continue to be an ongoing challenge, to ensure only necessary assets are stored and that they are easy to find. We're aligning our development efforts to ensure that AJA offers bridges and solutions where most helpful.
Evan Statton: Live production, by nature, is event-driven and lends itself extremely well to the cloud. Additionally, an OB or event production truck is a relatively fixed asset with specifications and capabilities, whereas the cloud allows customers to create a production environment suited for a particular show. This includes the addition of new or different partner technologies whenever a production requires it, which allows for greater flexibility and experimentation with less risk and no physical design alterations. Furthermore, traditional live production can be an expensive endeavor requiring the travel of hundreds of people and movement of trucks. The cloud, on the other hand, enables customers to hire technical talent anywhere in the world to collaborate on an event while reducing costs and increasing production capacity due to improved crew utilization.
Andrew Ward: Modern cloud technology is flexible, mature and ubiquitous; it removes IT from the shackles of CapEx budgeting and offers an environment that can grow and shrink very quickly. With respect to cloud production and workflows, currently the technology is already there to make these practical using existing IT solutions such as virtualization. However, the potential of the cloud goes far beyond mere hardware virtualization, and we shall be seeing workflows transformed as the full potential of the cloud is realized by vendors.
Has the supply chain stabilized or is it still impacting your sector?
Ciro Noronha: The supply chain is not back yet to what it used to be, but it is starting to stabilize — due to both some reduction in demand and increase in capacity. 2023 should see significant improvements in this situation.
Julián Fernández-Campón: Tedial is all software so production of our solutions was never directly impacted by supply chain issues, but our customers requiring electronic components to complete their hardware infrastructure were affected. At this point our platform has been key to meet the projects timeline, as all the analysis, design and implementation of the business processes can be done in another platform, exported and adjusted in a few clicks once the final hardware is up and running using an agile methodology. However, with our new and award-winning NoCode Media Integration Platform that can be deployed in the cloud, the need for on-prem hardware is eliminated, offering enhanced agility and scalability.
Evan Statton: AWS offers over 500 instance types that customers and partners build with every day. The supply chain has largely stabilized, but even when there were issues, our customers were largely unaffected due to our vast array of instance types, which include parts sourced from different vendors. For example, we have instance options that feature many families of Intel, AMD, and our own Graviton CPUs.
Andrew Ward: In our particular area, supply chain issues continue to aggravate us since shortages of PC servers and crucial semiconductors used in peripherals becoming speed-bumps for many projects in our field. Modern process optimizations like JIT work superbly when everything runs as it should, but are severely prone to a domino effect when things go badly. Nonetheless, in IT there are now solid alternatives to physical hardware from AWS, Azure and Google and we will see if they can reap major benefits before everybody gets back in sync.
Simon Jones: Still impacting and will continue to do so in the next 12–18 months.
How has continued broadcast consolidation changed your business or attitude?
Ciro Noronha: If you are well positioned in the market, consolidation should not affect your business. If you sell to A and B, and they merge into C, you already have an entry into C. We do not see any significant business changes due to the consolidation.
Andrew Ward: It remains an inspiration to us. We see ourselves as disruptive (in a positive way), and since consolidation usually involves some measure of retooling we feel that we have much to offer when organizations amalgamate.
Simon Jones: It has presented opportunities for Densitron in our ODM offering helping manufacturers with their supply chain challenges and their desire to focus on higher-margin software endeavors.
Given the current economic headwinds, do you see an increase or decrease in capital expenditures (CapEx) in 2023?
Ciro Noronha: We believe that CapEx will remain stable for 2023. What is going to change is where it is allocated — it will go towards more flexible products and devices that have multiple applications and can optimize the workflow, allowing the customer to do more with less. That customer will invest in CapEx.
Julián Fernández-Campón: Currently, customers are still considering both CapEx and OpEx, however more hybrid cloud solutions like smartWork are emerging that offer a SaaS approach and that will move the needle away from CapEx and toward OpEx, especially in those cases where customers want to be able to try the solution or solve a specific problem. OpEx is ideal as they can start with a simple service and evolve towards a much more sophisticated one without the need of a big investment.
The latest in design, production and engineering
Subscribe to NewscastStudio for the latest delivered straight to your inbox.