Industry Insights: Production pros weigh in on 2023 outlook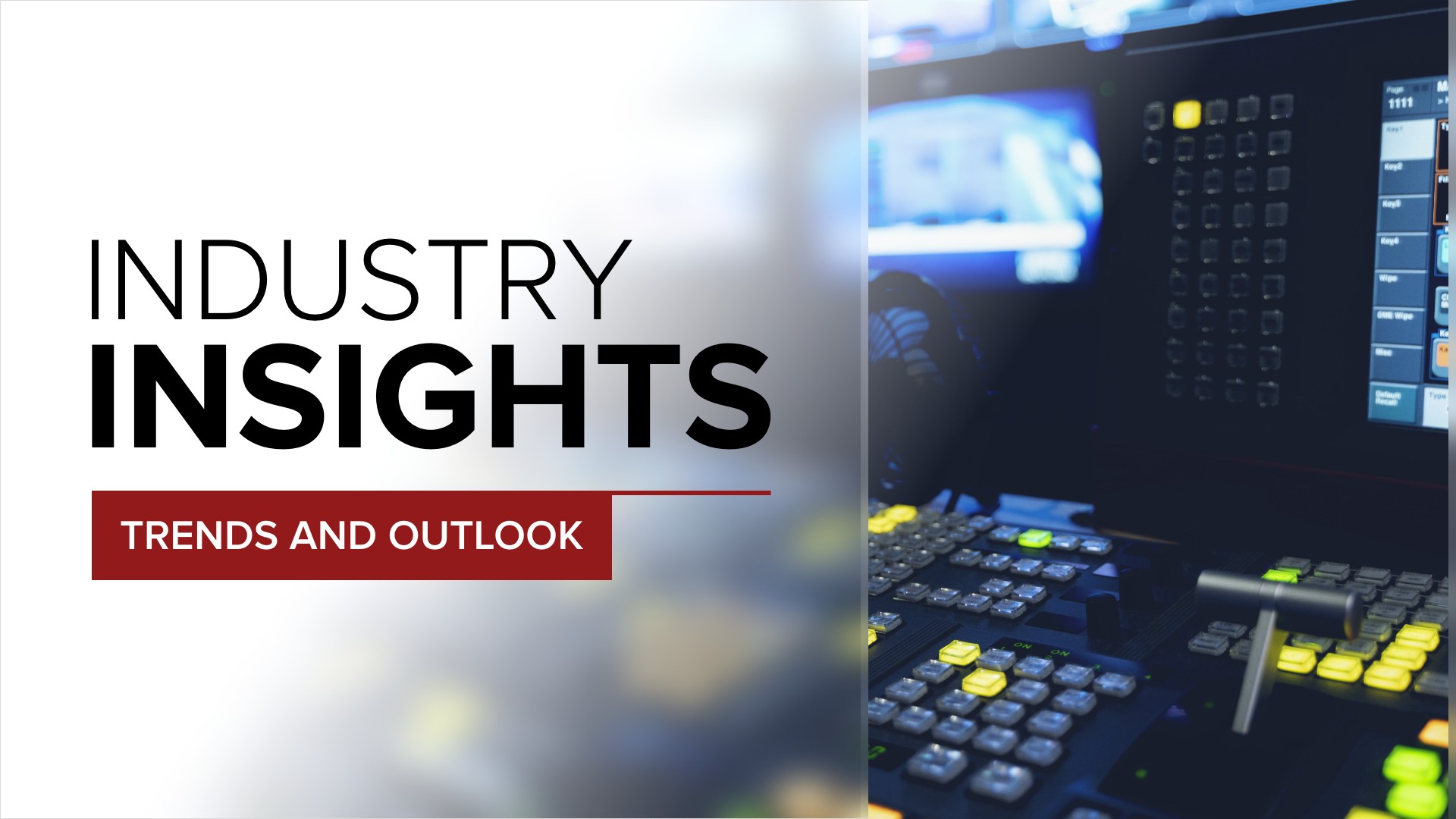 Subscribe to NewscastStudio's newsletter for the latest in broadcast design, technology and engineering delivered to your inbox.
With 2023 underway and trade shows just around the corner, it's time to look forward to the future of the ever–changing broadcast and media landscape.
We invited vendors from across the industry to share their perspectives in our Industry Insights roundtable. In this post, we'll hear from experts in tools for broadcast production.
Read on for their perspectives on the year ahead, the trends they're watching and how the supply chain and consolidation is impacting their thinking.
---
Make sure to check out the rest of this Industry Insights roundtable:
---
What is your outlook on the broadcast industry in 2023?
Ulrich Voigt, head of global product management, Vizrt Group: Considering the current state of the global economy, production efficiency that maintains the quality of the content high will be a huge focus in the next year. This affects all areas of the creative and operational workflows. I expect to see more use of automation and automated processes in studios to maintain production consistency. I also foresee an increased use of artificial intelligence to support the operator in removing manual work like keying or tracking calibration, and also to enhance the content, for instance in AR or VR workflows.
Dennis Kleyn, founder, ReadySet Studios: There is a shift towards virtual production and the use of in-camera solutions using LED stages not only in the broadcast industry, but in the commercial and high-end feature and episodic landscapes as well. We expect virtual production to be more and more common as a solution to a myriad of productional challenges.
Raul Alba, director of solutions marketing, creative products, storage, and cloud, Avid: With advertising revenues on the decline for years and a recession forecast, the battle to compete with Netflix and other streamers for quality content won't get easier. But there are quite a few reasons for optimism as well. We'll see broadcasters producing more reality TV shows, live sports and news. And ultimately, we'll see a more flexible approach to finding solutions to specific problems as the market shifts from on-prem to cloud and hybrid workflow environments.
David Jorba, VP of business development in broadcast, Disguise: We can see a big push for XR-led production. High-res LED content and AR storytelling are evolving as more broadcasters use LED volumes to immerse their audience. The adoption of Unreal Engine is also massive. This creates a huge demand for tools that work with Unreal Engine to build data-driven graphics that broadcasters can use every day.
Carol Bettencourt, VP of marketing, Chyron: While Covid-19, the war in Ukraine, and a looming recession may continue to impact the broadcast industry, there are opportunities for broadcasters and vendors who embrace evolving technologies and viewer preferences. Some broadcast technology vendors, including Chyron, show double digit growth in recent years. This will continue, largely driven by innovation that helps broadcasters bridge current and future workflows.
Marcus B. Brodersen, CEO, Pixotope: We anticipate some fairly dramatic shifts in how people consume and create media within the various sectors of the broadcast industry in 2023, particularly utilizing virtual production. New and unique methods of capturing viewers' attention using augmented reality have seen success so far across sports, news, weather and more, and as the development and simplification of these tools continue, this will lead to increased accessibility and wider adoption, with ultimately more virtual production and augmented reality being used to make viewer engagement more immersive.
Will Driscoll, CEO, Wild Capture: Broadcast programming is using more and more 3D technologies than ever before between virtual productions and 3D humans. We anticipate that as audiences grow more and more sophisticated, the need for content using these two technologies will become commonplace.
Tim Burton, managing director, 7fivefive: The broadcast industry will benefit from an increased level of agility and adaptability, and this isn't likely to change. One thing we are starting to see is broadcasters taking a more pragmatic approach to their current workflows and systems, by focusing on what the business needs now and optimizing that in a way that still allows them to remain adaptable to change.
Alon Werber, CEO, Pixellot: Owing to the economic environment, the market is more price sensitive, and will likely require the broadcast industry to continue producing value at a lower cost in 2023. While decision making will be more impacted by cost consciousness, consumers' desire for entertainment will not be lessened. On the contrary, given turbulent times, they are likely to seek more entertainment, albeit at a lesser expense.
Jared Schatz, SVP of vertical markets and solutions, Ross Video: Ross Video is a technology and solutions provider that benefits from our customers replacing and improving upon their legacy toolsets or expanding their operations. Business has been strong on both fronts, with many customers looking to create more and more content (some of which is live); this has created strong demand that we think will carry through to 2023.
Luis Garrido, executive director, Alfalite: The use of LED screens for the sets of television sets is common, but there is a clear trend for them to be used for virtual production and augmented reality as well in special programs, sports, and news.
Mike Ward, head of marketing, Singular Live: According to leading economic indicators, the global economy will experience a financial downturn in 2023. Instability can lead to tough decisions, especially for heavily leveraged and/or backed companies. The broadcast industry is poised for a period of consolidation and transformation as debt prices rise and investors consolidate their losses. While some may find it challenging, it will ultimately help accelerate the adoption of new and sustainable approaches.
What trends are you watching?
Ulrich Voigt: In studio design, we see the trend continuing towards large LED walls and more LED displays. Augmented reality will be used twofold: as part of the studio design to extend the physical studio, and of course, for storytelling to visualize complex aspects and data. On the technology side, the trend towards IP will continue, with a combination of ST 2110 and NDI. It's not an either/or, as most facilities will end up using a combination, which results in the requirement to offer products that provide the same workflow and same creative possibilities in both IP technologies.
Idse Grotenhuis, founder and producer, ReadSet Studios: The shift to real time workflows and the merging of traditional VFX and 'in-camera VFX' is something we follow with great interest. Content can be exchanged faster and without the need for rendering in pipelines that are traditionally depending on render times. At the same time, assets or scenes can be used more than once, also live on LED-screens to shoot virtual set extensions directly in-camera.
Raul Alba: More production of reality TV shows, live sports and news from traditional broadcasters. As the market shifts from hardware to cloud-based production workflows, we'll also see a more agile approach to finding solutions to specific problems — so, more APIs, more software as a service that allows broadcasters to scale up and down to manage content production and distribution, and more flexible tools and platforms to manage costs.
David Jorba: We're exploring what can we do with data to tell the story better, that's one of the major trends we see in graphics today. We're also exploring how augmented and virtual reality can break down boundaries between audiences and live studio talent. With AR and VR, we can extend the content from a video wall and put it in front of the presenter, or eventually, even let audiences interact with graphics on a virtual reality headset in real-time.
Carol Bettencourt: I think it is important to keep an eye on global trends that can impact any industry, including labor shortages, environmental concerns, travel restrictions, economic concerns, and supply chain problems. In that context, technology trends that can present potential solutions include cloud production, remote production, all-in-one production, and SaaS for live production. Another important trend to keep an eye on is the changing rights-holder landscape allowing entities who have never produced their own content to begin doing so, especially by leveraging these evolving technologies.
Marcus B. Brodersen: It's probably a little obvious to say that we're watching virtual production as a trend, given that we're right in the center of that. But the fact is that it is a huge trend for the media industry right now, and media creators as a whole. VP is no longer the preserve of high end productions and in 2023 it will continue to become even more accessible. It also seems inevitable that we'll see some convergence between VP technology, especially AR and XR, and "traditional" production graphics — that has the potential to bring VP tools to new audiences, such as local or smaller broadcasters.
Will Driscoll: As a digital human company, we are constantly watching new use cases in artificial intelligence. For example, news programming is using digital human AI to automate the delivery of news programs. These trends are expanding the scalability of streamable content and are honing the cutting edge of broadcast technology.
Alon Werber: Developments at the intersection between cost reduction and value production that answers increasingly personalized and interactive consumer demand, while scaling the availability of entertainment.
Jared Schatz: When looking at media platforms, 'FAST Channels' continue to be a big trend. When looking at news production, however, I think we will see more data integration and advanced storytelling tools that will help drive engagement and trust from the audience. Immersive LED environments, advanced virtual graphics/rendering, and talent interaction systems (i.e., touch) will be commonplace for news networks and local broadcasters. The virtual solutions/XR work we are doing between our LED division and our virtual graphics solutions team looks very promising.
Luis Garrido: There is a clear trend to implement LED walls. Screens in those projects that until now were videowalls in the corporate sector, museums, control rooms, in addition to starting to request fine pitch for audiovisual rental companies to provide service for events.
Mike Ward: In 2023, I believe diversity, equity, and inclusion will take center stage – with accessibility as the primary focus. To hire more effectively, companies need a complete overhaul of their policies and approaches. One solution is to remove the need for a college degree/diploma, which expands hiring pools significantly. As real-world work experience can serve as a valuable education on its own, degrees or equivalent levels of education have become increasingly irrelevant for many roles in our industry.
What is your outlook on cloud production and workflows?
Ulrich Voigt: It's clear that products deployed into cloud can deliver the same functionality and workflows as ones installed on-prem — we have seen multiple statements from users of Vizrt Live Production Solution in the cloud confirm that. The technology is there, in terms of bandwidth, latency and quality. Now, producers and users can start to benefit from the promises of cloud in day-to-day productions: ad-hoc availability of production capacity, collaboration with talent everywhere, and remote access.
Raul Alba: "Cloud" has been a big buzzword this year with impressive advances in cloud-based technology being made, but what was clear from trade shows like IBC was that there is still some hesitation to fully embrace the cloud. Cloud security has been a concern among many, impacting rates of adoption. As cloud-deployed services prove they are secure, adoption will accelerate. Broadcasters will take advantage of the cloud for more personalization and customization using cutting-edge technology that isn't available on traditional platforms.
Carol Bettencourt: Improvements in cloud security, latency, and video quality are making broadcasters of all sizes take notice and consider cloud production in their technology roadmaps. Additionally, the growth of managed services such as AWS, Azure, and others has allowed technology innovators such as Chyron to focus on developing functionality and a good user experience. Legacy broadcasters are already using or experimenting with cloud production. Additionally, cloud production is opening possibilities for more content to be produced by more entities than ever before.
Louis Normandin, COO, Wild Capture: The concept of camera-to-cloud technology really started to take off a couple of years ago. For productions living in this virtual production ecosystem, they require massive data computation to render the data and composite the final image. As virtual production is here to stay, so is cloud production workflow.
Tim Burton: The cloud has been a key tool in broadcast and media workflows over the past few years, enabling many to remain flexible and scale production to fluctuations in demand but it's not a one-size-fits all solution. Every workflow has its unique requirements and the systems it uses should reflect that. The cloud is a tool and like any good tool, it's important you know how, when and where to use it.

Jared Schatz: Cloud production makes a lot of sense if it's easier to deploy and has a good business case. For example, cloud production is a good fit if you are doing an esports event and all your feeds are already streamed. In addition, I think we'll see more editorial systems like Ross Inception being used in the cloud. While sometimes expensive, media workflow and asset management tools are gaining more traction because of the benefits they offer.
Mike Ward: In the last half of 2022 in particular we saw a significant increase in the number of clients and partners actively engaging with us and other cloud platforms for either cloud or hybrid workflows. The advantages of these solutions are primarily that they are scalable, flexible and sustainable. They can also quickly and easily adapt to changing requirements, which is crucial in the current climate.
Has the supply chain stabilized or is it still impacting your sector?
Dennis Kleyn: The delay in LED manufacturing is still tangible throughout the industry, especially when expanding the LED surface in the studio. Fortunately we have solid agreement with our rental suppliers who have ample stock to draw from.
Marcus B. Brodersen: The supply chain issues are still having an impact across the media production industry, and it has highlighted the need moving forward to reduce reliance on physical hardware where possible to avoid these negative impacts. At Pixotope one of our priorities this year has been to ensure that our users can achieve maximum utilization out of their hardware. That includes fundamentals such as flexible licensing (to move between machines) but also specific features including multi-output support and multi-input switching in software, reducing the amount of hardware needed in the first place.
Louis Normandin: Graphics processing cards have been the biggest challenge from the supply chain standpoint. Having access to the latest processing power costs more than ever and that price is still stabilizing.
Jared Schatz: Increased demand in other larger sectors has greatly impacted our industry. We have been on top of it right away, but it hasn't been easy. We've also seen that supply chain issues have affected the cloud. At the end of the day, the cloud is "other people's hardware." They have GPUs, CPUs, and in some cases, FPGA-based platforms, which has resulted in some regional hubs being at capacity for certain services. At this point, it's hard to predict when supply will find equilibrium with demand on GPUs.
Luis Garrido: It has stabilized, but companies are preparing to have local suppliers that can solve new problems in the supply chain.
Mike Ward: The supply chain shortage shows no signs of slowing down, and its impact on broadcast technology vendors is a severe shortage in sourcing much-needed components for hardware. Broadcasters today are faced with a choice: use new cloud-based, non-hardware dependent solutions or hope their existing hardware will last until they get new replacements.

How has continued broadcast consolidation changed your business or attitude?
Ulrich Voigt: The broadcast consolidation requires broadcasters to be even more flexible. Long term planning and amortization cycles are no longer suited to adopt to the changes in audience behavior and market conditions. From a product perspective, our software-driven and IP-enabled products are addressing those requirements perfectly — from a commercial perspective, we will continue working on even more flexible pricing models to offer our customers the right commercial model for their business environment.
Dennis Kleyn: Due to continuous consolidation in the broadcast industry, we as a studio also see the added value of IP. Creating a network of virtual production studios that own content will also be an essential part of our strategy in the next few years.
Carol Bettencourt: With broadcast business consolidations, the first step for vendors is to remain customer-centric and listen to the challenges of the new, larger organization. Very often, consolidation brings new opportunities to leverage resources across the larger organization. With broadcast news for example, we see some groups implementing or advancing their centralized or distributed graphics workflows, leveraging talent to design and manage templates, eliminating redundant tasks and ensuring a consistent look.
Marcus B. Brodersen: Broadcast consolidation plays into these ongoing changes to methods of content creation. Mergers and acquisitions are taking place as a way to improve and strengthen content quality, and as a virtual production solutions provider, that is where we can come into play to provide new and exciting ways to deliver content to audiences.
Louis Normandin: Broadcast consolidation gives us a chance to standardize data flows and achieve higher levels of interoperability.
Jared Schatz: Consolidation has helped us focus on becoming more efficient with large customers. Data migration, upgrade management, and licensing orchestration (for example) are areas of focus that are important to larger enterprise customers, and they must be done right to avoid problems that could affect up to 50 TV stations! Broadcast consolidation has presented opportunities for us in other ways as well. For example, some station groups didn't have much experience with Ross Video and our news workflow and studio solutions. After acquiring groups that heavily invested in Ross, they saw our capabilities first-hand and have become great partners.
Given the current economic headwinds, do you see an increase or decrease in capital expenditures (CapEx) in 2023?
Raul Alba: Given the ongoing economic uncertainties, on top of increasing demand for more high-quality content, we expect to see wider adoption of cloud services from broadcasters to enable them to focus on producing more content, maintaining operational efficiency and managing their costs with more financial and technical flexibility.
David Jorba: Products like Porta or Ipsum have always been subscription oriented because we feel it's a great way to provide a continuous service to the customer, it's like being in a club where you have access to all the support and services you need. It's also really efficient when it comes to scaling and descaling. I personally don't think budgets are shrinking, I think they'll be more distributed and partly going into subscription models.
Carol Bettencourt: During economic crisis or uncertainty companies may save their way out of the crisis. This would include cutting CapEx as well as streamlining staff. Or, they may invest their way to competitive advantages and a brighter future. Adopting SaaS and cloud-based technology with an OpEx purchasing model allows them to do all of these things. Costly commitment to CapEx-funded hardware is eliminated while OpEx options allow more agility and scalability, opportunities to test new functionalities, and even new markets and leverage staff from anywhere.
Marcus B. Brodersen: Over the past few years, we've offered our customers the choice of short term/event, subscription or perpetual licenses. During the last 12 months there's been a very obvious shift towards subscriptions — although it has to be said that this often comes with a multi-year commitment with a duration that could be considered equivalent to a CapEx investment. We expect that shift to continue in 2023.
Tim Burton: In the past, it was common to plan up to 5 years in advance and upgrade technology at fixed points in order to try and future-proof operations. Now we're seeing people shift their approach away from fixed long-term planning, to incremental, pragmatic steps in favor of greater system and workflow flexibility, making it easier for them to adapt to change and take on new opportunities.
Jared Schatz: Networks are part of larger organizations and have many years of head start on OpEx financial models. In my opinion, the "station groups" that own most of the local TV stations in the United States have been masterful in engineering (and re-engineering) their finances over the years using a traditional CapEx model. Buyers, holders, and sellers effectively leverage a good EBITDA to improve their situation. I think we'll see station groups learn to diversify with a blend of OpEx and CapEx.
Mike Ward: We are already seeing an industry-wide reduction in CapEx both as a result of a squeeze on production budgets as well as a shift towards more flexible, SaaS-based OpEx models. The industry overall is heading this way, and even some traditional hardware vendors are creating mock SaaS models, which are really more credit lines with hardware payments spread over a longer time frame. The reality is it is becoming increasingly hard to justify the costs of expensive longer term hardware commitments when there are genuine SaaS-based alternatives that offer greater flexibility in uncertain economic times at significantly lower price points.
The latest in design, production and engineering
Subscribe to NewscastStudio for the latest delivered straight to your inbox.