Industry Insights: Broadcast industry distribution and delivery vendors look ahead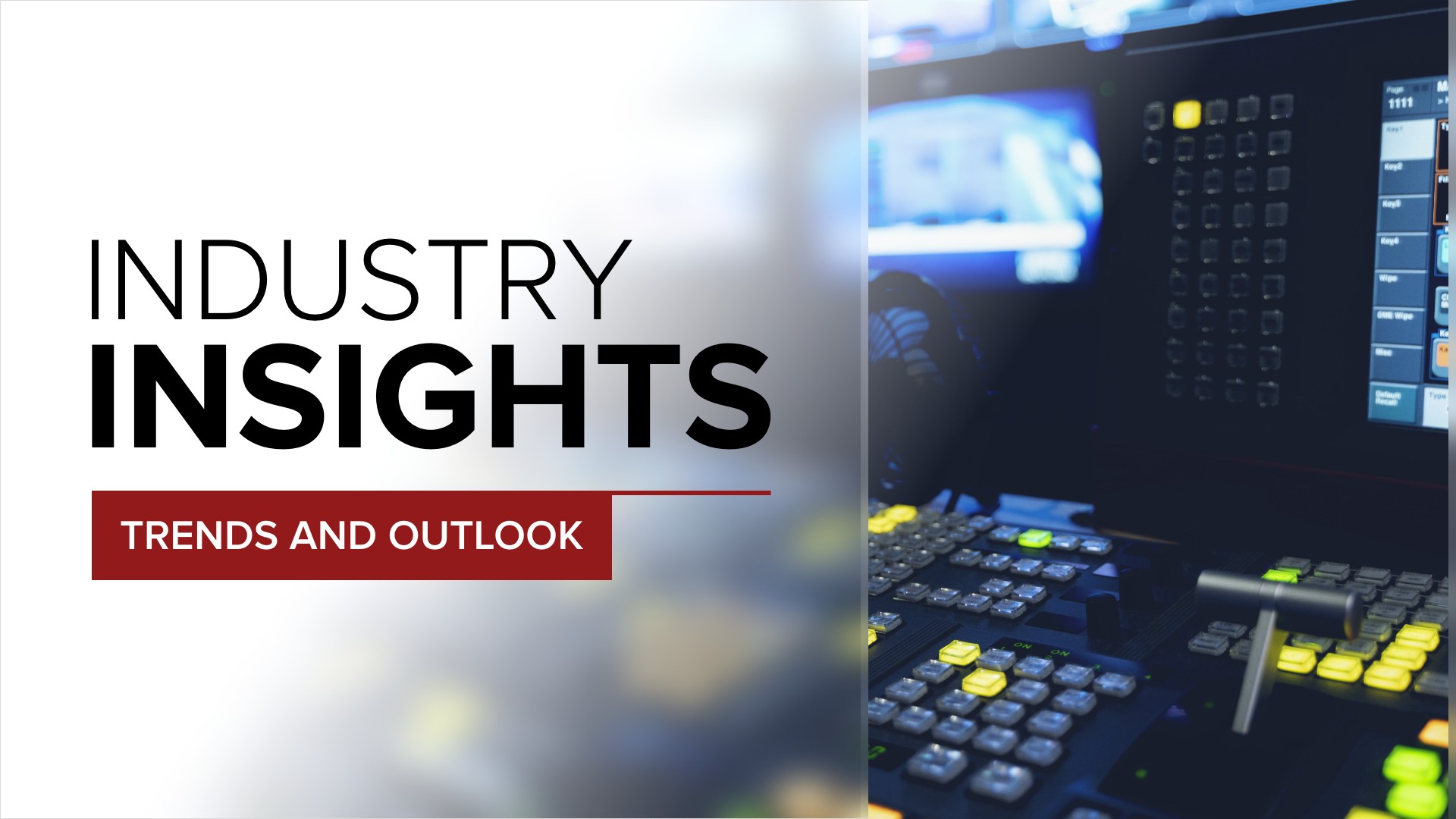 Subscribe to NewscastStudio's newsletter for the latest in broadcast design, technology and engineering delivered to your inbox.
With 2023 underway and trade shows just around the corner, it's time to look forward to the future of the ever–changing broadcast and media landscape.
We invited vendors from across the industry to share their perspectives in our Industry Insights roundtable. In this post, we'll hear from experts in content delivery and distribution.
Read on for their perspectives on the year ahead, the trends they're watching and how the supply chain and consolidation is impacting their thinking.
---
Make sure to check out the rest of this Industry Insights roundtable:
---
What is your outlook on the broadcast industry in 2023?
Ralph Bachofen, VP of sales and marketing, Triveni Digital: In 2023, the broadcast industry will transition from the deployment phase of NEXTGEN TV to launching new revenue-generating services. As a result, I envision broadcasters will adopt datacasting solutions for delivering advanced emergency alerts, interactive program guides, targeted advertising, and other applications in the most efficient way possible.
Dave Brass, VP of North America strategy and market development, Ateme: The industry continues to evolve, with many new drivers and opportunities, and the pace of change will only grow. We view media in new ways, and the volume of media created is unbelievable. In just one day it is estimated we create 2.5 quintillion bytes of content, and YouTube estimates 3.7M videos are uploaded.
Geoff Stedman, CMO, SDVI: The broadcast industry is in a state of transition as it adapts to the new realities of how consumers want to consume content. Traditional linear broadcast is under pressure due to the increasing amount of cord cutting as consumers shift to more internet-delivered, on-demand services. That said, consumers still have an insatiable appetite for content, and as long as content companies can adapt their delivery models to best meet consumer needs, there will be opportunities for continued industry growth.
Carlos Ramos, VP of business development in the Americas, Viaccess-Orca: The broadcast industry is evolving rapidly, with no signs of slowing down. In 2023, we think broadcasters will explore more effective monetization strategies, including targeted advertising, to drive revenue and boost engagement. In addition, they'll be focused on shaping the customer journey, leveraging data to personalize the TV experience and boost viewer engagement. We anticipate that piracy will continue to be a key challenge for operators in 2023, especially for live streaming.
Erling Hedkvist, sales and business development manager, Arkona Technologies: We think 2023 will be the breakout year for hybrid and private cloud solutions by broadcast service providers. The technology is available and the financial and environmental benefits of remote production are compelling.
Rick Young, SVP and head of global product, LTN: Demand for high value live content across digital platforms will skyrocket in 2023, powered by an explosion of rights and licensing deals. As competition for viewers intensifies among both established broadcasters, newer OTT players and tech giants, we'll see continued innovation in IP-based transport and content versioning technology, enabling media owners to deliver customized viewing experiences cost-efficiently and at scale across any platform, device or geography.
Erik Otto, CEO, Mediaproxy: The pandemic ignited several changes and innovations in the industry. Ever growing uptake in streaming bolstered support of services and production. With an economic recession looming, it will be interesting to see what impact this will have on our industry.
Pete Blatchford, CMO, Starfish: With the inevitable growth of linear OTT platforms, comes huge possibilities for more granular distribution and localized content, which could involve local news, regional programming and obviously advertising insertion and replacement. The commercial benefits of regional advertising can be very significant, and the technology exists to enable progressive broadcasters to fully exploit this opportunity whilst maintaining signal quality. Our technology is operational at major broadcasters who have already embraced these opportunities and we expect this to become a growing trend for broadcast TV providers moving forward.
Russell Johnson, director, Hitomi Broadcast: In terms of audience size, streaming will continue to outstrip terrestrial TV by a large margin. The movement of rights for live sports coverage to streaming providers will increase that trend further. Premium subscription services will offer high quality, immersive coverage to differentiate themselves.
Colin Morrison, head of global sales and business development, VIDA: The broadcast industry will continue to be impacted by global macro conditions. The tightening of budgets and revenues will drive further consolidation of streamers even as more services become available in new territories. The demand for compelling content will continue as competition becomes more fierce for consumers' attention.
Adam Leah, creative director, Nxtedition: Global change has been drastic in the last 12 months and with an economic downturn on the horizon, there will be challenges for broadcast as always. The focus will need to be the switch to digital first solutions and I believe linear broadcasting on FAST channels will become a real growth opportunity as more people stay home.
Venugopal Iyengar, deputy COO for digital, Planetcast International: Surging viewer demand across OTT and FAST platforms means content providers need to be smarter about how they manage, deliver, protect, and monetize high value content at scale. Cloud-powered innovation will continue in 2023 as broadcasters and media companies look for flexible and cost-efficient ways to ramp up distribution across digital distribution channels. Embracing cloud-enabled solutions across the media value chain is granting broadcasters more business agility than ever before and helping media brands profitably reach global audiences with niche content experiences.
David Kicks, VP of sales in the Americas, Pebble: We expect to see more broadcasters adopting virtualized playout workflows as they make the transition to IP-based systems, and hybrid will still be the name of the game, combining the reliability of on-premises with the flexibility of the cloud and interoperability with legacy systems. It is likely that broadcasters will prioritize finding trusted technology partners to assist in their transition to these workflows.
Markus Hejdenberg, head of product sales and marketing, Accedo: I suspect that we will initially see rapidly increasing experimentation with a return to more traditional business models as many D2C video services exit completely or combine with more traditional set-ups. Alongside a return to more traditional business models, we'll also likely see both market consolidation and fragmentation. The direction a local market takes will depend on regional factors such as how mature the market is and how active operators will be in driving video services in those regions.
Simon Bergmark, CPO, Codemill: The need for intuitive infrastructure has become increasingly important for media teams. As organizations pay more attention to the requirements of their workforce, there will be a stronger focus on UX/UI and more investment in developing internal platforms.
Gatis Gailis, CTO and founder, Veset: Organizations will continue to show agility, embracing new models which add value to workflows and allow them to remain competitive within the industry. The migration to cloud-hosted services will continue throughout 2023, and the growing demand for simplified platforms, which provide intuitive user interfaces without compromising on functionality, will also gain traction.
Jon Finegold, CMO, Signiant: With the economic uncertainty around the globe, I suspect media companies will be asked to do more with less. The amount of content being created and the number of places content needs to go does not appear to be declining and with that, the pressure on media operations is mounting. Teams will need to create operational efficiencies and look to vendors who offer out-of-the-box solutions that can be up and running quickly and provide fast time-to-value so look to cloud-native SaaS providers to be on the rise.
Peter Wharton, chief strategy officer, TAG Video Systems: We see economic headwinds and rationalization of OTT costs and revenues as significant factors that are causing media customers to reevaluate business models and spending. The need to align spending with revenues is only going to accelerate the migration to cloud, but only for customers who understand and build systems around managing cloud costs to deliver the required economic benefits.
What trends are you watching?
Eric Carson, chief revenue officer, Ateliere: Ateliere is closely monitoring the continued acceleration of migrating media workflows to cloud infrastructure. While this has taken root in the United States, there is still serious room for growth in Canada and Western Europe as broadcasters in those geographies look to lower their costs and increase their content monetization reach.
Ralph Bachofen: As the broadcast industry moves past the rollout stage of ATSC 3.0 technology, increased importance will be placed on deploying and monetizing NEXTGEN TV services, especially datacasting. I expect to see advanced datacasting services launched for a variety of applications, such as remote learning, connected car and autonomous vehicles, and more. Another trend we're keeping an eye on is how broadcasters are operationalizing ATSC 3.0 utilizing redundancy and monitoring solutions.
Dave Brass: With more and more players vying for the attention of the same people, competition is becoming intense as everyone wants a slice of the revenue. That means targeting and attracting the right audience will be essential to make it work. Targeted advertising could see a major uptick as the technology around the industry to support this continues to improve with smart TVs and more. Finally, there's NextGen TV, or ATSC 3.0. This is the modernization of the traditional OTA space, but it adds many new opportunities such as dynamic ad insertion, datacasting and OTT distribution including over 5G.
Geoff Stedman: In spite of strong demand for content, media companies are under increasing pressure to deliver profitability over growth-at-any-cost. There seems to be a renewed focus on profitable growth and the operational effectiveness needed to drive the agility and efficiency of media operations. This drive for operational efficiency is leading media companies to migrate more of their workflows to the cloud, taking advantage of the inherent elasticity and scalability of the cloud to maximize resource utilization (and thereby best manage their costs).
Carlos Ramos: There is a growing need for anti-piracy efforts, especially for live content. Another key trend we are seeing is the acceleration of FAST services and AVOD. Service providers need end-to-end solutions that simplify the distribution of FAST channels and AVOD content to multiple connected devices. Finally, sustainability and green streaming is becoming increasingly important at both the consumer and the corporate level. We think the industry will ramp up its efforts on devising best practices for streaming with less energy consumption.
Erling Hedkvist: In particular we're focusing on the trend towards centralized production of live events with the construction of more connected production facilities in Europe and the U.S.
Rick Young: Broadcasters are increasingly harnessing automation-driven solutions to enable seamless content versioning for both full-time channels and live events, allowing them to spin up secondary and tertiary versions of a primary channel for distribution across OTT/FAST platforms — or bring customized, language-tailored coverage of live sports events to diverse cross-platform audiences, maximizing ROI and digital reach. While free ad-supported streaming television (FAST) will continue as a hot market trend in 2023, the ability to bring premium live and localized content to FAST services will be essential to attracting viewers at the necessary scale required to make FAST a real revenue game-changer.
Erik Otto: Will ST2110 grow or will we see protocols such as NDI see further adoption in professional broadcast workflows?
Russell Johnson: Wider adoption of immersive audio (5.1.4), increased use of SMPTE 2110, cloud workflows.
Colin Morrison: The increasing interest in ad supported services whether in SVOD or FAST formats is a key trend. The need to automate and simplify the delivery and use of Long Tail content to ensure maximum efficiencies will become increasingly important. Additionally, cost effective ways of localizing existing libraries for delivery to new markets will become increasingly important.
Adam Leah: The skills shortage. Broadcasters and vendors will be trying to attract the same breed of professionals as all other industries are chasing. To counter this, it's likely better to reduce the complexity of the infrastructure and workflows by utilizing more advanced consolidated systems.
Venugopal Iyengar: Cloud playout and ad-tech innovation is unlocking game-changing opportunities, helping content providers spin-up new OTT services and roll out FAST channels across global markets. For example, our industry is now realizing the benefits of a more cost-effective cloud-based disaster recovery model, a commercially viable and flexible alternative to traditional on-premise DR set-ups.
David Kicks: The immediate real-world issue for the broadcaster is exploring how to do more with less. Their challenge is how best to maximize the ROI from their traditional flagship linear channels, continuing to serve their audiences efficiently with curated linear content and generating the revenues which will enable them to invest in the digital offerings which will safeguard their futures. We think 2023 will see increased focus on driving efficiencies and implementing hybrid workflows as broadcasters make this transition, and we expect to see more solutions and discussion around this topic as the year progresses.
Markus Hejdenberg: I believe that the ad-funded OTT services will grow faster than subscription services over the coming years. FAST services are becoming increasingly popular and with maturing technology and improving advertising solutions, I think we'll see a rapid increase of availability of these services. In the world of ad-funded OTT services, user engagement will be more important than ever because engaged users generate significantly higher revenues.
Simon Bergmark: With new AI/ML functionality bringing fresh opportunities to streamline content creation, automation will be a key trend in the coming months. Additionally, a focus on time-based metadata, in conjunction with automation, will open doors to monetization opportunities, and enable media companies to maximize the value of their media assets.
Gatis Gailis: Changing consumer habits, and an increased understanding of these, will guide broadcasters into exploring additional revenue-generating services. With more providers wanting to be across as many platforms as possible, I believe the management of distribution to FAST platforms will continue to be a key focus. We will see more innovation into improving time-to-market for these channels, which will drive monetisation options and enable providers to scale as needed.
Jon Finegold: 2023 is going to be a year of creating operational efficiencies so I suspect more cloud and SaaS adoption and moves to out-of-the-box solutions that offer configuration over customization. The industry simply can't deliver on the content explosion that is happening if everyone is building custom solutions.
Peter Wharton: The shift to software-based solutions, OpEx and cloud continues to accelerate. Customers are demanding agility with the ability to launch new and event-based services on demand and destroy them just as easily when no longer required. Creating unified end-to-end software-driven workflows is essential to fulfilling this vision.
What is your outlook on cloud production and workflows?
Eric Carson: Distribution workflows seem to have reached a very acceptable level of stability and cost for broad industry usage, but production is still an area that isn't quite at that state. Continued focus on video contribution, source switching, production metadata and cross-region video should improve this in 2023.
Ralph Bachofen: The broadcast industry will continue to embrace the cloud for its flexibility and to speed up the deployment of NEXTGEN TV services. Many of our customers are leveraging the cloud to simplify service management, improving service delivery timeframes.
Dave Brass: The cloud is here to stay, but people are becoming smart about it. The medium is still in its infancy in our industry, and it will grow, but I think you'll see less of the "one size fits all" and more specialized use models and workflows, as well as much more hybrid and mixing of clouds.
Geoff Stedman: The cloud is increasingly the best option for production and media supply chain workflows because it enables virtually unlimited scalability, the agility to respond faster to market dynamics, and the reliability necessary to keep operations running all the time. The shift to remote models of working also has been a key driver for cloud usage, as it allows access to content and the tools needed to work on that content from anywhere.
Carlos Ramos: The migration to the cloud isn't going to happen all at once. In fact, we think that many of our customers will want to keep part of their TV solutions deployed on-prem for a variety of reasons. In the future, we foresee a hybrid model to where service providers are managing their data and applications on-premises, in the public cloud, the private cloud, and multi-cloud. Viaccess-Orca's collaboration with Google Cloud is helping to streamline TV and video service deployments and operations in hybrid cloud environments.
Erling Hedkvist: For live production we believe in the creation of private cloud facilities that are able to offer production services for true Tier-1 events. This is something that public cloud still is not capable of providing. Private and hybrid cloud centralized production environments are capable of the same benefits, including flexibility, redundancy and lower cost, while providing the performance required for high-end productions.
Rick Young: We're seeing a much wider acceptance of cloud and remote production use cases as we move past early experimentation phases. The past couple of years proved to be a catalyst for adoption as media companies pioneered new real-world use cases. Centralized remote cloud-based production is no longer a future trend — media companies, including LTN, are utilizing cloud every day for premium live content creation.
Erik Otto: It's certainly not going to decrease. Being able to cost-effectively scale teams across borders is one of the cloud's advantages. The tooling has to follow, and traditional hardware-based solutions will need to be able to pivot quickly to support demand in that area.
Russell Johnson: The "Wild West" days of anything goes are going to change in favor of a more standardized approach across platforms. With stability will come wider adoption.
Colin Morrison: This continues to be a key technology shift in the industry. Everyone understands that the benefits of cloud powered workflows are key to meet the demands of the market realities of 2023. Those wishing to grow and compete must move sooner rather than later from current operational models to new cloud workflows.
Adam Leah: Cloud is still an ongoing project in my opinion, and one with both pros and cons. The strengths of elasticity and scalability are fantastic for playout, AI and archiving. However, there are still issues around latency, cost and QOS — particularly for live production.
Venugopal Iyengar: Building on top of our proprietary technology infrastructure, the cloud is enabling us to craft more agile, scalable, and cost-effective solutions for customers in the digital-first world. We're seeing increased demand from traditional broadcast customers to migrate to hybrid models that utilize the flexibility of cloud and the security of on-premise solutions — for example, cloud playout solutions that combine the feature-rich robustness of on-prem, custom, broadcast grade playout with the agility and scalability of the cloud.
David Kicks: Where it makes practical and financial sense, the demand to adopt cloud workflows will increase, and we're already seeing more hybrid solutions being deployed. The allure of rapid deployments, and the appeal of OpEx pricing models will become far more attractive as broadcasters look for ways to improve efficiency and reduce costs.
Markus Hejdenberg: Cloud workflows have proven to be extremely effective throughout the broadcast chain, delivering cost and resource savings without compromising on quality. At the same time, cloud brings massive benefits in terms of flexibility and scalability. Now that these have been proven and many of the initial reservations have proven unfounded, I believe we will see more workflows moving to the cloud.
Simon Bergmark: Browser-based workflows that reduce the need to move and download content, by bringing advanced media features to the user will be key. Cloud-based tools will provide the means to adapt and scale content processing, as fluctuations in workload dictate. Cloud workflows will also help to automate and optimize content operations and create less friction for teams working remotely.
Gatis Gailis: Cloud infrastructure has been crucial in transforming and simplifying all aspects of the media workflow in recent years and will continue to do so in the years to come. The cloud for playout and post-production offers a simple, affordable way to manage broadcast workflows and provides a greater level of resilience and scalability. With this in mind, we will see many video providers looking to complete a full transition to cloud solutions.
Jon Finegold: Build versus buy is an interesting one. Many media companies have loaded up on engineering resources and cloud architects who love to build. Those resources are critical but should be deployed efficiently. We see more executives guiding teams to build with bigger building blocks versus starting from scratch. We've seen many customers have success connecting our SaaS products with other products using modern APIs and scripts and drive down time-to-value from weeks and months to days and hours.
Peter Wharton: 2023 is likely to be the year where we see significant milestones in cloud for live production, with end-to-end orchestration that delivers reliability and cost savings. This does not mean that live production for major events will move entirely to the cloud, but we will see significant progress with cloud production at smaller scale that opens the door to large productions.
Has the supply chain stabilized or is it still impacting your sector?
Dave Brass: When you look at the supply chain you must account for the geo-political aspects around the world. Nobody predicted Covid or the war between Russia and the Ukraine, but the impact of these events on technology is and will continue to be large. What next? Who knows, but supply chain challenges are here to stay.
Rick Young: We are hearing from our customers and colleagues at other technology providers that supply chain issues are still very real. Though we have limited on-prem hardware deployed as part of our solutions, we have been able to keep up with new customer demand thanks to great advance planning from our infrastructure and sourcing teams. Fortunately, most of our work isn't overly hardware dependent, and is linked to public or hosted environments that haven't faced the same challenges as shortages on physical servers, chips or certain hardware components like video cards.
Russell Johnson: Definitely improved but still a regular headache. We never know what the next shortage might be. There's a long way to go before we can return to pre-COVID times.
Colin Morrison: The overall media and technology supply chain continues to evolve and that won't change in 2023. There are many elements that need to be migrated to the new ways of working and that will take some time. The good news is that the technology is available and partnerships between eco-system elements continue to mature at a rapid pace.
David Kicks: It has stabilized somewhat but anecdotally we are aware that some vendors in the sector are struggling to fulfill orders due to ongoing supply issues, and lead times are still longer than is ideal. Some suppliers have in part redesigned their products and solutions to avoid component shortages. As a software company, Pebble is in part protected from the worst effects.
How has continued broadcast consolidation changed your business or attitude?
Geoff Stedman: Consolidation between media companies often brings a need to better understand and monetize each company's media archive, sometimes even resulting in combining archives while standardizing formats. We often see new media supply chains implemented to process and deliver this additional content.
Erling Hedkvist: On the manufacturer side there are several examples of companies that have grown significantly through acquisitions with VC monies only to fall apart later. In the end, companies consist of the people who work there, and good talent will always find a place to thrive. Therefore, we're seeing many exciting new startups. It's the circle of life for broadcast manufacturers.
Rick Young: As consolidation continues across the industry, we are seeing more cross-selling opportunities with large media companies. We are fortunate to have a broad portfolio of solutions that solve problems for various customer teams, departments and products across major organizations. For example, linear channel distribution to mass audiences and very niche distributions; high-end, full event production or hyper-tailored versions for specific platforms.
Erik Otto: Consolidation means we are now dealing with very large companies that need to streamline their processes to be competitive. It's hence more important than ever to be able to have software-based and cloud-ready solutions that are highly scalable.
David Kicks: Those major broadcasters who have a larger share of the market and successfully use our solutions for one portion of the business, generally mandate that our solutions are to be deployed throughout the rest of the organization and for sister companies, so provided that we are selected, this puts us in a strong position. But the stakes are high going into these large deals, and like any vendor we need to stay focused on each opportunity and understand where we can add real value.
Markus Hejdenberg: Market consolidation also means that content distributors will need to find alternative ways to cut through the noise of blockbuster content that holds the premium positions in consolidated services. To allow alternative and affordable ways, we broadened our offering to address content owners and distributors with a SaaS OTT offering, allowing them to go D2C with their content catalog.
Peter Wharton: Consolidation comes in waves and is a fact of life in the media industry. With each consolidation the tech stack needs to be normalized across the enterprise. Customers are seeing the importance of vendor deployment models that are business enablers instead of impediments and give them the freedom to engage in M&A activity without recapitalizing their infrastructure. At the same time, every consolidation opens the door to new entrants that drive industry innovation.
Given the current economic headwinds, do you see an increase or decrease in capital expenditures (CapEx) in 2023?
Dave Brass: You'll see more "as a service" models evolve, so if you take this away from the CapEx side, that means CapEx will be a lower percentage of the total revenue. Initially I was going to say CapEx will continue to grow, but I think with the current economy, we may see that side shrink a little. However, I do believe the total market will remain or increase in size.
Geoff Stedman: In times of economic uncertainty, it is even more important that large upfront capital expenditures are minimized since utilization is unknown and unpredictable. Moving to an OpEx model where expenses are directly tied to usage helps media companies best match their costs to just the work required. We expect to see more media companies utilize cloud-based infrastructure to minimize CapEx investments and gain the benefits of consumption economics.
Erling Hedkvist: I'd expect a small decrease in CapEx in 2023 but, in this industry, economic fluctuations are never drastic (up or down) so won't make much of a difference to our planning and is not affecting our strategies. Expansions and recessions come and go, the best way to ensure continued success as a company is to continue to heavily invest in R&D.
Rick Young: Our industry is moving toward OpEx-centric models that give media organizations greater flexibility and cost-efficiency. Consumer trends move fast, and content providers need reliable technology partnerships to respond quickly to market change. Building long-term, OpEx-favored relationships with technology providers keeps media businesses at the forefront of innovation, and ensures they can focus on creating great content, rather than constantly planning for new, complex, and expensive technology decisions.
Erik Otto: Whilst entertainment tends to be less affected by economic downturns, it's likely that we see an adjustment in CapEx spending, driving the desire to move workflows and tooling into the cloud even more prominent.
Pete Blatchford: The need to move to new distribution platforms, and the continued search for increased efficiencies will drive increased investment in new technology. This will be through a combination of direct CapEx or lease.
Adam Leah: "Cloudflation" is coming. It is going to be difficult to project the cost of ownership over five years when the public cloud providers' prices respond to inflationary pressures. That, I believe, will start an increase in deploying "cloud technologies" to servers on the ground. An increase in CapEx is likely as a result.
Venugopal Iyengar: Media brands are pivoting to OpEx-favoured models to improve commercial agility and flexibility. What might be the latest and greatest in today's market won't necessarily cut it tomorrow, such is the pace of change in media. So, opting for OpEx-centric partnerships with solutions providers with in-house software development capabilities keeps organizations aligned with the latest breakthrough technologies and makes business sense in an unpredictable marketplace full of rich, untapped opportunities.
David Kicks: As global instability continues, there is an increased likelihood of a reduction of budgets, and OpEx pricing models have the benefit of requiring a lower initial outlay which can be attractive, albeit not necessarily cheaper in the long run. I think the increase will be in the diversity of pricing options for end users to suit their specific business needs.
Simon Bergmark: Cloud technology has shaken up the industry, and enabled media companies to move away from a traditional approach and reimagine their workflows. More organizations will shift to an agile, efficient, OpEx model in 2023, leveraging hybrid-cloud MAM workflows and shifting content processing to the browser wherever possible.
Peter Wharton: Economic headwinds are just one of the factors we've seen driving an ongoing shift to OpEx and SaaS from CapEx. This transition will only accelerate in 2023.
The latest in design, production and engineering
Subscribe to NewscastStudio for the latest delivered straight to your inbox.