Midterm election coverage sets show restraint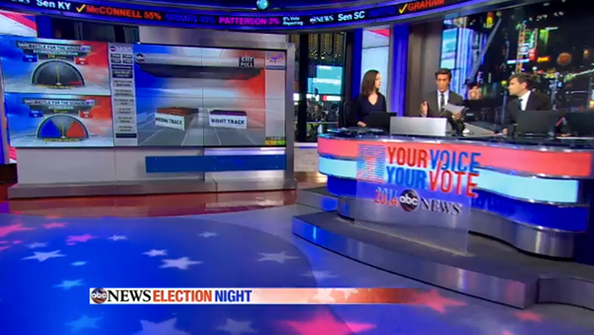 The 2014 midterm elections coverage was certainly more restrained than presidential years, but still served up a good mix of sets among the broadcast and cable networks.
Midterm elections rarely carry the weight than when the Oval Office is up from grabs and networks typically don't go "all out" for them — for example, it's not uncommon for networks to build complete sets or perform heavy modifications to existing studios during those years, but this year saw mostly repurposing of existing sets that left them largely recognizable.
ABC News transformed the "Good Morning America" studio in Times Square into its home for election coverage, changing the desk colors and swapping out the dimensional logo in front. The network also used the outdoor ticker to display some results, taking advantage of the studio's location.
The network used lighting and gobos to splatter red and blue and start accents to the studio floor, as well as filling the on set-monitors with branded graphics, though the main video wall behind the anchor desk remained as a live feed of Times Square.
An additional desk in another area of the studio was used for analysts while the freestanding 3×2 flat panel set piece that's normally used as Ginger Zee's home base for weather updates was used to present realtime data and charts.
ABC News used the rather long title of "Your Voice, Your Vote" again this year.
Al Jazeera America used its main set in New York and relied mainly on the set's huge curved video wall to display patriotic-themed images and election data while branding its coverage with "America Votes 2014."
At NBC, the network opted to install a new star-shaped anchor desk and make some other minor changes to the "NBC Nightly News" set in Studio 3B, which was revamped in September. The network also opted to restrict its longtime "Decision 2014" branding, that had been used across platforms, to just the peacock network proper and Telemundo. MSNBC originated its coverage from its normal home — Studio 3A in Rockefeller Center — with a new anchor desk and the addition of some additional monitors and set accents under the new "Vote!" moniker (see the NBC News set here and the MSNBC set here).
For its online coverage, branded "Digital Decision 2014," the network used the multipurpose set that's part of its Global Media Insert Studios that's been used for "Wake Up With Al," "Access Hollywood" and other segments and shows across the NBCUniversal family. A red couch was added and the studio's large video wall was filled with an array of charts and graphs against a black background.
Sister network Telemundo originated its coverage from Miami using a rather dull background that also appeared to be washed out.
Fox News Channel, meanwhile, originated its coverage from its main Studio J that saw some minor modifications. The network continued using its "Americas Election HQ" branding.
CNN originated its coverage from its Washington, D.C. bureau, making heavy use of the studio's numerous video walls to show election data, live video feeds and results graphics under the "Election Night in America" banner.
CBS News turned to Studio 57, the home of "CBS This Morning" as its election night coverage HQ (see the details here). The network also used a  virtual graphics to show polling and other data results in Studio 47.
Also, here's a look at BBC America's election set, which incorporates a large desk in the channel's trademark China red along with a video background consisting of a black and white image of the Capitol accents with rings of stars and solid red and blue bands along with the "US 2014" title.
Bloomberg originated its coverage from the new set of "With All Due Respect." Bloomberg's coverage was produced under the "Bloomberg Politics" name.
(Watch Tom Brokaw's iPhone interrupt him during "Vote!" coverage live on MSNBC)
The latest in design, production and engineering
Subscribe to NewscastStudio for the latest delivered straight to your inbox.