Orlando Fox debuts new set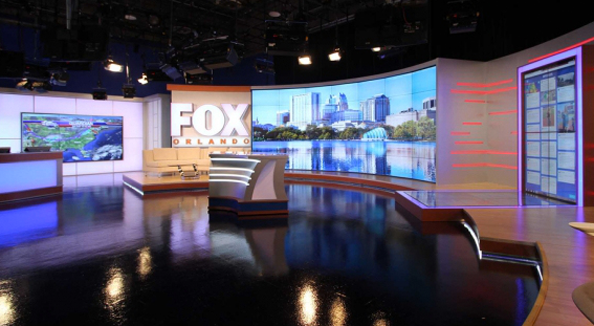 WOFL-TV, the Fox O&O in Orlando, Fla., has unveiled a new set from FX Design Group that draws visual connections to sets found at other Fox properties.
Perhaps most noticeable is the large dimensional logo placed on the wall just behind the sofa area — a look that's similar to the one found at Fox Orlando's sister station, KTTV-TV, in Los Angeles.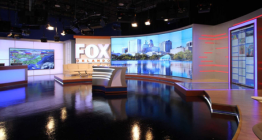 Set Design
WOFL-TV
View a gallery of this project…
However, whereas the L.A. version comes across looking grand (perhaps a subtle nod to Hollywood sign-size signage the L.A. area is so found of), the Orlando version looks a bit out of place in terms of scale.
The set also includes workstations placed off to one side in an area repurposed from the old set. Here, staffers can use 4o-inch touchscreens similar to the ones found on the Fox News Deck at the Fox News Channel studios in New York City.
The remainder of the set is equipped with color changing technology and multiple video walls and also includes a social media center dubbed the Twitter Deck that features an L-shaped desk equipped with integrated computer workstations.
The set also makes particular good use of incorporating video walls in a variety of orientations and configurations, such as the vertical multipurpose area, window-like span behind the main anchor area and framed one near the Twitter Deck.
In addition to the video walls, which give the set a huge range of versatility, the set's movable desks can also be used in a variety of combinations or as one large, single roundtable style desk.
The desks themselves are internally illuminated using battery power, a feature that eliminates the need for additional cables to clutter up the studio floor.
The overall look of the set conveys a softer, more contemporary feel through the use of lighter wood tones and bright backlit surfaces and faux metal finishes. That said, with some simple lighting cues, the set can also take on a darker, more sophisticated look instantly.
A splash of the boldness Fox is known for can be found in the bright colored ribbons incorporated into the silver walls, which adds a sense of urgency to the look.