NYC ABC jumps on 'Dronecam' branding bandwagon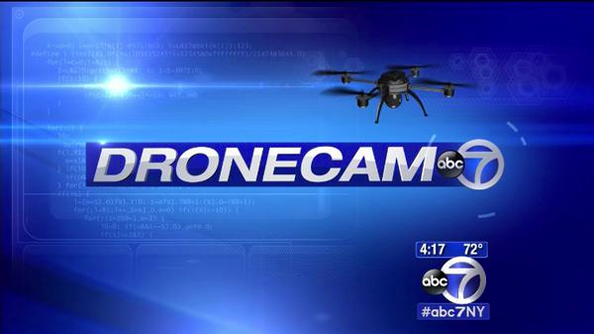 WABC-TV, the ABC O&O in New York City, is utilizing a video camera-equipped drone for its new coverage under the "Dronecam 7" banner.
The move is similar to that taken by sister station WLS-TV in Chicago, which has started using the "Dronecam" name as well.
Graphically, WABC-TV is presenting the name with the Circle 7 logo after the word "Dronecam" as opposed to how WLS-TV places it before the name.
The station, which has contracted with robotics company Aerocine to power "Dronecam 7," debuted the drone to show off footage of a local beach.
The footage was accompanied by a "live" bug that featured the branding along with a rather annoying animated drone that whipped into view every few seconds, similar to the equally irritating one "Good Morning America" used in a segment last week.
Both stations brand under the "Eyewitness News" moniker, though WLS-TV prefixes the name with "ABC 7" whereas WABC-TV uses "Channel 7."
The station has posted two videos of the coverage to its website here.