'SportsCenter:AM' hopes to serve as springboard for ESPN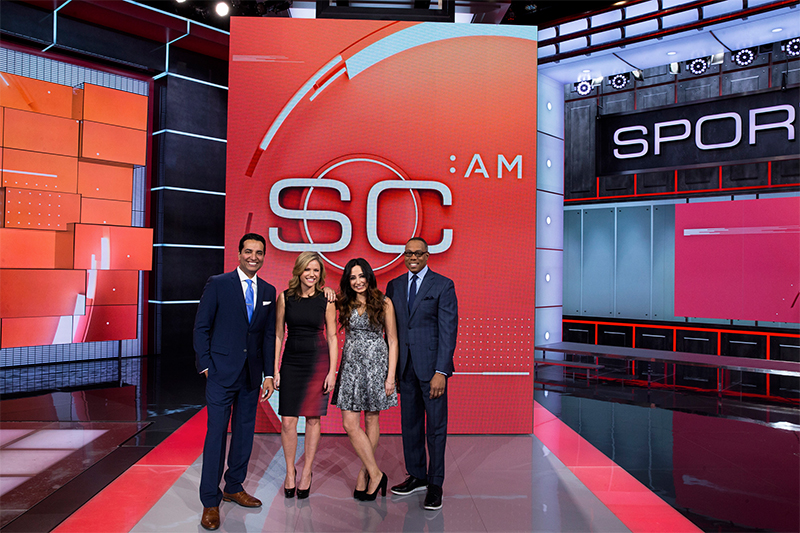 Monday, Feb. 8, marks a shakeup at ESPN as "SportsCenter" revamps its daytime lineup and "Mike & Mike" debuts updates.
With a new format "designed for fans," ESPN will rebrand its morning editions of "SportsCenter" as "SportsCenter:AM." Notice the colon in the name.
ESPN did something similar for late night last year, with the launch of Scott Van Pelt's branded hour of the program at midnight.
"SportsCenter:AM will display a new vision for ESPN's signature news and information program, with a greater emphasis on highlights and video, and a faster pace and more personality, while understanding the demands and time restrictions of morning viewers," said a news release from ESPN.
The fast-paced show will utilize SportsCenter's main home in Bristol, which was designed by Jack Morton PDG.
Along with the name update, the show will use a softer color palette of oranges and light reds with new lighting design from FLDA. The logo has also been updated to append the :AM.
ESPN notes that each of the four daytime editions of "SportsCenter" will have a different appearance on Monday, with unique formats and visual identities.
ESPN notably entered the morning race back in 2003 with "Cold Pizza" on ESPN2. The two hour show lasted four years until 2007.