Q&A: New image campaign connects with viewers across all devices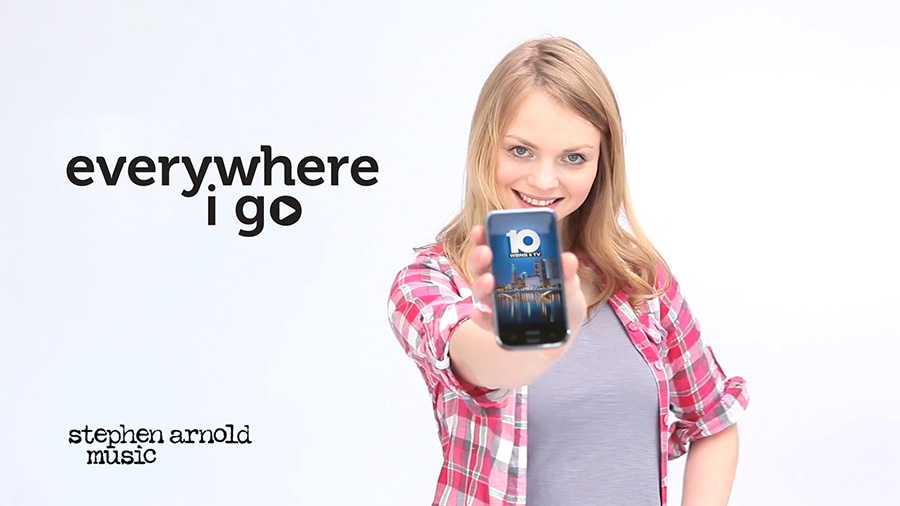 Subscribe to NewscastStudio's newsletter for the latest in broadcast design and engineering delivered to your inbox.
Stephen Arnold Music's newest image campaign bundle, "Everywhere I Go," aims to remind viewers of how truly connected their local station is to all parts of the community and day, no matter the location or device.
With its catchy lyrics and beat, stations like WBNS-TV in Columbus, WJBF-TV in Augusta, WKBW-TV in Buffalo and KAAL-TV in Rochester have already embraced "Everywhere I Go," with over 20 markets seeing pickups so far.
We recently had a chance to speak with Chad Cook, the creative director at Stephen Arnold Music, about the new campaign and its development.
How have stations embraced these new "micro" image campaigns?
Stations have really embraced these targeted image campaign bundles. Because we work with and dialogue with so many local television stations and media outlets, we are often able to determine and develop products that fill important needs for their marketing strategies.
Such as…
Morning show promotions
Image songs for their station and news brands that are emotionally connective
Weather
Digital/Social/Multi-platform
Songs that are genuine and organic in their messaging. Real songs that are as good as any hit song you hear out there these days.
Lyrics that lend themselves to great visuals
Affordable licensing fees, affordable customization
Bundled video and spot templates
Some of these targeted campaigns have become complete promo and in-show packages – like "This Is The Place" and "All About Early." And "Waking Up My Day" was so popular that we have already created 3 new versions of the song since it's release in April of 2015. Creating new versions of an image campaign allows the shelf life to be extended. We certainly intend to do that for "Everywhere I Go" as it is getting an amazing response.
Talk about the development of "Everywhere I Go," how did you settle on the idea of all devices?
"Everywhere I Go" is a viewer perspective song celebrating how their local station is with them everywhere they go – on-air, mobile, laptop, phone, events around town, the best coverage, etc.
Viewers are consuming information in so many ways beyond traditional television and newscasts – using mobile devices, interacting with a station and anchors/reporters through social media, and accessing the specific digital content that interests them.
Also, digital advertising revenue is critical to local stations. It is imperative for stations to get the word out to their viewers and drive their attention towards all the different ways that they are there for their audience – just a click away. Literally "Everywhere they go".
How can stations benefit from branding themselves across all devices?
Viewers expect to get news, weather, and traffic updates from stations wherever they are, at any time via their computers, mobile phones, and tablets.
The catchy lyrics of "Everywhere I Go" reflect that expectation. "Tell me how the day unfolds/Traffic fast or traffic slow/It's good to know you're never far away/You're just a touch away/Got you…Everywhere/Everywhere I go."