Al Jazeera goes ultramodern, high tech with new facility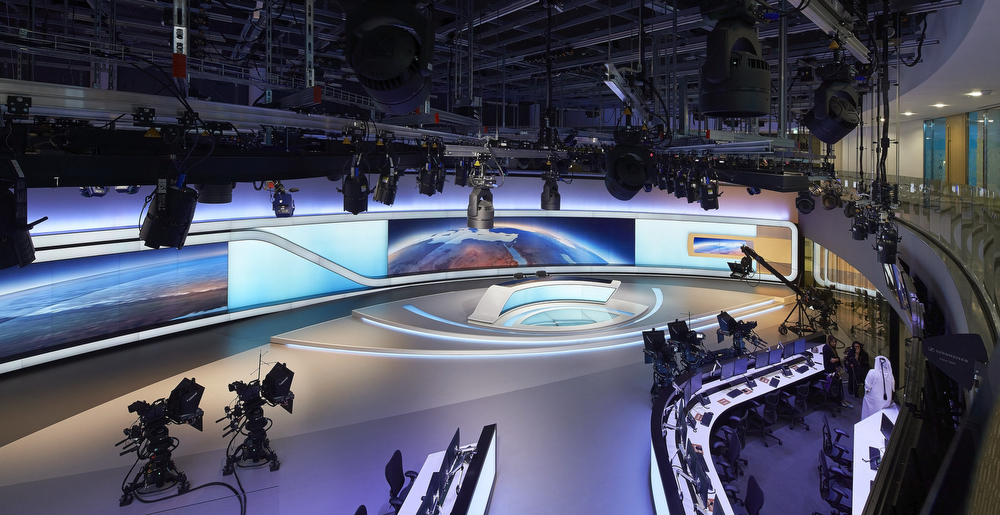 Subscribe to NewscastStudio's newsletter for the latest in broadcast design and engineering delivered to your inbox.
Al Jazeera capitalized on a facility expansion to reimagine and re-create its broadcasting studios from the ground up.
The various new venues feature an ultra clean and almost surreal design that combine massive video walls, glossy surfaces and architectural elements of the building itself to create a dynamic and functional newsgathering environment.
"Our design focused on building space that helps staff carry out their functions efficiently while also accounting for future expansion," said Ramzan Alnoimi, director of network creative at Al Jazeera Media Network, in an interview with NewscastStudio. Alnoimi has worked for AJMN's for more than 17 years, overseeing multiple studio design and brand development efforts, including the master rebrand in 2013 and the Al Jazeera Arabic redesign in 2013.
"The design concept makes it stand differently than other traditional studios across the region. Al Jazeera thinks of our audience as core to our coverage."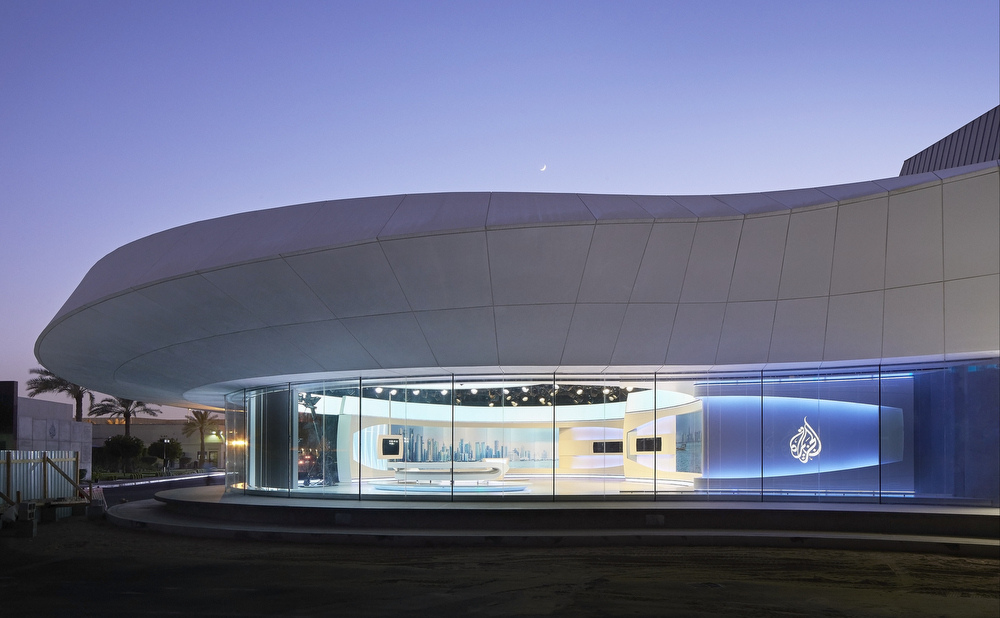 At the heart of the update is a new building on Al Jazeera Media Network's campus that houses the new studios and workspace.
Al Jazeera Arabic (Studio 5)
For Al Jazeera Arabic, the international news channel that launched from Doha in November 1996, the upgrades include an open-concept newsroom studio that encompasses about 1,500 square meters, with a main news area and a smaller studio for current affairs programming.
Together, Studio 5 and the newsroom are designed to accommodate 250 journalists, producers, editors and staff.
"We worked with creative designer Stuart Veech, of Veech x Veech, to create an innovative design solution which is visually impressive and bold in appearance, a place that helps the news team reach higher levels of performance."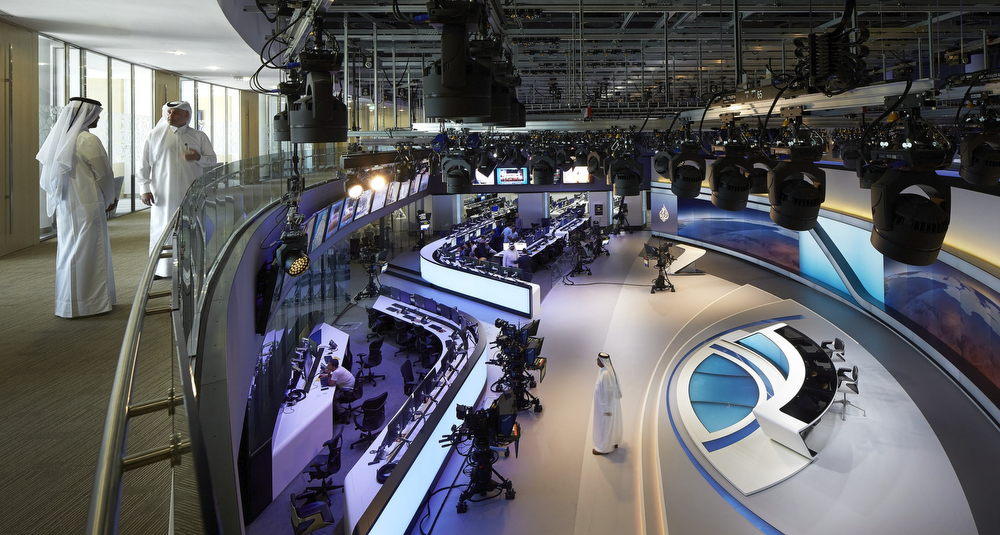 The main news studio for Al Jazeera Arabic includes a five-person, curved anchor desk and a secondary standing desk with an interactive touchscreen wall. Gentle curves and backlit sections allow the studio to transform based on the time of day and the news program being shot, with video surfaces strategically placed around the set.
The studio uses 16 Sony HDC cameras and more than 30 Motion Analysis tracking sensors/cameras to track three Sony HDC cameras for immersive, augmented reality graphics generated through Vizrt.
Studio 14
Also part of the facility addition, Studio 14 provides Al Jazeera with a 360-canvas to shoot against for multiple programs across its channels, such as Al Jazeera English's "NewsGrid."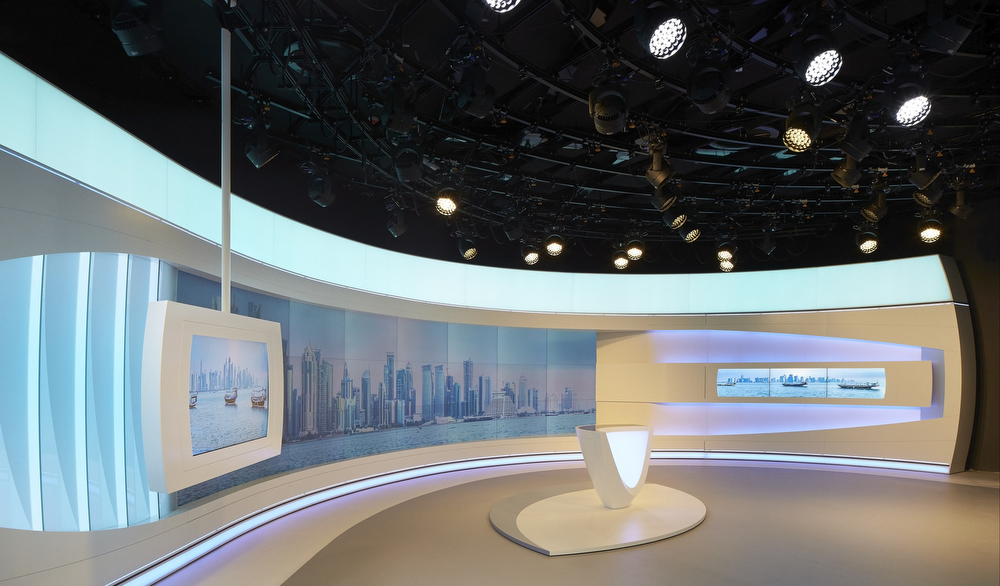 "Our aim was to create a unique media space highlighting the content flow represented in an innovative 360-degree environment," said Alnoimi.
Studio 14 works in architectural detailing along with floor-to-ceiling curved windows to bring the outdoors into this lighter and brighter space, creating a less formal presentation area that includes a curved custom sofa, multiple video walls, a presentation pod and ceiling-mounted video panel.
The floating header and trim of the studio space are designed to change color through the use of LED technology, making the set into a large video surface.
In addition to these primary spaces, the network also has the use of a smaller studio that is dedicated to immersive graphics, with a large video wall and motion-tracking camera system.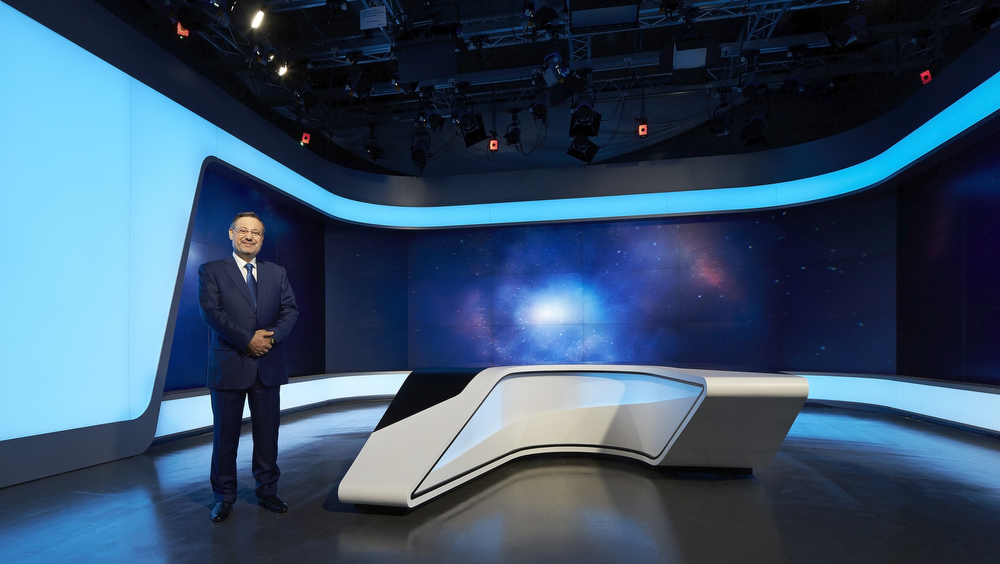 Off camera, three control rooms support the new studios, equipped with the latest in broadcast technology.
An Immersive Design
"Stuart [Veech] and I worked for years to create the design and studio sets to increase productivity, facilitate communication, promote interaction," said Alnoimi. "We aim to build synergy between the news center workplace and sets with a modern interior design aesthetic."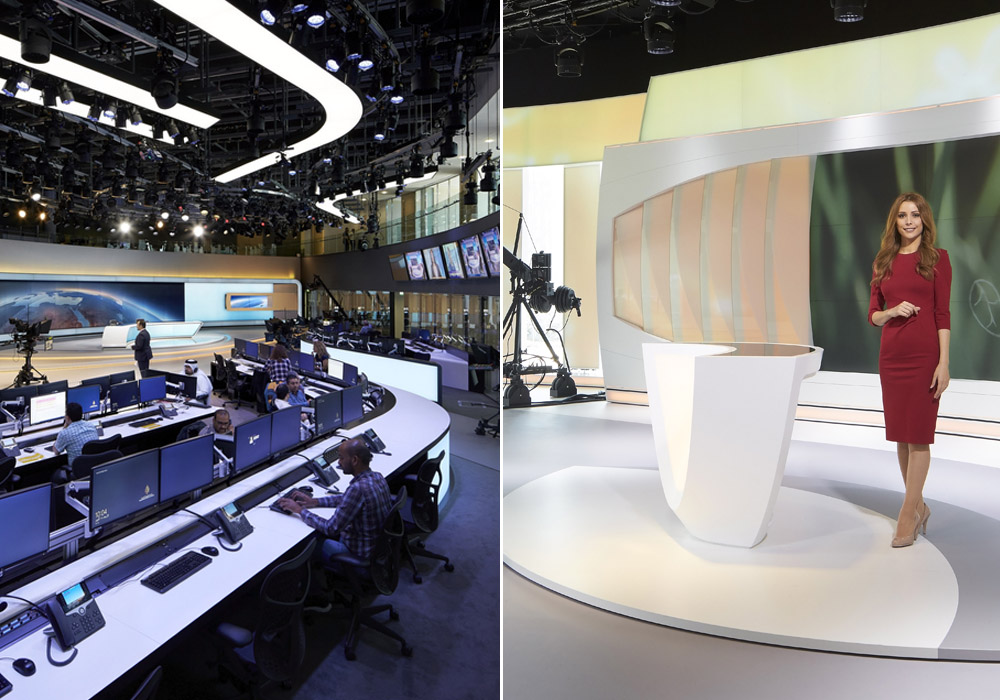 "The scenic design is an important factor to enrich the screen. We were aware that taking care of all the small details is important to build designs that can keep pace with the 'new world' and compete on a global level. Our research and studies helped us to reach visual concepts and values that build for us an outstanding global image."
All told, the entire complex entails an impressive list of equipment, studio technology and software, including:
Studio 5 (Main Studio and Newsroom)
Vizrt's Viz Engine for graphics and augmented reality
Eyevis HD 9×3 video wall, 60-inch rear projection LED cubes
Eyevis 7×3 video wall, 60-inch with touch functionality
Augmented reality graphics system using tracking from Motion Analysis
Two 90-inch capacitive touch screens
Schnick Schnack video surface
Viz Social TV
Studio 14
Vizrt's Viz Engine for graphics and augmented reality
Eyevis HD 6×3 video wall, 60-inch rear projection LED cubes
Eyevis HD 8×3 video wall, 60-inch rear projection LED cubes
Martin video surface
Viz Social TV