'Nightly' redesigns its over the shoulder graphics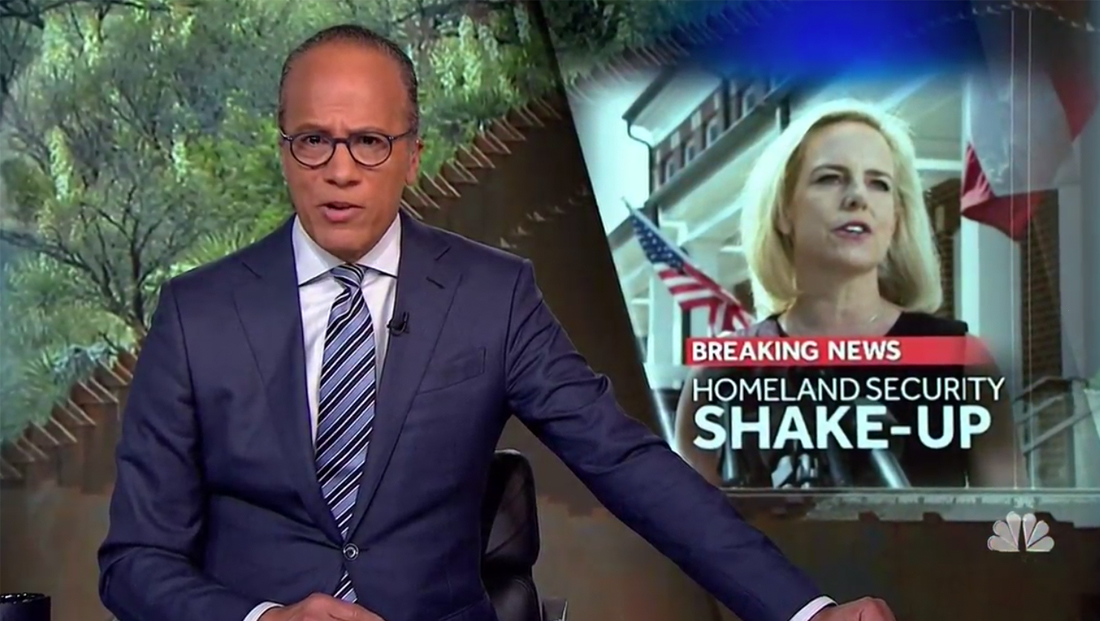 "NBC Nightly News" updated its OTS graphics, appearing to eliminate the traditional overlaid boxes in favor of using its studio's seamless video walls to give designers a bigger canvas to create over the shoulder elements.
The graphics changes, which rolled on Monday, April 8, 2019, incorporated some earlier and new changes in how the set its shot.
The set, which was installed in July 2017, is packed with video walls and structural elements that allow for a wide variety of shooting and storytelling options.
The new approach also includes a slower, less complex push-in and, with less LED video walls, an arguably less cluttered look behind Holt.
Now, for much of the broadcast remainder of the broadcast, Holt sits at the anchor desk with the studio's widest seamless video wall behind him, which display the updated OTS graphics.
Despite moving toward using OTS graphics fed to video walls, the broadcast will likely retain its more traditional OTS template for use when the show is in the road and, therefore, no video walls are available.
The new update also moves the broadcast closer to the style of OTSs that rival "ABC World News Tonight" primarily uses on its seamless video wall, though that broadcast does retain the traditional overlaid box look as well for some uses.
The latest in design, production and engineering
Subscribe to NewscastStudio for the latest delivered straight to your inbox.