'Today' video wall: 20 candidates? No problem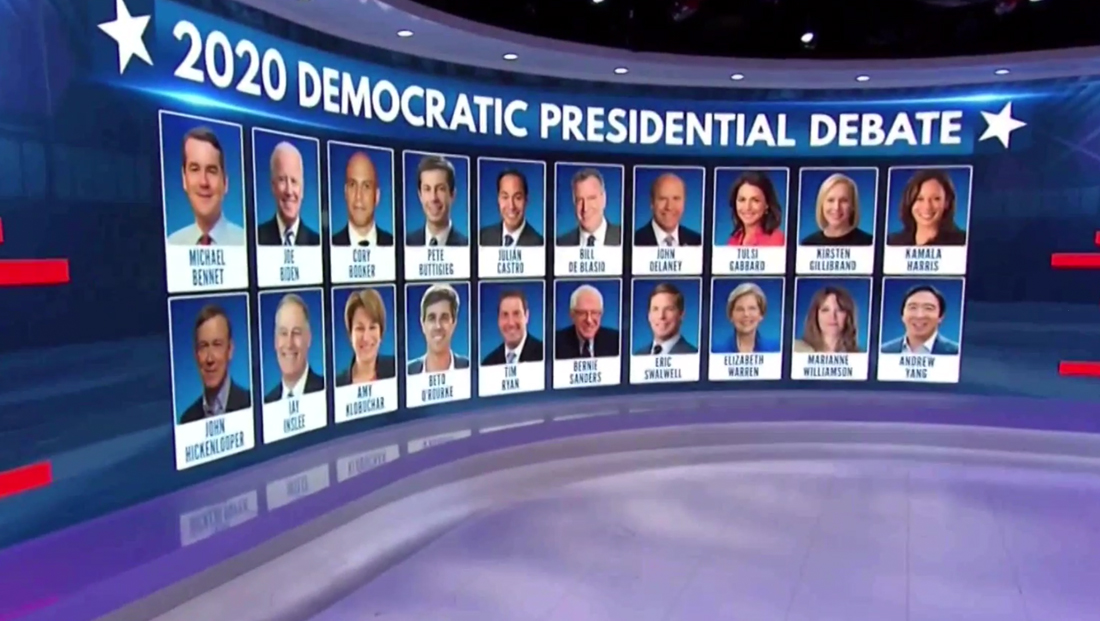 NBC News' "Today" used its 40-foot video wall Friday, June 14, 2019, to showcase the names and photos of the 20 candidates who will participate in the first Democratic presidential debate — and, thanks to the generously sized swath of LED, that proved to be no big deal.
The crowded Democratic field lead the Democratic National Committee to announce earlier this year that it would cap participation at 20 based on a combination of polling and fundraising data.
That said, limiting it to the top 20 really only, depending on how you count, eliminates a handful of candidates.
Even then, 20 candidates is obviously a lot to handle — so debates with high head counts are being stretched over two nights.
Candidates will also be presented in groups in order to avoid having the format become too unwieldy.
NBC News and Telemundo won the rights to the first debate, slated for June 26 and 27 from Miami.
Not only will viewers see a plethora of candidates, but NBC is drawing upon five anchors — from NBC, MSNBC and Telemundo — to handle moderating duties.
On "Today," meanwhile a two row, 10 column layout was used to showcase an alphabetical by last name graphic of the candidates in a "walk and wander" and "video on video" shot that also included a red, white and blue color scheme created using the studio's integrated lighting and uplighting on the "Today" sunrise logo sculpture.
Interestingly, fitting 20 candidates onto the large curved video wall graphic wasn't really a challenge — given how wide it is.
In fact, "Today" designers had some extra space on either side to feature bold red lines borrowed from its flag icon.