CBSN Boston launches from fresh, custom set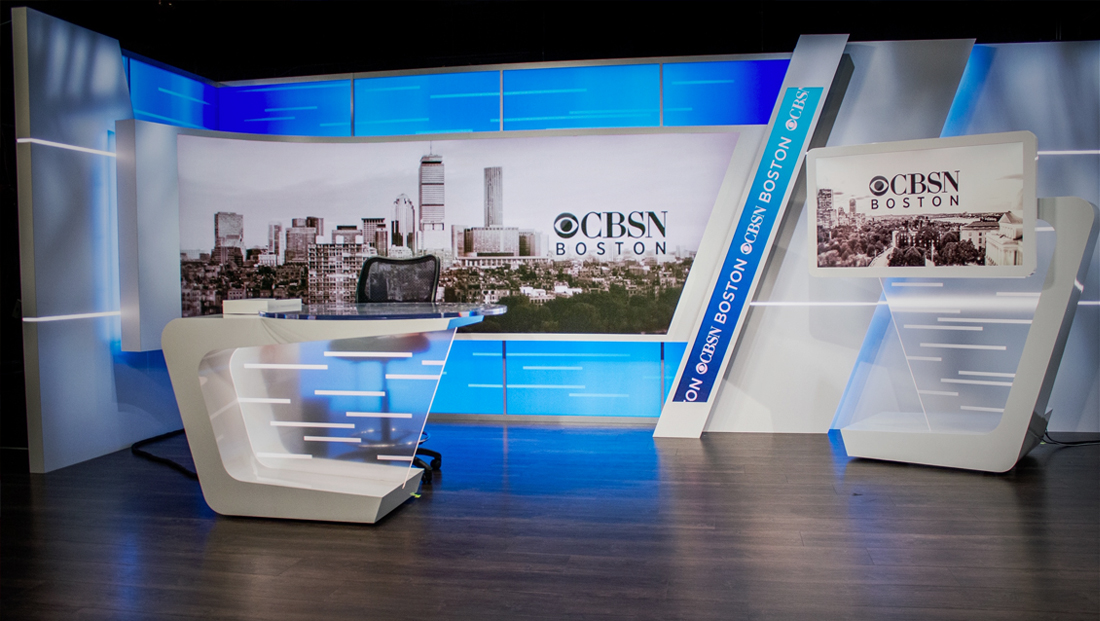 CBS's Boston based 24 hour streaming news service has gone live from a bright and bold new set.
CBSN Boston debuted Sept. 24, 2019, from a custom-designed set in the WBZ studios that boasts a curved LED video panel, angled ribbon and freestanding monitor.
The set was designed by Clickspring Design with fabrication by Mystic Scenic Studios and includes a flexible 1.8mm LED video wall from AOTO.
There is also a small anchor desk built from a white, angular structure and frosted glass with horizontal line accents — a look that is carried through on the movable monitor cart.
The set also includes white walls with lit reveal lines and frosted backlit panels with additional horizontal banding as well as angled wall segments with integrated lighting accents.
The new look follows the trend of lighter looks with frosted surfaces used by the other two services currently in operation.
For CBSN New York, a new loft-like set was built, while the Los Angeles version repurposed KCBS's newsroom.
This means that CBSN Boston is the second of the two streaming services to have a purpose-built set.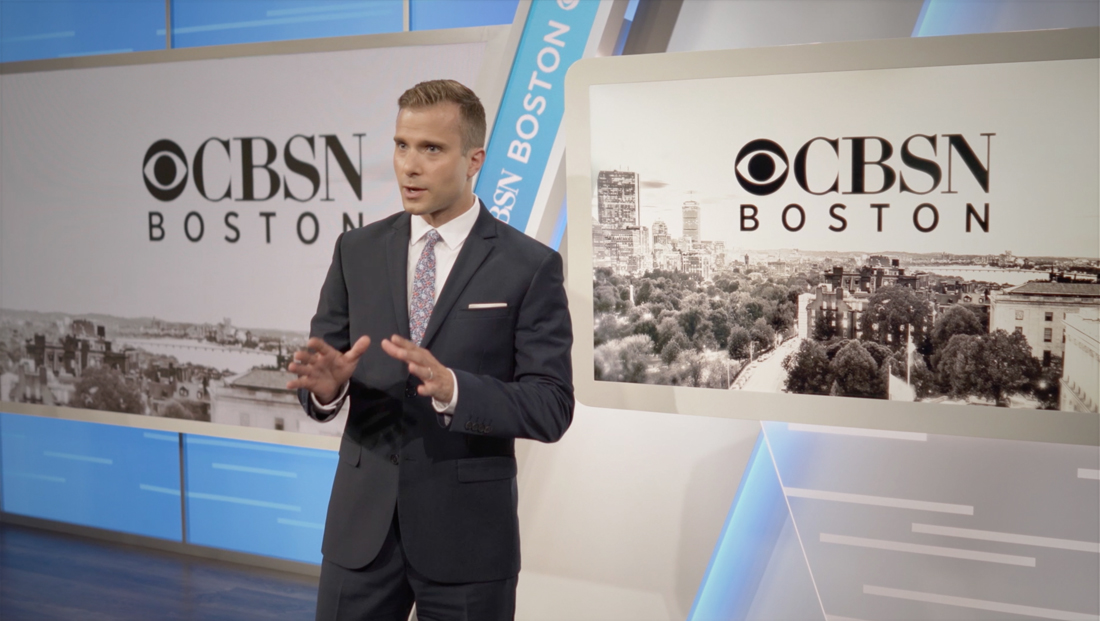 WBZ is expected to move to a new, but nearby, facility, so the CBSN set may end up being relocated.
CBS Boston's main newscasts, meanwhile, have been using the same set since 2011, though it was significantly refreshed in 2016.
While it's not immediately clear what WBZ's plans are once it moves, it's likely that it would use the opportunity to switch to a new set freshly installed in the new building since moving a set the size of its current set would be costly and time consuming — perhaps to the point of it not be economical.
That said, the CBSN Boston set is much more compact and could be moved much easier and affordably.
CBSN Boston is the latest in a string of aggressive launches for the service.
Earlier this year, CBS announced an aggressive launch schedule for more localized versions of the service that started as a nationwide offering, known as simply CBSN, in 2014.
At the time, CBS announced it would launch in Boston and San Diego before the end of 2019.
The services are offered in markets where CBS owns its local affiliate and are typically co-located with the station and share on air and behind the scenes staffers.
WBBM in Chicago, KYW in Philadelphia, KTVT in Dallas-Ft. Worth, KCNC in Denver, WCCO in Minneapolis-St. Paul, KOVR in Sacramento, California, KDKA in Pittsburgh, WFOR Miami and WJZ in Baltimore are all slated to launch in 2020.
CBS hopes to have them online before the 2020 primary season.