CBS News rolls out eye 'stone' for its anchors to stand on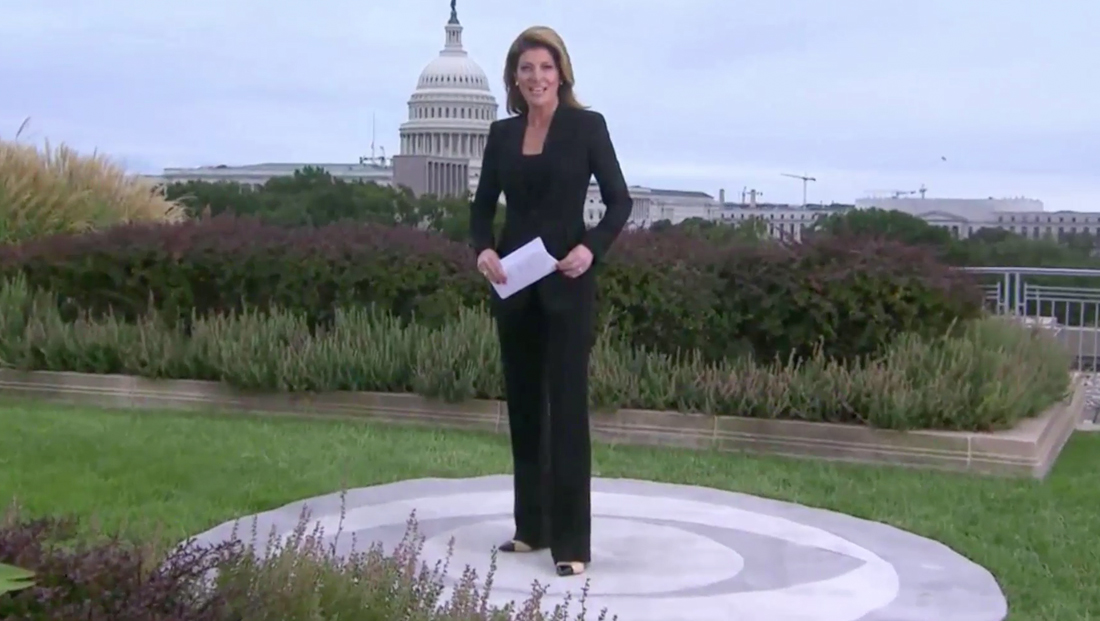 CBS's corporate headquarters is already known as "Black Rock" — and now its Washington operations has a "rock" of its own.
"CBS Evening News" anchor Norah O'Donnell kicked off the Monday, Sept. 30, 2019, broadcast perched atop a faux circular "stone" with the CBS eye "carved" into it (it really appears to be some kind of rug or other similar surface).
The piece actually first popped up Sept. 29 edition of "Face the Nation" with moderator Margaret Brennan standing on it.
The "stone" was added to an outdoor plaza area inside the complex the Jones Day law firm.
CBS has been using the property, which includes Capitol Hill views a "skybox" style studio, as a temporary home for "Face the Nation" as the show's main studio, which opened in May 2018, undergoes "adjustments," as "Face" host Margaret Brennan put it.
O'Donnell, who lives in Washington, D.C., anchored "CBS Evening News" from Capitol Hill Monday as more news surrounding the impeachment inquiry surfaced.
While she started the broadcast from the outdoor area atop the "stone," she moved to the indoor studio for the remainder of the broadcast.
COMING UP: We're live from Washington, DC, after another busy day of news. We'll have everything you need to know on tonight's @CBSEveningNews pic.twitter.com/A2DXs0WWEv

— Norah O'Donnell?? (@NorahODonnell) September 30, 2019
Since O'Donnell took over in July, "Evening" has continued to be based in New York, with O'Donnell anchoring most broadcasts from Studio 57 there.
When in Washington, O'Donnell would typically anchor from the old "Face the Nation" studio, which has extensive video walls and changeable on set graphics that make it flexible enough to work for a variety of CBS shows.
Meanwhile, CBS had previously announced plans to build a new studio for O'Donnell for when "Evening News" moves to Washington in November.
Although it's not immediately clear what is happening in the old "Face the Nation" studio, the timing of it being updated, modified or even replaced for use by "Evening" would make match up.
It's also not immediately clear if "Face the Nation" will continue to use the modified space, sharing with "Evening News."
The network moved its current Washington bureau and production studio in Washington in 2018, but this was before the final announcement that O'Donnell was taking over "Evening News" and it would relocate to D.C.
CBS was reportedly looking for additional studio space in Washington to build a studio for O'Donnell, but it would also make sense, from a logistics standpoint, to keep the operations in the same building.
That said, it's not unheard of for networks to operate "satellite" studios — even ones close to their main ones.
NBC News, for example, has separate facilities for "Today," which operates in the building across the street from where the network's primary studios and control rooms are. NBC also operated its so called "N" studios from Capitol Hill before they were destroyed by fire separate from its main bureau across town.
Since the fire, NBC has announced plans to rent out additional space in the same building, including building a streetside studio with Capitol Hill views.
Modern control room technology can be used to run programming be produced in a location across the street, the city or even around the world, though this does open up the opportunity for an additional fail point.
The latest in design, production and engineering
Subscribe to NewscastStudio for the latest delivered straight to your inbox.