NBCUniversal promotes collaboration through tech in new Boston facility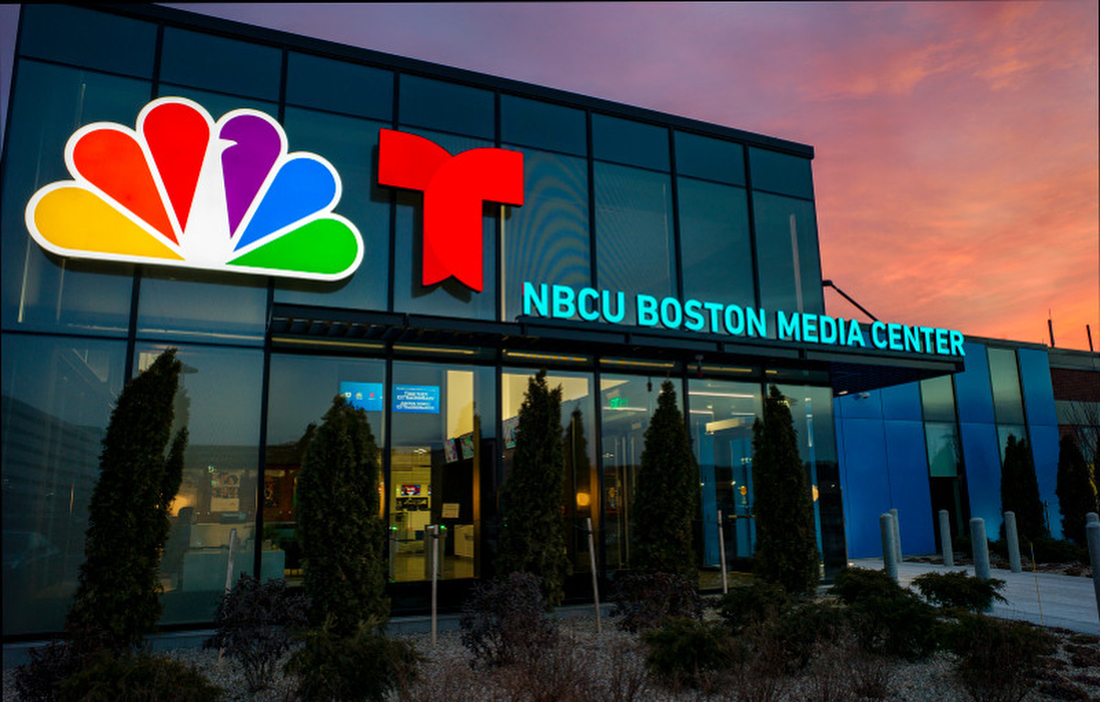 Subscribe to NewscastStudio for the latest news, project case studies and product announcements in broadcast technology, creative design and engineering delivered to your inbox.
With six studios and a 265-desk newsroom, the new NBCUniversal Boston Media Center is ready for content production and distribution, both via traditional linear television and streaming or podcasts.
The facility, which officially opened its doors on Jan. 15, 2020, is located outside of Boston in Needham, Massachusetts.
At 160,000 square feet, the building combines the operations of four properties that were previously in two separate locations, including WBTS, NBC 10 Boston; WNEU, Telemundo Nueva Inglaterra; cable news channel NECN; and NBC Sports Boston.
Ready to adapt
Built from the ground up on the SMPTE 2110 standard, the facility is engineered with IP and collaboration in mind.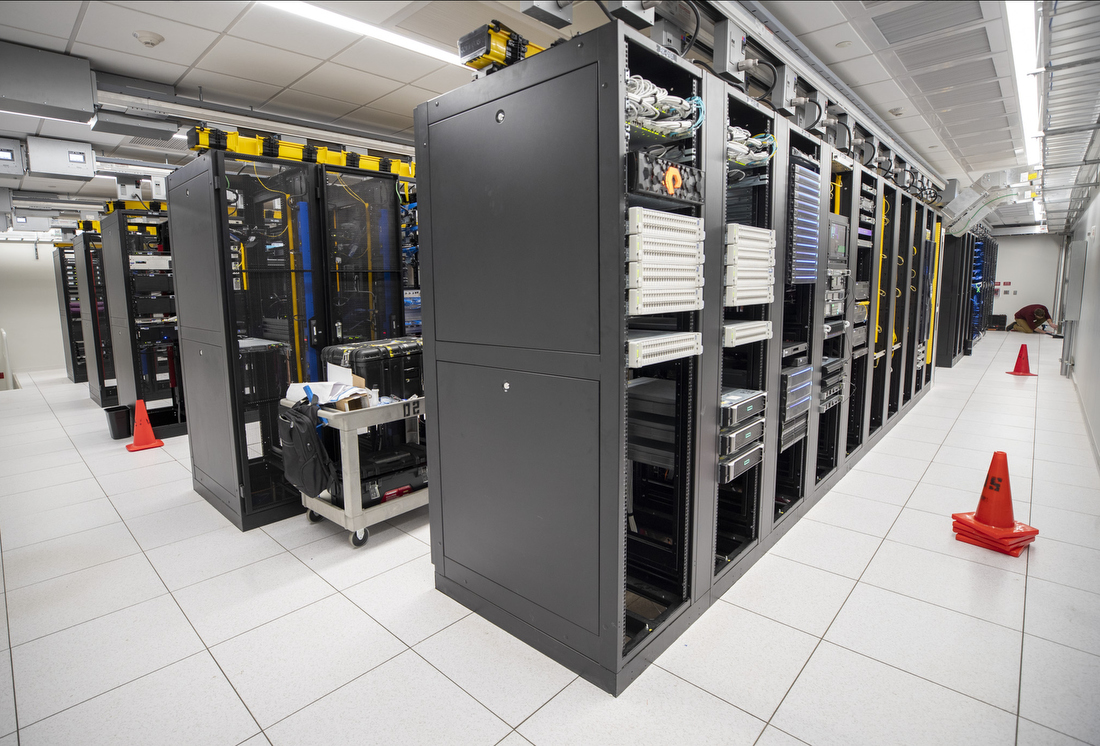 "The facility that we were in didn't meet the standards for where the industry is headed, and from a scale perspective it made sense to put all four properties in one building," said Mike St. Peter, GM of NBC10 Boston, Telemundo Boston, NECN.
"It started to feel very small and old [in the old facility] when we were getting ready to launch the NBC station here in Boston," notes St. Peter.
At nearly 30 years old, the former facility was built to house only NECN, with WBTS and WNEU joining in 2017 after their acquisition by NBCUniversal.
"Some of it was OK in the recent years but the infrastructure itself was very old and just wouldn't be able to keep up with where technology is headed today," added St. Peter.
In stark contrast, the new NBCUniversal Boston Media Center combines the latest standards and technology with a workforce of 390 in one location.
"It was about building a facility that could adapt to the future," said Keith Barbaria, VP of technology for the four properties. "This facility is an IP-based facility and it will adapt and grow with the industry."
"Digital content can easily be produced and shared out of this facility and within the facility. The way we produce and share and collaborate is more streamlined than at our old facilities," said Barbaria.
Collaboration is a theme of the new media center, with Dalet Galaxy connecting the newsroom workflow along with a new CMS for digital content production.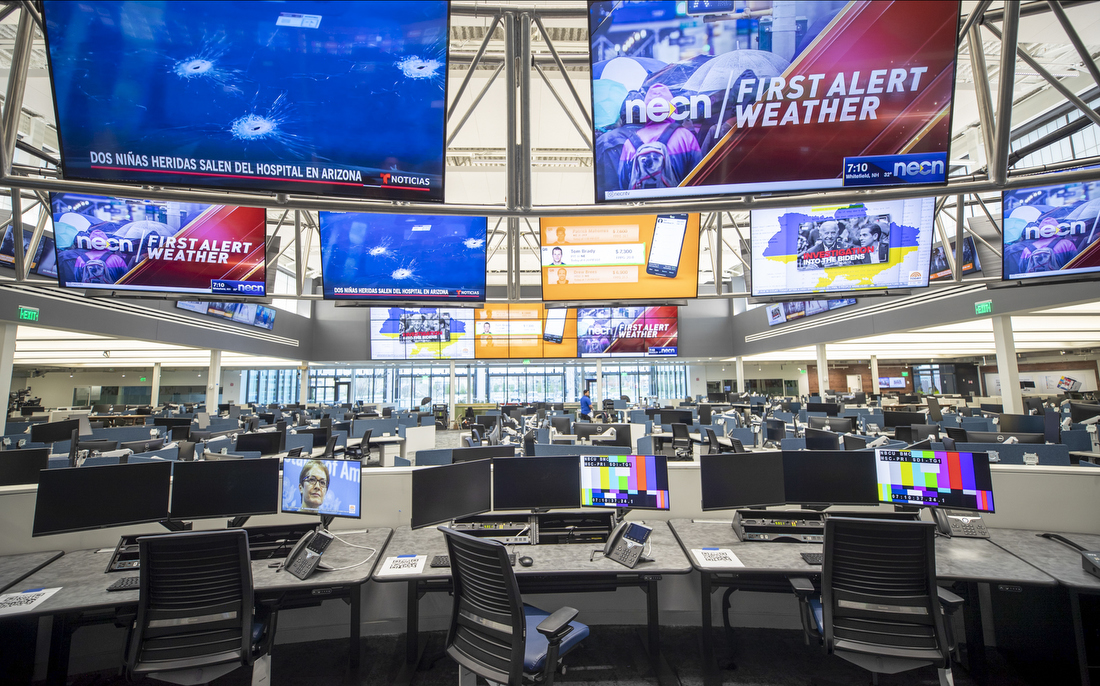 "The ability to create and present content in this facility is flexible, and we've just scratched the surface to understand how we'll be able to use this facility compared to our old one," said Barbaria
"Because we're all in one newsroom now, this is really going to allow us to collaborate," said St. Peter.
"The way that the newsroom is designed, it's an integrated newsroom," said Colleen Jakubowski, production & operations director for the properties. "I don't think you can do anything but collaborate."
From the center of the newsroom and shared assignment desk, the space fans out into sub-specialties, interconnecting the four properties which also share technology and production teams.
The properties are connected via fiber to master control in Colorado and New Jersey. This fiber connection with Dry Creek, NBC's master control in Colorado, also allows for off-site satellite acquisition, reducing the size of the on-site satellite farm at the facility.
Distinctively different spaces
"Each individual station gets its own production space but the entire facility is wired and designed to be an on-air opportunity outside of studios and podcast studios," said Barbaria.
The six studios provide over 14,400 square feet of production space, with three camera locations in the newsroom.
Studio 1 – WBTS, NBC 10 Boston
Studio 2 – WNEU, Telemundo Nueva Inglaterra
Studio 3 – NECN
Studio 4/5 – NBC Sports Boston
Studio 6 – Flexible space for pre-tapes, special production needs such as town halls, etc.
Each of the six studios features an 18-foot grid height and 2,400 square feet of floor space, with NBC Sports Boston combining Studio 4 and Studio 5 for 4,800 square feet.
Four Sony cameras on Ross CamBot pedestals plus one PTZ grid camera equip each of the studios, and there is a jib in the NBC Sports Boston studio.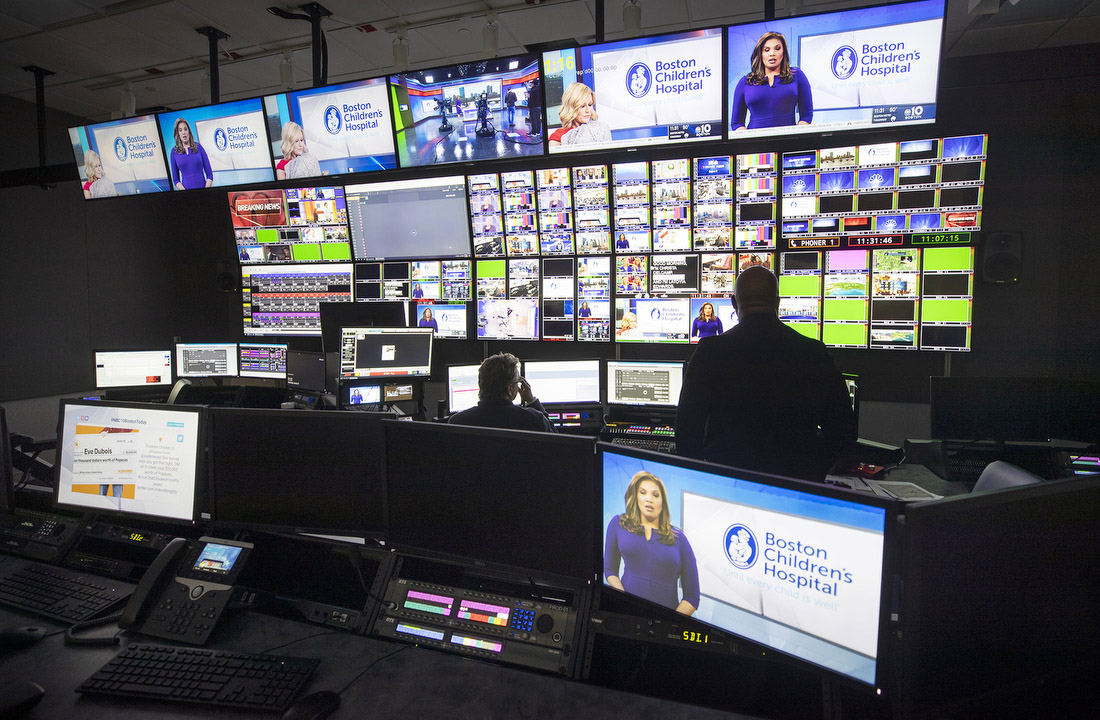 In the control rooms, which can be swapped between studios and network, Ross automation drives the production with Ross Xpression for graphics on the news side and the ChyronHego for sports.
Barco drives the monitors in all studios, with LED display technology from Planar (Leyard).
Audio is mixed on a Solid State Logic (SSL) console with Wisycom wireless microphones able to work throughout the building on radio frequency (RF).
Jack Morton Worldwide provided the design for all four studio sets, all taking a different approach to presentation style.
"We were trying to make them all distinctively different," notes St. Peter.
"The NBC side tends to be a more traditional newscast, so we wanted to make sure that's a more contemporary space that we can grow with. There's no hard graphics in there, everything's a screen or monitor which means we're able to adjust the overall look and feel and tone."
"The biggest change is the NECN set," said St. Peter. "We're looking at a new audience, so how could we make something that might appeal to that audience."
Mystic Scenic Studios, Blackwalnut and Global Scenic Services provided fabrication for the spaces.
The lighting design for the three news studios was handled by JM Montecalvo of Spectrum401 with Cineo fixtures. The Lighting Design Group provided lighting for the sports studio.
Along with the studios, even the buildings breakroom is camera-ready, with most of the building equipment for content creation.
A path to create
"We can visually tell a story now in a way that we weren't able to a week ago. When you think of a really effective, great newscast, you have great content, really great production value and talent that keeps pace with the first two. And for the first time, probably for this group, we're in the best place possible to do all three of those things," said Chris Wayland, GM of NBC Sports Boston and SVP of the three news properties.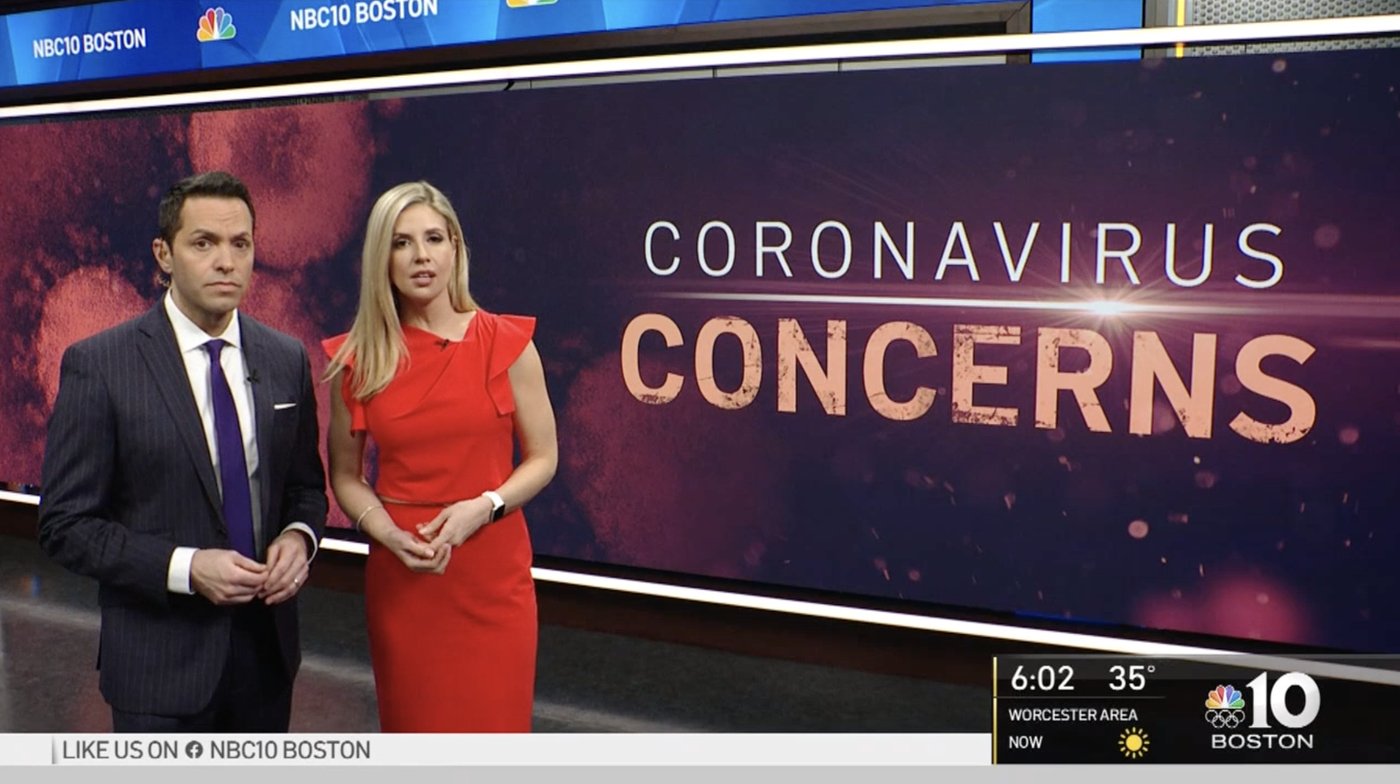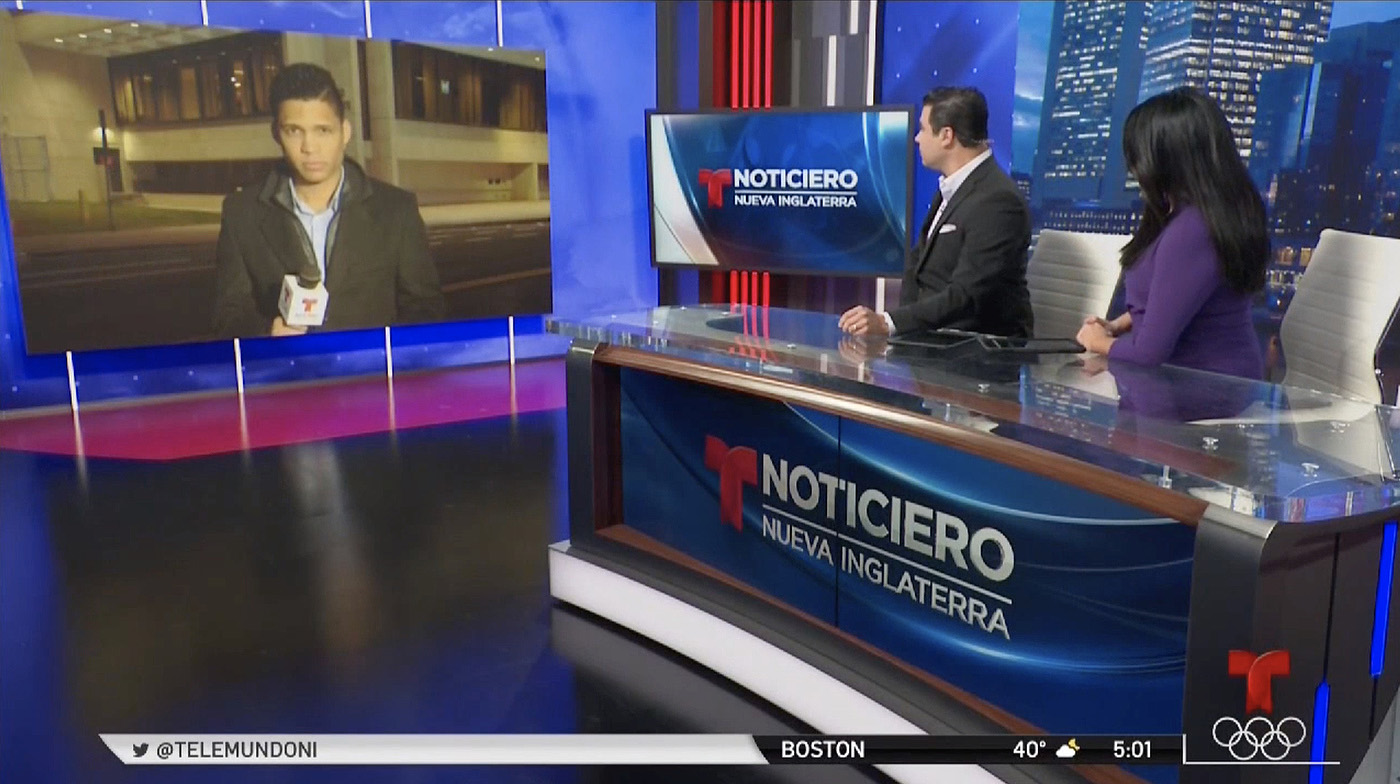 "Old facilities and old antiquated technology are physical blockers to innovation and we removed that. Now we have a clear path to create," added Barbaria.
"The ability to innovate and come up with new ways to tell stories, when I look around here I think to myself, that's what all of this is built for," said Robert Poulton, VP of marketing and branding for the properties. "We might have the same story, but is there another way to tell it that's going to be different than someone else, that's going to give our viewer or consumer a better understanding of that thing and make that thing more interesting for them? I think we've built a place that's going to allow us to do that."
Subscribe to NewscastStudio for the latest news, project case studies and product announcements in broadcast technology, creative design and engineering delivered to your inbox.